When Jaelyn Love came to Ferris State in 2017 she expected a normal college experience. However, there have been a lot of twists and turns on her journey to a degree.
Love is a first-generation student originally from Shelby. Love chose Ferris due to its close proximity to her frien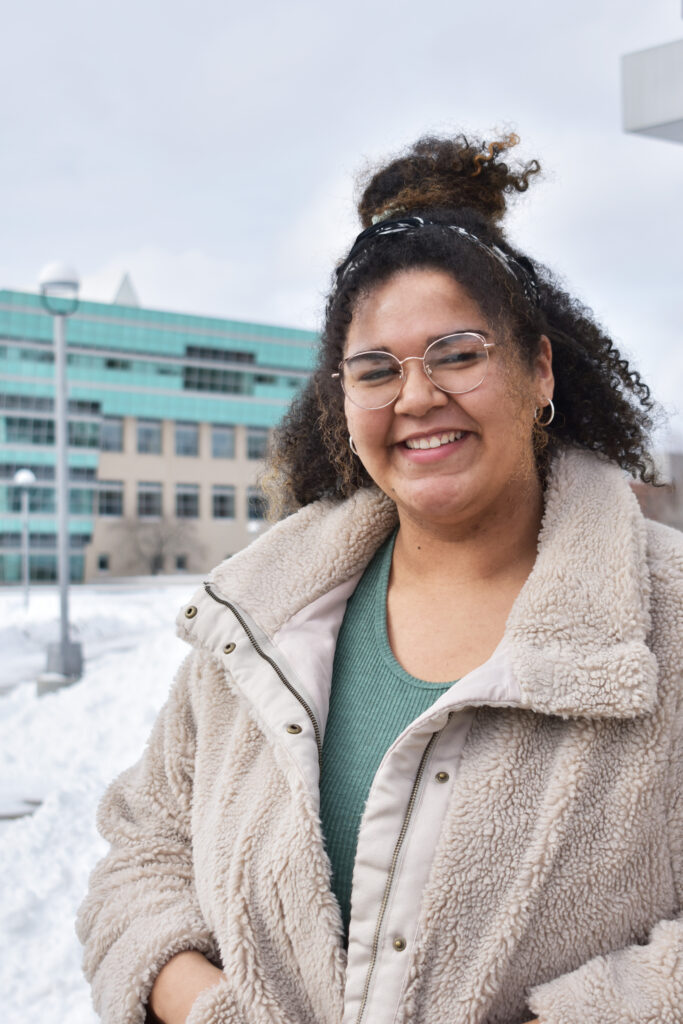 ds and family.
"I'm just like a big family person, so being able to go home on the weekend, or whatever the case was, was really something I needed when looking for a college. So, Ferris is good; it's only like an hour away from home," said Love. She also said she was motivated to come to Ferris because they had agood child psychology program, which she studied before changing her major to social work.
Love does not believe she has faced too many challenges compared to other students on campus. "I had typical adversity at Ferris, like being away from home, making friends… And getting out and finding something I really enjoyed doing was hard for some reason," Love said. "I would go out to the IM fields and hit softballs and lay in the grass, and I made a lot of friends doing that."
In the summer of 2019, Love was enrolled in summer courses on campus at Ferris when her mother passed away. "I continued coming to school, which was really hard," Love said. "She was my sole parent. I was only 20 at the time, and [I had] to be away from my family and [had] to put on this face of like, 'I'm going to continue school, everything is fine.' It is still hard to continue being here even though it has been almost two years."
Love contemplated not coming back to Ferris after that summer. "Since I was the only one of my mom's kids to go to college, I know she was very proud of me for that, I made sure I stayed in school. It was really hard at first, but I have amazing friends, and I relied on them for everything." Love said she tried to distract herself with her job, classes and her internship, but her friends did the most in helping her push through this difficult time in her life.
Unfortunately, this has not been the only obstacle Love has faced during her time at Ferris: COVID-19 disrupted Love's and many other students' plans for an unforgettable senior year. Although it has been unforgettable, the experience hasn't been all positive. "I remember telling my friend Kaitlin, 'This is our last year; we're going to go to sporting events, Ferris events and speakers, and we're going to live the college life.' Then COVID happened, and we were like, 'Okay, wow. Change of plans," said Love. "It really did affect what I thought my senior year of college was going to be like. It really sucked, but I think I have adapted well."
Love and her friends really enjoyed going to the Ferris sporting events, and with a restriction on spectators, they got creative in keeping them exciting. "We make it a big deal even though we can't go to the sporting event. We put it on the TV and make it seem like we are there," Love said. Along with Ferris sports, Love also enjoyed the Ferris comedians and the Music Entertainment Concerts, specifically Jesse McCartney.
In the fall of 2020 Love secured her associate degree in childhood education. She is currently still working towards her bachelor's in social work, which she hopes to earn next spring.