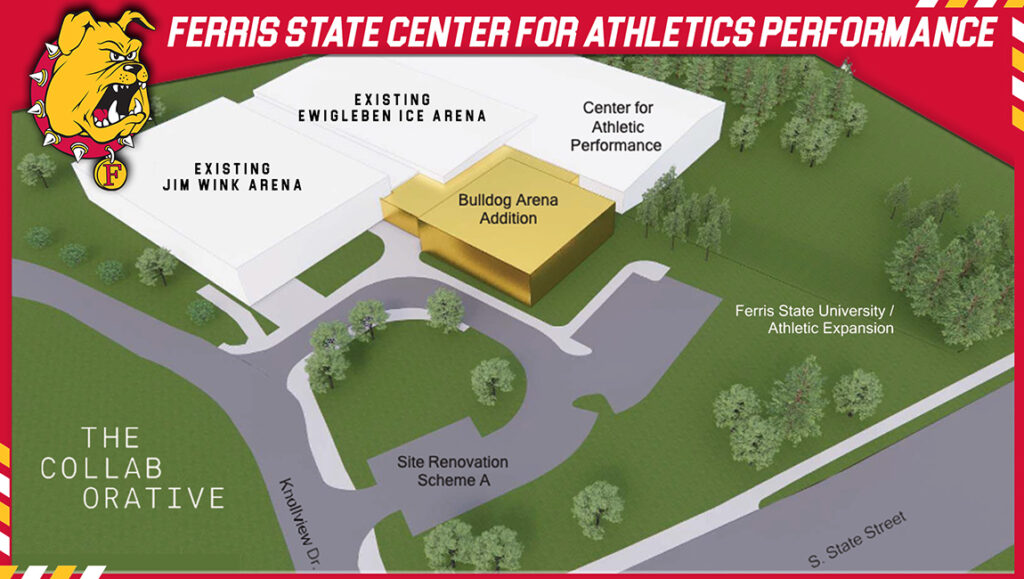 The University Board of Trustee's and Athletic Department officially approved a plan for a 15.3-million-dollar upgrade to the current athletic facilities on Friday.
"It is a great day for Bulldog athletics," Ferris State Athletic Director Perk Weisenburger said in an interview with Athletics Communication Assistant, Harrison Watt. "It's going to be a wonderful project."
The Ewigleben Sports Complex, which is currently used by student-athletes, was originally built in 1974. Since then, there have been three main additions and renovations to the complex. The last upgrade was made in 2007.
"It's long overdue," Weisenburger said. "We've been lagging in that area. It still hasn't sto but to be able to be long-term and sustaining, we needed to get this project approved."
With the help of The Collaborative and Granger Construction Company, the future "Center of Athletic Performance" is projected to be fully completed by December of 2022. Some areas, such as the Strength and Conditioning area, are expected to be finished a few months earlier in June 2022.
"To be able to build that strength and conditioning space… Teams don't have to lift in shifts," Weisenburger said. "[We] will be able to get more student-athletes in there."
For the volleyball program, this new expansion includes the addition of "Bulldog Arena," a new competition space for Lady Bulldog matches. This will be the newest home for the Bulldogs since 1981, when the current Ewigleben Arena was first constructed.
"It's going to be fabulous," Head Coach Tia Brandel-Wilhelm said. "We're just so excited to have this beautiful facility."
Ewigleben Arena has been known to hold some of the largest attendance numbers in NCAA volleyball history during the 1990s. These incredible numbers occurred despite one notable conflict that will be addressed with the new volleyball addition: making fan access much easier.
"It's going to be very nice to have access to our games for anybody," Brandel-Wilhelm said. "If we are fortunate enough to be strong enough to host the NCAA tournament, it will be fantastic to host it in our home facility."
This new addition will be around 15,607 square feet, including a public entrance to access volleyball games, new conference rooms, entrances to athletic offices and public restrooms. The former volleyball facility will be renovated into the new strength and conditioning area. This includes a new cardio area, nutrition center and offices for strength and conditioning staff.
"I think all the athletes are really excited," Brandel-Wilhelm said on the team's perception of the news. "They are looking forward to the ground being broken so they can really see that it's coming."
The lower level of the complex will also be receiving upgrades, including new locker and team rooms for the track and field, soccer and softball teams.
"Some of our locker rooms are very outdated, small and cramped. Some teams even shared locker rooms," Weisenburger said. "This [facility] will provide our 380-plus student-athletes with a bigger, better and safer place to be able to train and develop."
Not only will athletes get an upgrade in space, but athletic staff will too. This includes new offices, additional locker rooms and conference areas for faculty.
"It will make it a little different for us," Ferris State Sports Information Director Rob Bentley, said. "Having [our offices] so close to basketball and hockey will be a big addition on game days."
When asked about the most valued additions with this upgrade, Bentley mentioned that having space will help bring more opportunities to capture Bulldog sports.
"Especially with volleyball, having a new facility will make it easier for us to do things like streaming, running the video board and keeping statistics. A lot of that [space] is cramped in our current arena."
Despite the wait for the idea to become a reality, the athletic department is excited the project is finally happening.
"I'm excited for it," Bentley said. "It's something that's been needed for a long time. It's a game-changer for our student-athletes."
More information on the project can be found on Ferris State's Athletics website, www.ferrisstatebulldogs.com.
HK