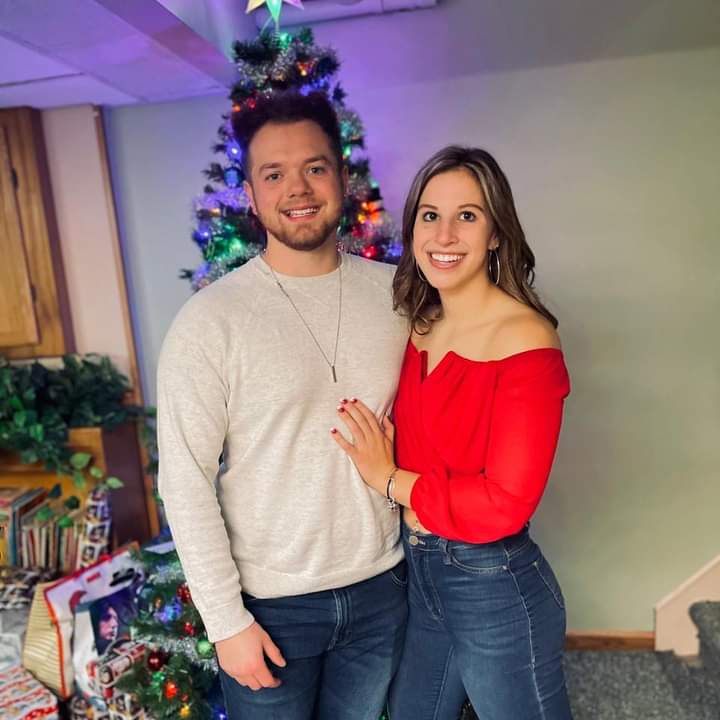 She waited on the park bench, worn combat boots tapping against the cracked sidewalk. They were meeting up for the first time around noon.
As she stared mindlessly at her phone, she heard footsteps approaching the bench. She looked up and a familiar face smiled at her.
"You look just like your profile picture, so that's a good start," he laughed.
Alyssa Jagoda, a 20-year-old college student from Macomb, wasn't expecting to begin a relationship any time soon. While messing around on popular dating app Tinder, she unknowingly swiped right on a man who would be her perfect match.
The decision
During the summer of 2020, Jagoda and her roommate were enjoying some drinks when they both agreed to go on Tinder and have some fun.
"My roommate and I had both been through some bad breakups in the beginning of
2020," Jagoda said. "I told her maybe it would make things easier if we talked to other people and I could practice my flirting, because everyone who knows me knows I cannot intentionally flirt."
So the swiping began. It didn't take long for Jagoda to spark a connection with someone.
"I met my boyfriend the first day I got Tinder," Jagoda said. "Funny thing is, it was actually the first hour of using it and he was one of the first people I swiped on."
According to the Pew Research Center, 30% of adults in the United States have used a dating app or website, but only 12% of adults said they had a long-term relationship from online dating. About one-third of Tinder users are within the 18-24 age range.
The reaction
Jagoda felt comfortable telling her roommates and friends about her new relationship.
"I was surprised at first," roommate Corinne McPhail said. "We initially joined the app for fun and didn't plan on starting anything too serious with anyone. Regardless of my initial shock, I was happy she was happy and excited about it."
Finding a partner through dating apps is common now, but explaining how she met her partner to her parents worried Jagoda.
Pamela Jagoda, her mother, wasn't sure what to expect after hearing the news.
"I was nervous and unsure," Pamela said. "I didn't like it 100%, but when I met him and realized he was nice, I didn't care anymore."
Pamela commented that, during the COVID-19 pandemic, online dating is "one of the only ways to meet someone right now."
Pamela told her daughter that many of her friends met their significant othersthrough dating apps and some have even gotten married. She said that the ways people meet are changing a lot now from when she was younger. Mrs. Jagoda was supportive of her daughter's relationship, regardless of how they met.
The contract
On Sept. 9, 2020, Jagoda and her two roommates decided to create and sign the "Dating App Rules for 1269A Gang."
They established 10 rules total to follow when using dating apps. There are both silly rules and serious ones. For example, rules #6 and #8 are "be safe" and "have fun".
However, rule #3 states, "Never go on a date without letting all the roommates know where, when and who the date is with."
"Our other roommate wanted to make sure we were being safe, safe for ourselves and the other roommates," McPhail said. "Online you never know the kind of people you'll meet, so I liked the idea of rules. The rules applied to every guy we matched with and continued to apply until an official label of a relationship was established. I deleted the app soon after Alyssa did, but they're still something I'll follow because I think they're smart."
Looking forward
Although Jagoda found her current partner through Tinder, she wouldn't recommend others use it to find a "romantic stable connection."
Jagoda admitted that she got lucky finding her partner on Tinder. McPhail has been using the app for a longer time and met many people who wanted "sugar babies" or sent explicit photos and videos.
"My personal opinion would be to go on a different dating site or try to meet them in person," Jagoda said. "Because there were also individuals on there that did not want what they say they did and turned out to be horrible people, especially when they denied what they wanted."
Neither Jagoda, her roommate, nor her mother trust dating apps. However, they encourage anyone who wants to use dating apps or currently uses them to be safe about it. People can meet fun and interesting people, or even the love of their life, but it's important to remain cautious when talking to new people online.