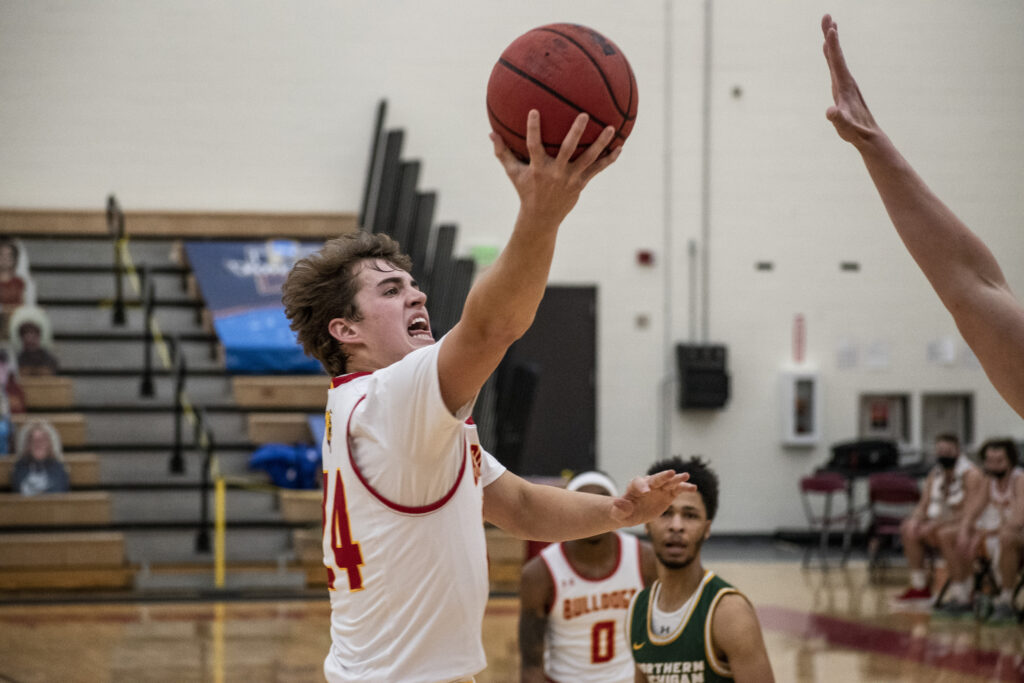 Basketball has been running in the family for freshman phenom guard Jimmy Scholler for decades.
Freshman wing on the Ferris State men's basketball team, Jimmy Scholler follows his dad's advice of getting to play at the next level. Basketball is in Jimmy's blood, it started for him in middle school when his father saw the expression and passion Jimmy had for the game. All Steve Scholler, Jimmy's dad, wanted to do was give his son the opportunities and provide resources to help chase Jimmy's dreams. There are many positions you go through as you're raised and grow up but for athletes, it starts with their family. From his father's time at Calvin college in 1990 – 1994 as a point guard.
"It has been a dream of mine to play college basketball since I was a little kid," Jimmy said. "Even though I do miss football I am very happy with my decision to play basketball here at Ferris."
Jimmy focused on three key aspects when he chose Ferris, those were the tradition of a winning program, the coaching staff, and how close the players are which makes the team feel like family. After the Ferris men's basketball team won the national championship in 2018, when head coach Andy Bronkema began to recruit Scholler to join the Bulldogs.
"He was always kind of on his own, he loved to be in the gym and work out," Steve said. "Football to me was kind of a surprise, he always was focused on basketball from a young age."
Both Bronkema and assistant coach Raymoan McAfee came to a lot of Jimmy's games which helped forge that relationship with Jimmy and reassured him of their commitment to him as a player. Steve Scholler said that Bronkema supported Jimmy playing football in his senior year of high school.
Scholler has played football since the sixth grade; however, basketball took priority throughout the years as basketball was Jimmy's, first love. Scholler started under center for the football team in high school at Forest Hills Central in Grand Rapids, MI where he grew up. As he spent more time focused solely on basketball, he knew that was the sport he wanted to play at the next level.
"He loved basketball but felt football was a good compliment to being tough and more well-rounded," Steve said. "The coaches were good enough to help him bridge the gap of playing both sports."
Scholler was the third-ranked wing in his class according to Prep Hoops, while he said this is a nice accomplishment, the rankings don't always matter.
While being a part of the Bulldog nation has been a great honor to Scholler, he understands he will need to continue to work hard every day and as the new guy he wants to play as hard as he can while bringing high energy levels.
"Playing at the college level is much different than high school because everyone here was the best player on their high school team," Jimmy said. "I love to get everyone involved and I am surrounded by great players who can help me achieve this goal."
Sophomore teammate wing Ben Davidson said that it's always nice to welcome new faces to the team and he loves what Jimmy has brought into Ferris. Along with the way Jimmy carries himself with his maturity and ability to play beyond his freshman status is something Davidson loves. Davidson and Jimmy hang out off the court as they have gone golfing together this past summer along with teammate senior wing Michael Peterson.
"He doesn't really need much guiding with his maturity and love for the game," Davidson said. "Jimmy earned his starting spot by being a great team player, and a menace on defense. He's a great shooter and I'm very happy for him earning that starting spot. His only problem is that he's not very good at euchre."
Outside of sports Jimmy enjoys playing video games such as Madden and NBA 2k. As school comes first, Jimmy strives to graduate with honors and maintain above a 3.6 grade point average. Two basketball related goals in Jimmy's mind are to make it onto the all-time career assist list and play professional basketball overseas as many other Ferris alums have accomplished.
Steve Scholler believes Jimmy will use his communications degree to mesh sports into his life even when basketball is over in some way. Jimmy said when he is not able to compete at a high level is when he will call it a career. Jimmy would like to get into coaching and his biggest goal is to coach at the college level as he has a passion for sports and to help others within sports.
"Take what you learned from sports such as being a good teammate, handling ups and downs, be positive because all those things apply universally to whatever else you want to do in life," Steve said. "As parents, we are just happy to see him go to a school where we feel like the culture, atmosphere, athletics program, and school, in general, have been so welcoming and that we are just proud he is taking it in and just doing his best to make the best opportunity he can out of it and whatever that is and whatever form that takes we are excited for him."
The Bulldogs will be back in action over the weekend as they take on Purdue Northwest first on Friday, Feb. 19 and then again Saturday, Feb. 20 with both games scheduled for a 4 p.m. tip-off.