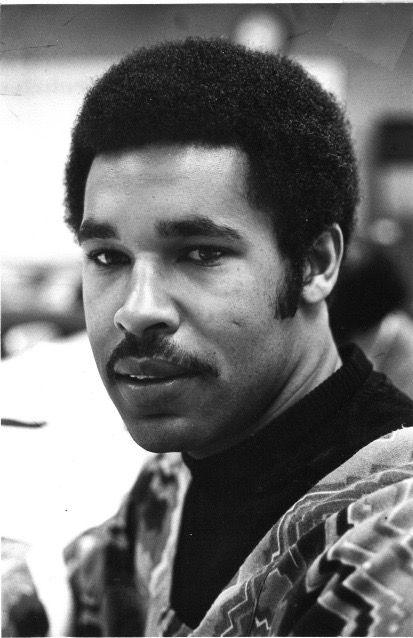 Detroit native John Matlock boasts an expansive repertoire of knowledge, work and life experiences, but it didn't always look like he was going to live the life he has.
When Matlock was 16 years old, he dropped out of high school and found himself working in a Detroit auto factory for four years. While he was there, he connected with laborers who had been there for decades. They called him "young blood" and encouraged him to go to college so that he didn't follow their path.
This got Matlock thinking, and he decided that he wanted to do something better. In response, he got his GED, applied to Ferris State University and was accepted and enrolled in the spring of 1968. When he stepped off the bus at Brophy Hall, all he had with him was a footlocker that carried his life's possessions.
Leading up to this moment, Matlock had grown up and come of age under the civil rights movement, and it would continue to impact him for the rest of his life.
"Another reason why I left Detroit — it was after the riots. And I said, 'Man I got to get out of here.' Because I knew that if I hung around there, I would probably get in a lot of trouble," Matlock said.
One of the first activities Matlock got active in at Ferris was the Torch. He started out in the sports section, and one of his first assignments was to cover a football game.
"I didn't know how to type or anything; I just wrote everything out longhand. [I] violated every principle of journalism, because I had never had a journalism course or anything. And lo and behold, after they published the story, they asked me if I wanted to become sports editor," Matlock said.
1968 was the year Martin Luther King Jr. was killed. Around that time, there were a few protests taking place at the University of Michigan, so the students at Ferris decided to have their own. They took over Starr auditorium.
Once the building closed at 9 p.m., they were officially labeled as trespassers, and they were arrested. The entire Black student population of around 230 at Ferris — with the exception of a few — were still there. The state police came in, loaded them onto a Ferris State University bus and took them to the Lake Guard armory. The next day, Albert Wheeler, the state president of the National Association for the Advancement of Colored People, came and cautioned that suspending all the Black students would be a bad look. The charges against them were soon dropped.
"I remember [John] McNamara saying, 'You guys think you accomplished something, but now what do you do?' And that remained with me," Matlock said, regarding the advisor for the Torch at the time.
Matlock notes that the civil rights movement empowered Black students on campus. There was a proliferation of student organizations. He himself went on to become president of Alpha Phi Alpha and the first Black Editor-In-Chief of the Ferris State Torch. It also opened their eyes to the reality that there were problems at the university.
After Matlock graduated with his Bachelor's in business administration from Ferris, he secured an internship with the Detroit Free Press. He then completed a Master's degree in journalism and a PhD in higher education administration from the University of Michigan.
He spent a decade serving as chief of staff for U.S. Representative John Conyers Sr. of Detroit and U.S. Representative Harold Ford Sr. of Tennessee. He started out working for Ford, but a desire to get back and connect with Detroit brought him to Conyers.
While he ran Conyers' office, he worked with civil rights activist Rosa Parks.
"I was so fascinated with Ms. Parks. Ms. Parks would ask me, 'Is it okay if I don't come into work tomorrow, because I have something to do?' And I'd sit there and say, 'Why is Ms. Parks asking me? Ms. Parks could do whatever she wanted,'" Matlock said.
He remembers that everyone in the office had a deep respect and admiration for Parks and describes her as a soft-spoken person who could speak no words and still make an impact.
During their time together, Parks taught Matlock valuable lessons. She had a lifelong commitment to social change, and she always found a way to be involved.
"I think one of the things COVID-19 has demonstrated is that there are still vast differences in terms of economic ratio, racial inequality, health and education," Matlock said. "It's a never ending story. I always used to tell students, 'You're actually in this for life. You may do things differently, but you still have to have a commitment to social justice and social change.' All those accumulate … Starting at Ferris, with us getting arrested and being loaded on the bus. All of that accumulates, and it's something you have to be fully committed to at all times."
Though he has now retired, Matlock is still devoted to this duty.
Matlock will be hosting a conversation on over zoom through the Office of Multicultural Student Services 11 a.m. Thursday, Feb. 25. Click here for the zoom link.