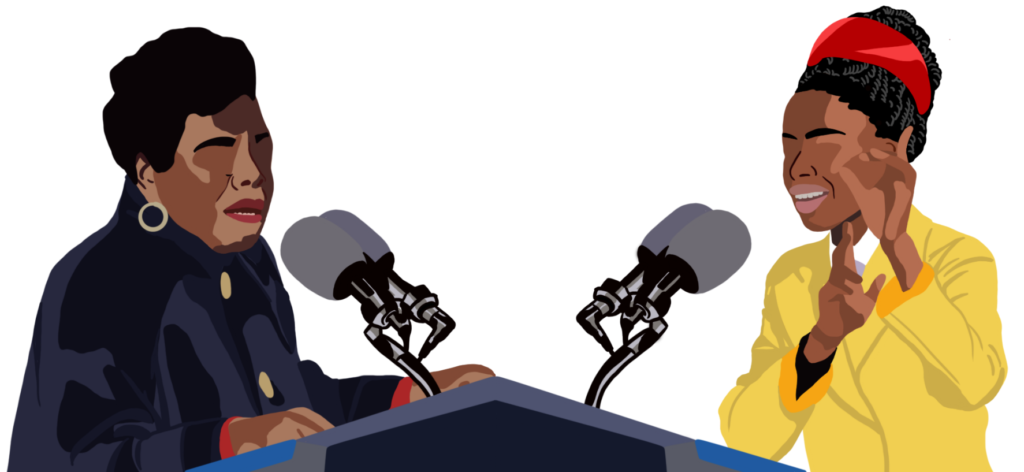 "We will rise from the gold-limbed hills of the west.
We will rise from the windswept northeast,
where our forefathers first realized revolution.
We will rise from the lake-rimmed cities of the midwestern states.
We will rise from the sunbaked south.
We will rebuild, reconcile and recover."
"The Hill We Climb" by Amanda Gorman
The sentiment of 22-year-old poet Amanda Gorman echoed through both the streets of the United States Capitol, and the hearts of listeners. On Jan. 20, Gorman performed "The Hill We Climb" as the inaugural poet for President Joe Biden.
Inspired by a desire for peace and unity following the 2021 storming of the United States Capitol, Gorman wrote this poem in only one week. Themes of hope, endurance, and, most importantly, rising saturated every line.
"I think a lot of times in cultures, we think of the ways in which we can cleanse ourselves with water. I think of the ways that we can cleanse ourselves with words," Gorman said to Daily Show host Trevor Noah.
As great artists do, Gorman offers respite from the harshness of life in her work. This practice did not come easy, however. While it may be hard to believe, Gorman was born with a speech disorder and related auditory processing issues. This made it difficult for her to pronounce certain sounds, such as the letter 'R.' To overcome this, Gorman would recite the song "Aaron Burr, Sir," a piece filled with the sound, from the musical Hamilton.
Gorman's passionate, colorful, and melodic recitation of "The Hill We Climb" was reminiscent of another poetic work of art: "Still I Rise" by Maya Angelou.
"Leaving behind nights of terror and fear,
I rise.
Into a daybreak that's wondrously clear,
I rise.
Bringing the gifts that my ancestors gave,
I am the dream and the hope of the slave.
I rise
I rise
I rise."
"Still I Rise" by Maya Angelou
Published in the 1978 book And Still I Rise, this poem details a different sort of rising. Independence. While Gorman wrote to rally the masses in the name of harmony towards a bright future, Angelou puts this power into walking alone towards a future so uncertain.
"Still I Rise" is about being personally resilient against all odds. Angelou embodied this all throughout her life, using literature as a vehicle through hardship.
According to respectability.org, Angelou was selectively mute for five years of her childhood following a traumatic sexual assault, and subsequent murder of the assailant. She believed her voice was a weapon and refused to use it. During this time, Angelou absorbed and memorized literature.
Both Angelou and Gorman show exceptional artistry in their words, and they both have addressed the nation as inaugural poets. For President Bill Clinton's 1993 inauguration, Angelou recited "On the Pulse of Morning." She was not only the first Black person to do the honors, but the first woman as well. This type of representation is important to young artists.
"Seeing Angelou's star in the sky made my faraway dreams seem all the less remote," Gorman said to NBC News.
As a writer and a woman myself, I admire both of these poets. Their commitment to language, and ability to inspire others is remarkable. I believe Black History Month is a wonderful time to direct the spotlight to these women, among many other influential figures. As a white person, I believe there is importance in cementing their voices into the conversation year-round.
After a year of potent suffering felt around the world, may Gorman and Angelou's words be a reminder of strength and light to us all.