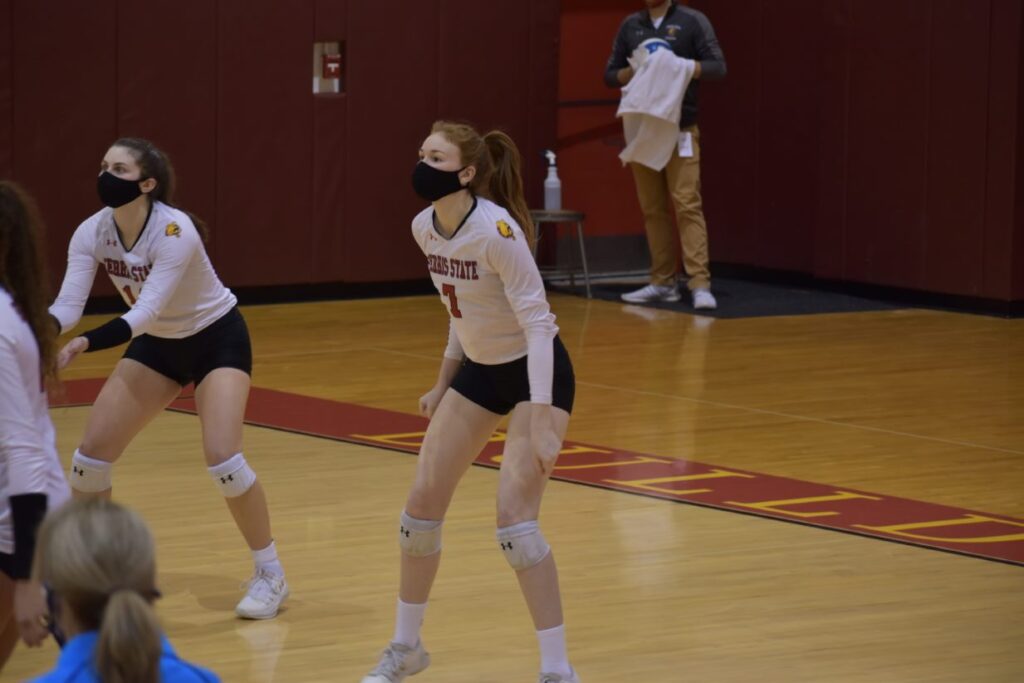 After over a year since their last match, Ferris Volleyball finally took the court this weekend with a season-opening split against Northern Michigan.
Friday's opening contest was a very close call, with the Bulldogs needing five sets to pull off the victory, 25 – 8, 32 – 34, 25 – 23, 23 – 25, 17 – 15.
"We are super excited to win against a good team like (Northern)." Head coach Tia Brandel-Wilhelm said in her post-game press conference.
The Bulldogs came out red hot in the opening set, scoring 12 of the first 14 points. This came with help of three service aces from junior Samantha Hermann.
"Serving is one of our main things we practice," Hermann said. "I definitely couldn't do it without the help of everyone."
The Bulldogs' intensity was unmatched by the Wildcats, leading to the first set win for Ferris since December of 2019.
The next set was much more evenly matched. Despite having 11 errors, the Wildcats outlasted the Bulldogs in an extended second set needing 66 points to be settled.
"We knew that Northern is really aggressive and have been working hard this last year," Brandel-Wilhelm said. "We knew they would be this good."
After trading wins in the third and fourth sets, the match came down to a fifth set. The Bulldogs took multiple commanding leads, but the Wildcats fought back to tie the set twice, including at 15 – 15. With a kill by Kira Merkle and a service ace by Katie O' Connell, the Bulldogs prevailed to their first win of the season.
When asked on how the Bulldogs came out with the win, Brandel-Wilhelm said they were able to make the runs at the right time.
"We knew it would be a little bit jerky, not necessarily clean volleyball," Brandel-Wilhelm said. "I thought we kept our heads about ourselves and we worked to make the changes we needed to make."
Senior Katie O' Connell led the Bulldogs with 19 kills, followed by sophomore Kira Merkle with 12 and junior Samantha Hermann with 10. Freshman setter Kaylee Maat compiled 48 assists for the Bulldogs. Hermann also had four of the Ferris' nine service aces. O' Connell, junior Morgan Ross, and senior Nina Gorgijevska each compiled 17 digs for the Bulldogs in the back row. O' Connell also tallied seven of the 14 Bulldog blocks in the contest.
Saturday's match continued the tough back-and-forth battle. In the end, the Wildcats were able to get revenge with a 3 – 1 win.
In the opening set, both teams came out firing with a combined 28 kills. Northern Michigan's finesse tactic of soft kills gave the Wildcats a 25 – 16 opening set advantage.
"We started off pretty slow," Brandel-Wilhelm said. "We just weren't doing things we normally do."
Northern continued their strong start, winning 11 of the first 16 points in set number two. The Wildcats went on to take the set 25 – 18. The Bulldogs then came back with a vengeance, winning three of the final four points to come back and take set three 25 – 23.
"We started to do some of the things we were trying to do offensively and defensively," Brandel-Wilhelm said regarding set three. "We forced Northern to do different things."
Although both teams traded hot streaks in set four, it was Northern Michigan's turn to "get hot" at right time. After trailing 16 – 13, the Wildcats went on a 12 – 6 run to win set four and the match.
"Northern took advantage of the things we gave them," Brandel-Wilhelm said. "Northern is a really good volleyball team and played great."
Merkle led the Bulldogs with 13 kills in game two, followed by O' Connell (11) and Hermann (9). O' Connell also had 29 digs in the contest, with Gorgijevski and Maat adding 20 and 15 digs respectfully. Maat also had two service aces to go with her 43 assists.
When asked about the differences in game 2, Hermann felt they had an "off day" compared to Friday's opener.
"(Friday) we got the nervous 'jitters' out of the way," Hermann said. "(Saturday) was kind of 'one of those days,'. It was a learning experience for sure."
Despite the 1 – 1 start, Brandel-Wilhelm and Hermann were glad to be able to finally take the floor again.
"I'm, more than anything, excited to be playing volleyball," Brandel-Wilhelm said. "(We're) seeing the ways we can get better and seeing the ways we are getting better."
"It was a surreal experience," Hermann said. "It felt really good to be back on the court again."
With their seventh-straight GLIAC title in sight, Hermann said this match brought the realization of what they need to do moving forward.
"Now, we know that we have a target on our back," Hermann said. "We have to go into every match with having a chip on our shoulder."
The Bulldogs will be back in action on Feb. 26 and 27, where they will travel to Lake Superior State.