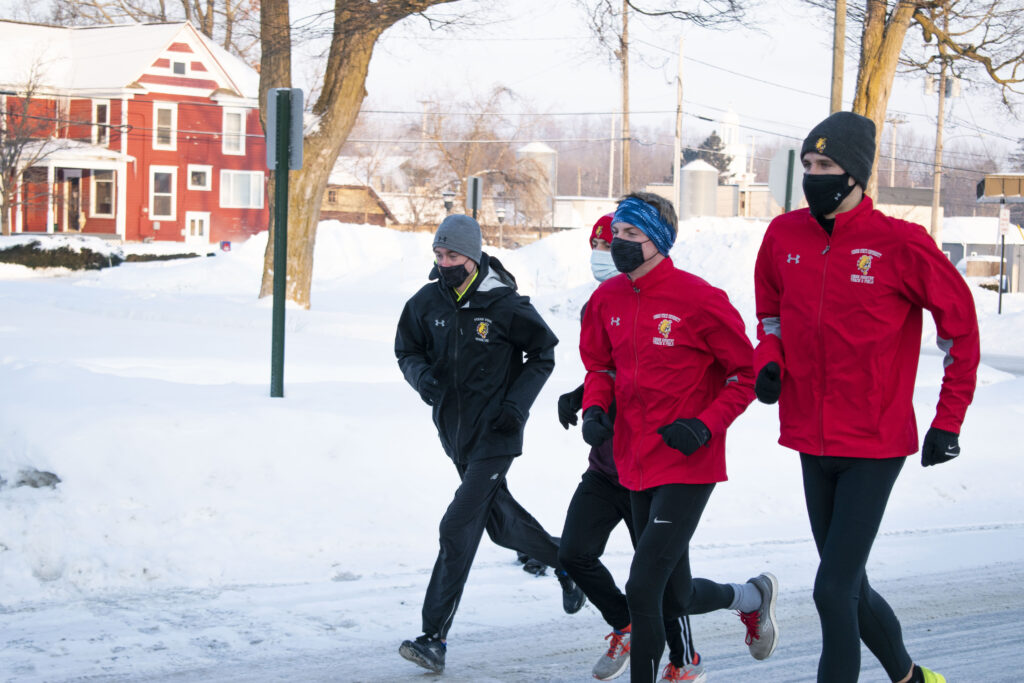 Members of the Ferris track team are upset about the impact COVID-19 rules and regulations have on their season.
The GLIAC is allowing spring athletics to take place in 2021, but the rules regarding COVID-19 and how players must handle the situation with the virus have multiple of Ferris's track runners frustrated. Junior runner Travis Feldpaush has a different mentality this year than in his previous seasons.
"I don't have much motivation to get out and do something," Feldpaush said. "For so long, they took away the team aspect of training and we had to do it on our own. We weren't able to connect with each other, and I really did not want to train by myself. I'm not doing the things I should be doing."
That mentality bled into Feldpaush's first two meets this year, as he acknowledged that those meets did not go as well as he had hoped.
For Feldpaush and his teammates to even compete in meets, they must test negative for COVID-19 a minimum of three times a week to be eligible to compete. According to Feldpaush, Ferris athletes are tested three times a week; however, if they could test negative six times in a week, they could race in meets without a mask on.
"For right now, I don't think Ferris can afford to test us six times a week, so we're just doing the three times a week, so we have to wear masks while racing," sophomore runner Ethan Hamilton said. "We also have to fill out the symptom checker every day. It's
pretty crazy stuff."
Ferris athletics did not respond to an email inquiring about COVID-19 testing funds and policies.
While the Bulldogs must race in meets with their masks on, other schools like Grand Valley State University have raced without their masks. Feldpaush said this is because Grand Valley has the funds to test their athletes six times a week. Both he and freshman runner Claudia Wilkinson believe the Lakers who were not wearing masks had a competitive advantage over runners with masks during races.
"You look at them and see they don't have a mask and just think 'oh my God,'" Feldpaush said. "You're already digging yourself a hole when you see that, and it just feels like a lot of mental games."
In terms of the difference between three and six negative COVID-19 tests in a week and how the three additional negative tests allow athletes to compete without masks, Feldpaush said everyone is "scratching their heads about that one."
Feldpaush said officials will not stop the race if a competitor's mask falls down while racing. However, the officials tell the runners immediately after the race to put the mask back on.
"When we get done, they tell us we have to put it back on," Feldpaush said. "It's kind of a pain in the ass, I mean, who's going to be able to keep their mask
up while racing?"
Outside of the mask falling off during a race, Hamilton said the most severe consequence for voluntarily taking the mask off at a meet is disqualification. He added that the precautions taken at meets are "pretty insane."
Despite being tested multiple times a week, the Bulldogs are required to wear masks while training on campus as well.
"I get tested three times a week and all those tests are negative, but I still have to wear a mask," Feldpaush said. "We are supposed to wear the masks when we're doing anything. If we're at the meets by ourselves, we have to wear it. If we're at practice by ourselves, we have to wear it. It's definitely not my favorite thing in the world."
Hamilton echoed similar frustrations regarding mask wearing during training.
"We have to wear masks running around campus, during workouts, and pretty much everything," Hamilton said. "It's mandatory. We had a few complaints early in fall semester with people telling us to wear our masks while training, so we're pretty strict on that. It makes running a little bit more difficult, especially with thicker masks and when it [was] hot out. It's really not a fun time."
Wilkinson views training in the mask differently than Hamilton and Feldpaush. She has become accustomed to running with
her mask on.
"I've gotten used to it, so it really hasn't been that big of a deal," Wilkinson said. "Since we run outside, it's actually been nice because my face stays warm. I have had opportunities, like when I'm at home running by myself, to run without a mask and I almost get too much oxygen, so it kind of throws me off."
Right now, Hamilton is not racing because of a heart condition caused by his COVID-19 diagnosis last summer, preventing him from joining his teammates. However, he is frustrated that he cannot even attend meets to support his teammates.
"If you're not racing, you're not allowed to go to the meets," Hamilton said. "They don't allow spectators or fill-ins. It's bad for us guys that don't race because we want to be there for our team to cheer them on. We usually have to watch the meet by paying a $3 stream fee and watch from our houses."
Feldpaush is racing this season, and he looks forward to seeing people at a sporting contest again. COVID-19 has disrupted sports for nearly a year now, and a track meet feels like a small sense of
normalcy for Feldpaush.
Without any national championships this season, Wilkinson is focused on making conference and preparing for the outdoor season.
COVID-19 makes this season different from past seasons and has frustrated runners, but the season will go on. As Feldpaush said, he must focus on the small victories he can get this season, and one of those small victories for him is simply that track is back