Some of Ferris States' greatest athletes are Black, with 19 players listed in the Bulldog Hall of Fame being Black. It is great to look back and appreciate some of these amazing accomplishments these players were able to make while spending their collegiate careers as Bulldogs. Here is a comprehensive list of five of the greatest Black Ferris athletes of all time.
Data from this article was collected from Ferris State's sports hall of fame page, with other data coming from NCAA record books and other historical outlets.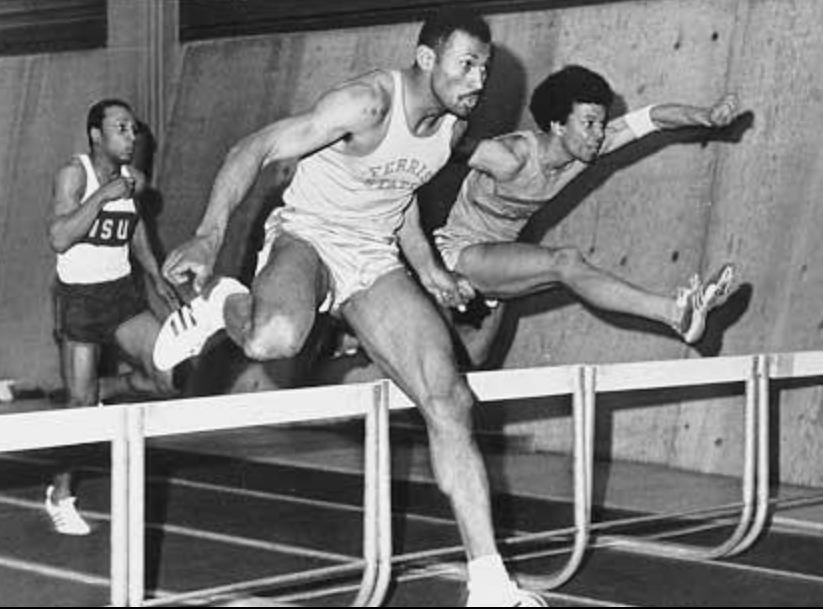 Corey Bouyer
Corey Bouyer may not be a name that many students may know, playing for Ferris from 1968 to 1970, but he is considered to be the greatest athlete of all time for the Bulldogs. He is the only NAIA champion in school history. The Georgia native set an NAIA record with a time of 50.74 in the 440-yard intermediate hurdles in 1970 and was a three-time NAIA track All-American. He was a two-time (1969-70) NAIA runner-up in the 120-yard high hurdles as the Bulldogs placed 11th nationally in the 1970 Championship on his 18 points alone. He once set a school record by scoring 34.5 points at the 1970 Ferris Invitational.
Bouyer held 10 indoor and outdoor Ferris hurdles records and won 28 of 30 indoor individual events in 1969. He set an indoor 440 record of 50.2 seconds the only time he competed in that event. Bouyer, who earned 10 varsity letters, was a defensive back for Ferris' first undefeated football team in 1968.
Dennis Johnson
Dennis Johnson is another athlete that many current students may not know about, playing for Ferris from 1969 through 1973. He continues to rank as the school's all-time leading scorer after compiling 2,312 career points. Standing at six feet six inches, he also holds FSU's career rebounding mark with 1,156 boards and set the school's all-time record by converting 892 career field goals.
Johnson led the Bulldogs to their first-ever Great Lakes Intercollegiate Athletic Conference championship as a senior in 1972-73. In his four-year career, Ferris registered an 80-28 (.741) overall record, highlighted by its 26-4 mark in his final season under head coach Jim Wink.
An All-GLIAC honoree, Johnson posted team season-bests in both scoring and rebounding each of his final three campaigns. His 698 points and 279 field goals as a junior (1971-72) presently rank first among the school's single-season leaders. The Detroit Redford High School product holds three of FSU's top five individual single-season scoring performances as well as Ferris' career made free throw mark (528). A three-time NAIA All-District 23 pick, Johnson was a three-time Bulldog Most Valuable Player.
Johnson was drafted by the NBA's Detroit Pistons and the ABA's Utah Stars upon concluding his collegiate career.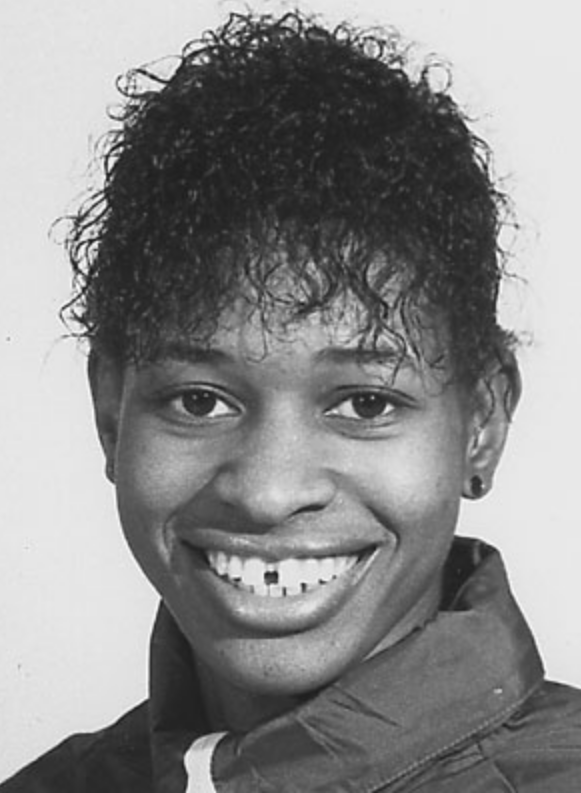 Sherri Jones
A three-time NCAA Division II Track and Field All-American, Sherri Jones ranks among the school's premier women's track and field athletes of all-time. She attained NCAA-II Indoor All-America kudos with a sixth-place finish in the 4×400-meter relay in 1987. The versatile Jones also attained NCAA-II Outdoor All-America accolades in both 1987 and 1988 by placing seventh and sixth, respectively, at the national meet.
Jones, who continues to hold the school's all-time outdoor 400-meter hurdle record with a time of 1:00.15, is listed among FSU's top five all-time leaders to date in two indoor and four outdoor events. She also ranks tied for first among the Bulldogs' all-time 600-yard run performers after clocking a finish of 1:28.04 in 1986. The Muskegon West Shore Christian Academy standout earned the 1986 outdoor track and field Most Valuable Player honor at Ferris and was a two-time recipient of the Bulldogs' indoor MVP award. Her eight individual Great Lakes Intercollegiate Athletic Conference championships currently are listed tied for fourth on the school's all-time list.
Jones, is also known to have held more school records following her career than any other previous FSU performer with ten records to her name by the time her career here at Ferris ended.
Monty Brown
Monty Brown, a linebacker for the Bulldogs in the early 1990s, was the first Bulldog athlete in school history to be named both a first-team All-American and a first-team Academic All-American. The linebacker went on to play for five years in the National Football League and was a member of two different Super Bowl teams before beginning a career in professional wrestling.
Brown placed fifth as a national finalist for the Harlon Hill Trophy awarded to the NCAA Division II Player of the Year in 1992 after twice receiving first-team all-conference accolades. The three-time first-team league all-academic team pick was the conference co-player of the year in 1992 and the school's MVP as a senior.
Brown continues to hold the school record for fumble recoveries in his career and ranks second with 584 total tackles and 12th in sacks (17.5). In addition, his 16 career interceptions are also second in Bulldog history and he led Ferris in tackles three consecutive seasons (1990-92).
Brown played football professionally for five years, competing in Super Bowl XXVIII for the Buffalo Bills in 1994. He also started as an inside linebacker for the New England Patriots in 1996.
After his career in the NFL ended, Brown became known for his time with both World Wrestling Entertainment's ECW brand, where he wrestled under the ring name Marcus Cor Von and, prior to that, Total Nonstop Action Wrestling, where he wrestled under his given name. In both arenas, he utilized the nickname "The Alpha Male." Brown also has wrestled for a number of independent promotions, including Blood, Sweat and Ears, Juggalo Championship Wrestling, and the Universal Wrestling Alliance. He even had his own action figure!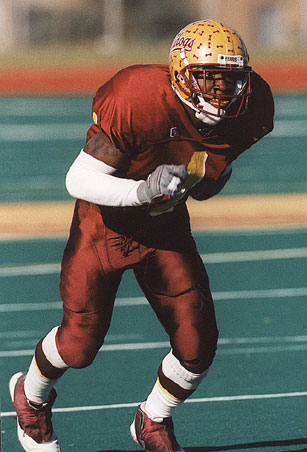 Clarence Coleman
Clarence Coleman often goes unnoticed when talking about the greatest Bulldog football players of all-time, especially with the recent successes on the field by the like of Jayru Campbell, who very nearly made this list after his massive 2018 season. But Clarence Coleman had a career that still lives on in both Ferris State's and NCAA's record books.
Coleman was a three-time (1999-01) All-American and in 2001 finished fifth as a national finalist for the Harlon Hill Trophy. Coleman completed his four-year career that spanned from 1998-2001 ranking second all-time in all NCAA divisions with 323 receptions and tops in NCAA Division II, a record that still stands today.
In his 2001 senior season, Coleman received first-team All-America honors from the American Football Coaches Association, Associated Press, Daktronics, Football Gazette and D2Football.com, along with being tabbed as the Football Gazette's Receiver of the Year for the second season in a row. He was named to the Football Gazette's All-America Honorable Mention Team as a sophomore in 1999 before attaining first-team laurels in 2000. Coleman earned All-America plaudits in 2000 from the Associated Press, D2Football.com and Daktronics.
A two-time team Most Valuable Player, Coleman is the Bulldogs' current career record holder in receptions (323), receiving yards (4,983), touchdown catches (42), all-purpose yards (8,009), consecutive games with a reception (42), punt returns (103) and punt return yards (1,494). He holds school single-season marks for receptions (97 in 2000), receiving yardage (1,519 in 2000), touchdown receptions (15 in 2000), all-purpose yards (2,618 in 2001) and receiving yards by a freshman (994 in 1998).
Coleman went on to play professionally for the National Football League's Buffalo Bills (2003-04), along with the Grand Rapids Rampage (2007) and the British Columbia Lions (2008-09) of the Arena Football League and the Canadian Football League.