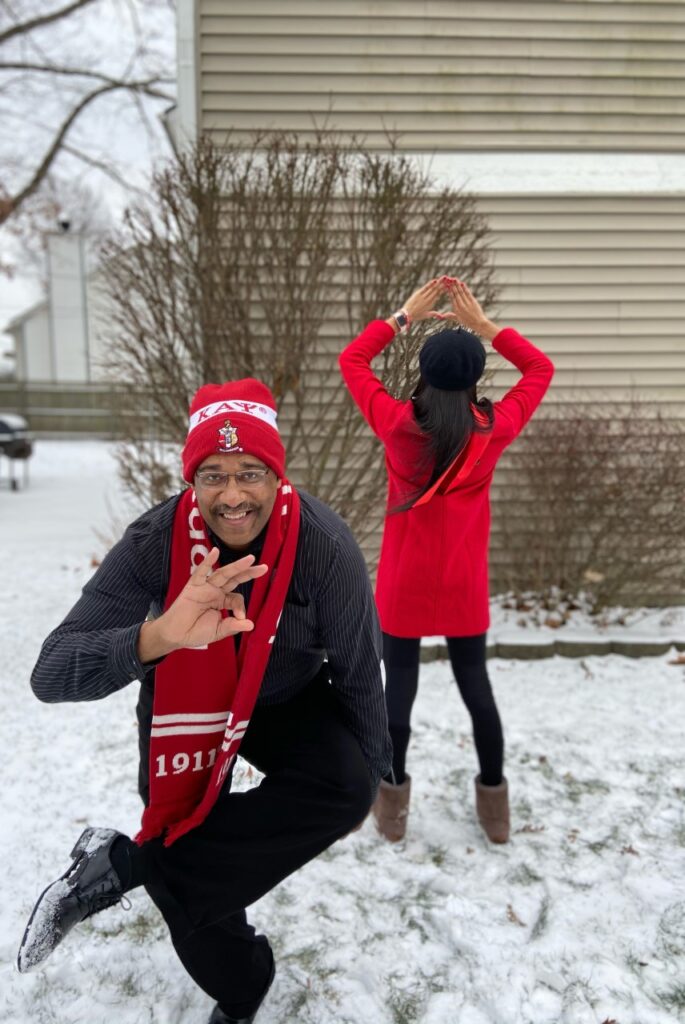 When Adrienne Anderson walked onto Ferris' campus in 2017, Delta Sigma Theta had been inactive since 2013.
It was a reality that scared her, not having a Divine Nine sorority active on campus for her to join. It's a part of her family history, according to the nursing senior. Growing up, Anderson had seen her father continue to be a part of and make impacts through his fraternity, and it was something she knew she wanted to be a part of.
"When I heard the first whiff of wind that Delta Sigma Theta was coming back — and that's the sorority I knew I wanted to do — I was so excited and I jumped right on it and did what I had to do and here I am," Anderson said.
Anderson's line, named "Waiting to excel," has eight members and reactivated the sorority on campus for the first time in seven years. The process of picking members for new lines of sisters, while Anderson could not go into detail, involves picking women who are representative of the values of Delta Sigma Theta and carry on the traditions the founders envisioned.
For Anderson, joining Delta Sigma Theta has given her a deeper bond with her father, who is a member of Kappa Alpha Psi.
"I'm finally in a position where I can truly understand what it's like, because now I have the experience. I mean, granted not as many years as he does," Anderson said. "But now, I can see firsthand what he has experienced and what he goes through and it's an amazing experience. It brings us – I mean, that's my father, so we're already close – but definitely closer because we can have those conversations about what our history was, or how our organization or fraternity started, or anything along those lines is definitely giving me an inside look as to what like greek life brings."
The values of sisterhood, scholarship and service were ones that were modeled for elementary education senior and vice president Ellyse Ghoston by her aunts, who were in Delta Sigma Theta as well.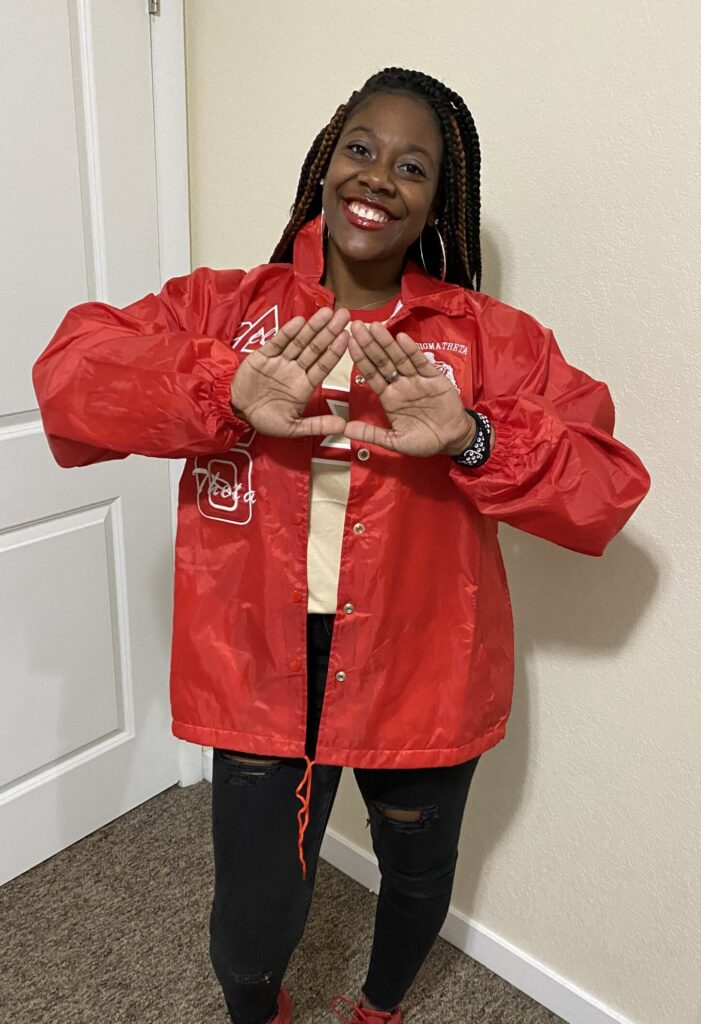 "I kind of grew up, just watching my aunts all that they did through Delta, and I just knew that that was something that I wanted to be part of," Ghoston said.
For pre-pharmacy senior Kalisa Williams, the sorority has given her sisters that she never had growing up. Williams, whose family didn't grow up going to college, didn't know anything about Greek life until Anderson approached her about joining Delta Sigma Theta.
"Going into this, I did not know anybody, only person that I knew was Adrienne because we had played basketball together," Williams said. "So it was just literally me and her in the beginning and from then on, once we first met each other, everybody kind of connected on a level that I was like 'alright, we got this, this my sister.' And from then on, it's been great, all the relationships that I have in my sisters is amazing."
Williams, now the president of the sorority, was unsure of taking on the responsibility at first. She credits her sisters and prophytes for their support as she learned her new position. Prophytes, the Delta alumni, act as mentors to many current Deltas. Mentorship is an important function for the sorority, according to Ghoston and Williams.
"I think it's good for us to see how our mentors, what they did and how they mentor us for when it's time for us to do it again," Ghoston said. "I definitely think that all of us want to have that impact on someone. Even if it's a person who's older than us, or someone who's younger than us. To just have that impact, that positive impact for them, even if they dec i d e not to join Delta, to have that impact on them that you know you can do this, you can get through college. You know that there's somebody behind you at all times you're not alone."
Another significant part of Delta for Ghoston is the history of the sorority and Divine Nine organizations. Ghoston's favorite piece of Delta history is their involvement in the women's suffrage movement. The sorority's first public act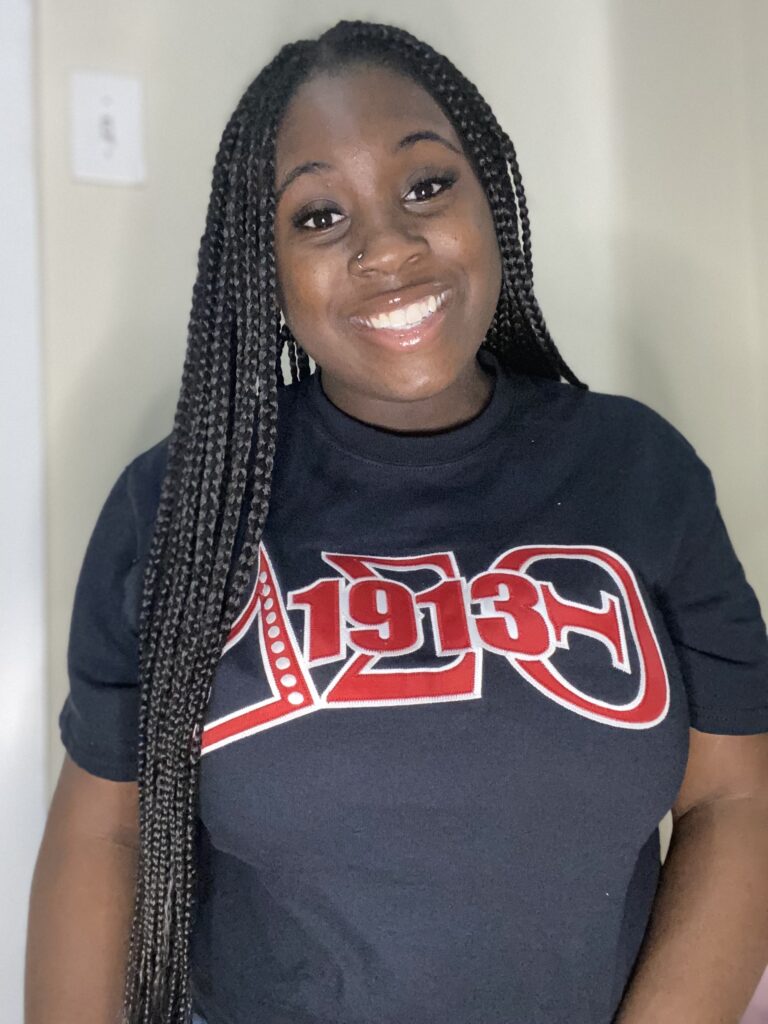 after its founding was participating in the Women's Suffrage March in Washington D.C. in March of 1913.
"I think our history is a main part of who we are and will always be a part of who we are as an organization," Ghoston said. "We stand on sisterhood, scholarship and service. Those are some of our main things and that is something that we will always do, we will always be a part of it and our history stands on it."
Delta Sigma Theta was founded on Jan. 13, 1913 at Howard University by 22 women. According to the official Delta Sigma Theta website, these women aimed to "use their collective strength to promote academic excellence and to provide assistance to those in need."
Delta is one of the Black Greek Letter Organizations in the Divine Nine, several of which were founded at Howard University. BLGO's were founded "due to the trials and tribulations that many Black people were facing," according to the NAACP Connect website. Black students were often banned from joining social organizations, and so throughout the beginning of the 1900s, the Divine Nine were founded.
Williams, Ghoston and Anderson all feel a sense of pride being associated with a Divine Nine organization and its famous alumni, such as poet Maya Angelou, Vice President Kamala Harris and the late actress Cicely Tyson.
"Even though I'm not an AKA, seeing how far Kamala (Harris) went and her goals, because she's (Divine Nine), we're all proud," Anderson said. "It is a very much so a sense of pride, because we all share pretty much the same history … So, to see somebody go through different struggles that African Americans typically go through, be able to reach office, a high level of office, and then be the first African American woman to do that? Oh, I can do that too and she's a mentor to me, even though she's not Delta."
Anderson said Black History Month is always a time of reflection, and now it's a time for her to dive into her sorority's history.
"We're about to do this event where all my sorority sisters that are on campus are going to pretend to be a famous delta," Anderson said. "So that gives us an opportunity to learn about somebody we typically haven't known or seen in the history books or there's a movie on, but that gives us a chance to enhance our knowledge on people that have come before us. I think that it really gives us an opportunity to just dive deeper into our history."