Swish.
The sound of a basketball falling seamlessly through the net of the Walker family's driveway hoop was a familiar sound for Jasmyn and her younger siblings, Jordan (Jordy) and Jarvis II (Jay). Especially when they played with their parents—Ferris Hall of Famers Jarvis and Danielle (Smith) Walker.
Whether it was early mornings spent getting shots up or a casual game of 21—well, as casual as it gets with a family full of hoopers—the driveway at the Walker's home in Muskegon holds a wealth of memories for Jasmyn.
"It's funny, because even still, to this day, we go out when all of us are home—which is extremely rare now—but when all of us are home together, we'll go outside, play around the world or whatever, and my dad comes and plays and he [asks] 'what's the motto?' and we're like 'daddy doesn't miss,'" Jasmyn said. "And he's just bottom of the net, always—really, he doesn't miss."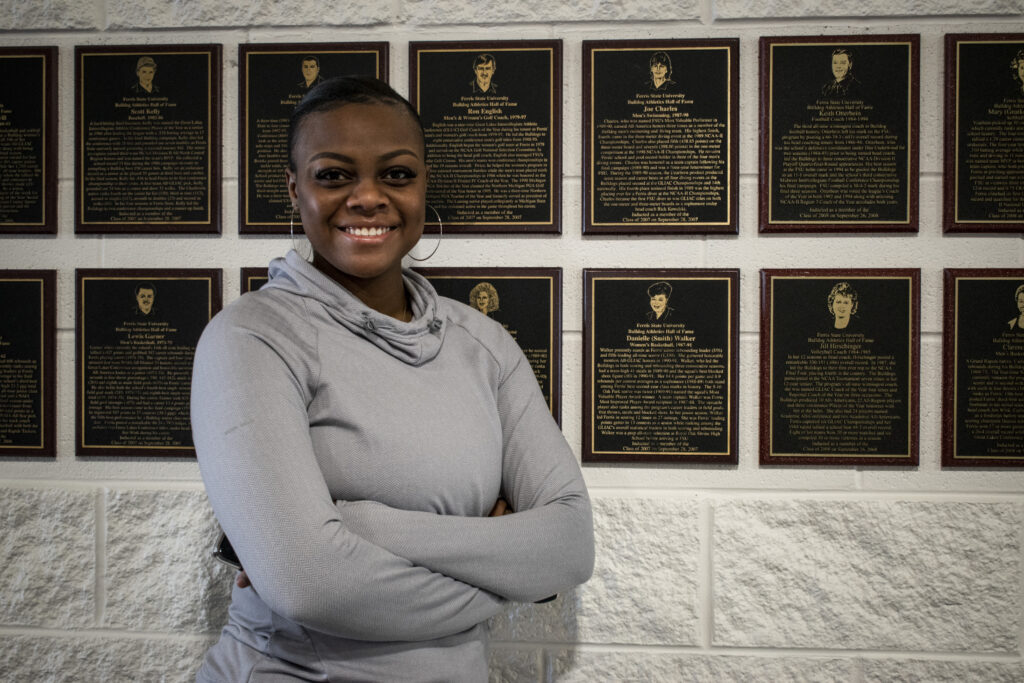 Now, the Walker family history at Ferris has come full circle with Jasmyn stepping into the assistant coaching position for the women's basketball team. In one sense, all the pieces fell into place for her to coach at her parents' alma mater. But in another, her whole life had been leading up to this.
Jasmyn was a standout on Mona Shores' varsity basketball team from the time she was a freshman. It was there she made a future Ferris connection in head coach Brad Kurth, who would go on to serve as assistant coach to former head coach Kendra Faustin for three years. Walker was four-time All-State and MLive's player of the year her senior year, when she averaged 18.6 points and 8.6 rebounds per game.
She then went on to Valparaiso University, where she played under Kurt Westendorp, who is the current women's basketball head coach—Ferris connection number two. As a 5-foot-10 forward, Jasmyn was named to the All-Freshman team as a true freshman, setting the rebounding record for freshman with 250 boards. After her sophomore year, she decided to transfer to Western Michigan University, where she played under Shane Clipfell. She surpassed 1,000 career points while playing for the Broncos.
But her connections to Ferris have been there her whole life—they're in her blood.
A family of hoopers
Having one parent in their university's Hall of Fame is one thing, but having both parents' names on plaques on the wall? It's nearly unheard of. Jarvis and Danielle were inducted into the Hall of fame in 2004 and 2007, respectively. Those ceremonies are moments Jasmyn remembers vividly, though she wouldn't fully realize the significance of the honor until her own collegiate career.
"You know, I laugh with my mom and dad and my siblings, we didn't understand how big of a deal it was until the we got older," Jasmyn said. "Because it's not an everyday thing and it's not a common thing. Growing up with two Hall of Famers in the home, I'm like OK, yeah, all right… But it's such a big deal. Because I go everywhere, and I see their names, or I see pictures of them."
In a family full of basketball players, casual trash talking is the norm and Jasmyn said the kids would often joke with their parents about who the best hoopers are in the family: "Hey, you guys, you thought you were hooping, but you're not hoopin' like we were," Jasmyn said. "When in reality, they were drastically better than we were."
That competitive spirit was inherited from their parents, no doubt. In a zoom call with Jarvis and Danielle, when the timing of their Hall of Fame inductions was brought up, there was immediate banter about who was first.
"He was first," Danielle said begrudgingly. "Even though I don't want to admit it, but he was first."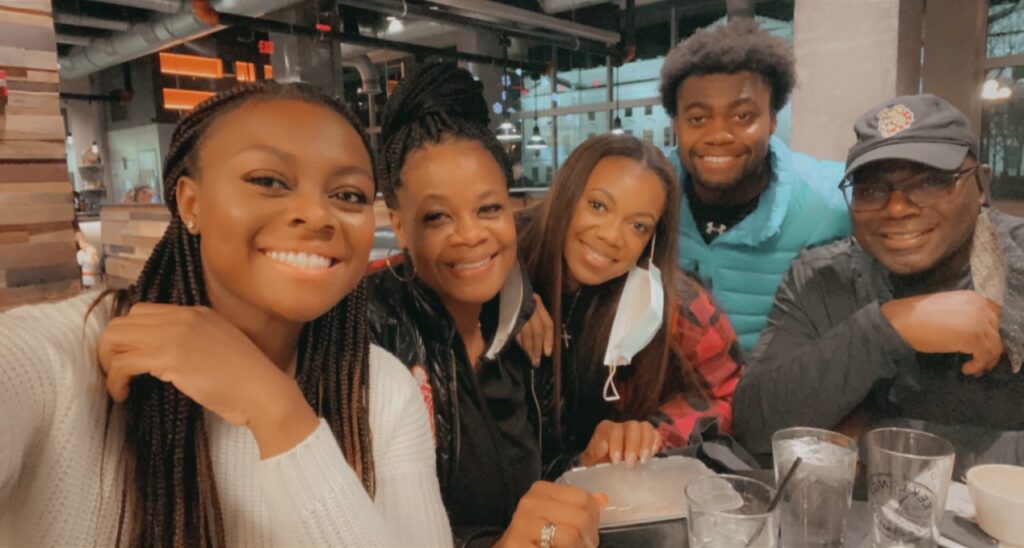 According to both parents, Jasmyn and Jay talk the most trash in games of HORSE or 1-on-1 in the driveway—though they were sure to mention in serious settings, their kids weren't really trash talkers. After a minute or two of deliberation, however, Danielle rescinded her votes for biggest trash talker in favor of Jarvis Sr., who didn't deny the statement, just laughing at the claim. "He talks the most trash," Danielle said. "But, then he wins, and so there's nothing else to say, right?"
When it comes down to talent, though, the younger Walker siblings certainly did not miss out. Jordy, who was Michigan Miss Basketball in 2017, graduated from Western Michigan in three years and is a graduate transfer at Tennessee. Jay graduated from Muskegon High School in 2020 and is at Division I Purdue-Fort Wayne to play basketball.
One of the game day traditions was the pregame meal—and if any of the kids were with their dad, they knew what to expect: a gordita crunch from Taco Bell. Don't ask him why, though, because he's not quite sure himself.
"They just brought it up a couple weeks ago," Jarvis said, chuckling. "It was just like a ritual…nine times out of 10, it was Taco Bell, I don't know why, I was just going to get a gordita for them and they get a pop and that was their pregame meal, but they will go out and play and have good games, and then they brought it up last weekend, 'why what would you get us that for [pregame]?'"
There was never pressure from their parents to even play at all, but there was a natural love of the game in all three kids. The only condition was, "if there's something you want to do, be committed to it, and once we start something, we don't quit," Jasmyn said.
Jarvis explained another part of the no quitting policy was, more importantly, never quitting on themselves. And as parents, they made it clear that if the kids wanted to play, they would do everything they could to help them, on one condition.
"The biggest thing we had was, don't waste our time," Jarvis said. "If you're not going to give 110% when you go out there, don't waste our time, let's not do this. Because we don't have the time, you know, money, we can make—but time, we cannot make, so that was the biggest thing."
Along with the high level of competition and commitment, though, there were still relaxed, more playful moments of basketball, too. Countless pickup games in the driveway, queen of the court and around the world are fond memories in her mind. Naturally, the trash talk is still present.
Despite the days in the driveway "beating up on each other," there's an understanding between the siblings of wanting the best for each other and playing a part in each other's success, like when Jordy won Miss Basketball.
"Those days where we're getting up early in the morning to go shoot before school, and then shooting after school and before practice and after practice, or putting in the work where I'm like, that's where she earned that," Jasmyn said. "That's the time that she put in and you know, Jay and I, we know we helped on that. So it was never pressure to do anything, but it was always like, I want them to be proud of me."
From player to coach
It was that very work ethic that stood out to all of Jasmyn's former coaches. Westendorp had known the Walker family since Jasmyn was young and knew when recruiting her that he was getting a "really hard worker" and "really high character player." The opportunities she got right away at Valpo she made the most of, a quality that was already ingrained in her from high school.
Kurth said the same of her when she was a freshman four years prior.
"She won an opportunity to play varsity as a freshman, and we really didn't know where what level she would compete, how many minutes or anything like that," Kurth said. "But she just kept making a difference on the floor and we had a hard time keeping her off the floor."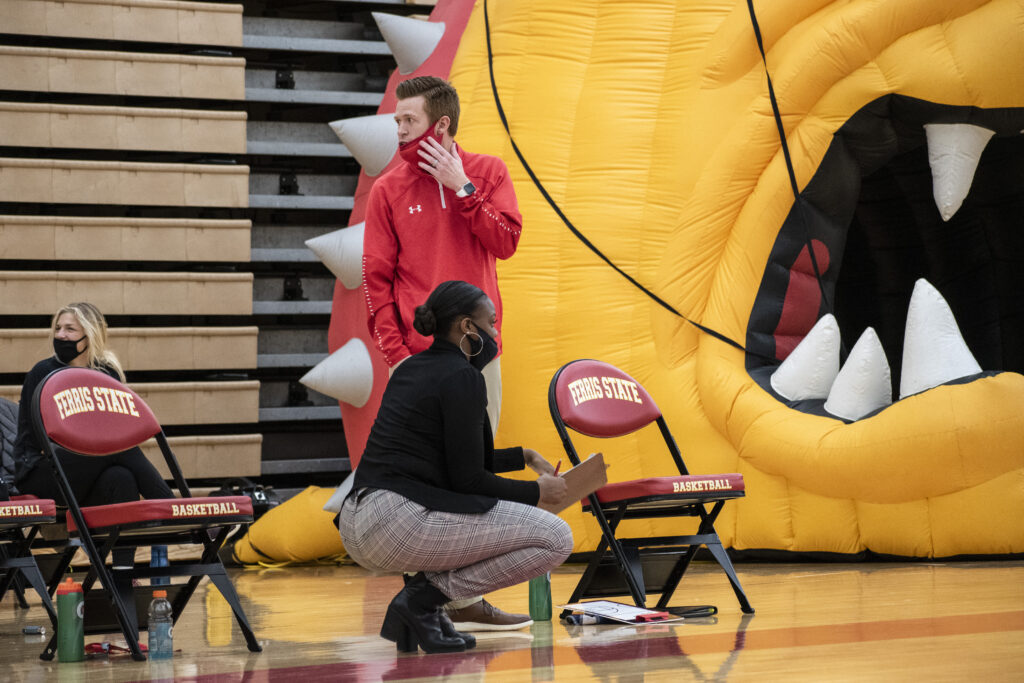 There was no question who the hardest worker on the team was in Kurth's eyes after Jasmyn's freshman year, and it was her work ethic that set the tone for the whole team. Western Michigan head coach Shane Clipfell called Jasmyn a blue collar player who was not only consistent, but resilient during her junior and senior year.
"She just put her work clothes on and came to work every day," Clipfell said. "She was a good leader, both by example and verbally. So she had it working on both sides of that. I think that's when you have some of your best, capable leaders, is when they walk it and talk it, and she did."
In the end of January of 2018, Jasmyn tore her ACL in a fluke injury. She felt herself pulling away from her team, stuck in her frustrations about an injury that should have been preventable. Jasmyn always prided herself in her consistent lifting, yet she still suffered one of the most brutal injuries in sports. One of her coaches noticed her distance from the team and challenged her: her season was over, but the team's wasn't.
"What can you do for the team, besides sitting on the sideline, kind of pouting?" Jasmyn said she was asked. "And I was like, you know, okay, you're 100%, right. That's selfish of me to feel like that."
Soon she found herself giving her teammates feedback on post moves, how to play a tough defender in a game and coaching players on defensive reads. She started seeing the game from a different perspective and found her stride analyzing the game in a new way.
Danielle had always seen this in her daughter, though. She recalls Jasmyn in high school, a star player, still sitting at the end of the bench whenever she came out of the game with a clipboard, drawing up plays and talking other players through it.
"For me, it's a cool thing because she's not only my daughter, but now she's coaching at the university I went to," Danielle said. "But then also, she understands the game and so we can talk to her about it and I did a brief stint a couple of years at a Division I school coaching. I was a (graduate assistant) and so it's interesting to talk to her about that… and she understands and so it's been really fun, to be honest, it has been very fun."
Jasmyn approached Clipfell after her senior year at WMU about the 'So You Want To Be A Coach' program run by the Women's Basketball Coaches Association. She was a member of their 2019 class, sponsored by WMU, and it was a pivotal experience for her to kick off her coaching career. Besides the seminars and networking, she ran into her old Valpo coach, which was Westendorp's first sign that she should be on his radar for future positions.
When Westendorp was named Ferris' head coach last summer, Kurth gave him the second sign. Kurth, who had known Westendorp from his time at Ferris and recruiting, gave him a call.
"When he got the job I called him up and I said, 'you've got to hire Jasmyn Walker. She's what you're looking for,'" Kurth said. "I was super happy when that hire was made, and I thought it was a perfect fit."
Representation matters
While she is not the first, Jasmyn is currently the only Black woman on any of Ferris' paid coaching staffs. She is one of just four Black coaches among all 13 teams.
Growing up in the suburbs and attending first Mona Shores in high school, a product of white flight, and then Valparaiso, Jasmyn is familiar with being one of the few Black people in her community.
"Growing up in places where it wasn't always people that look like me, and I didn't have any Black teachers or anything like that," Jasmyn said. "Then to go to Valpo, where it was fewer people who looked like me, and if they didn't look like me, we're all athletes. None of us were coaching staff."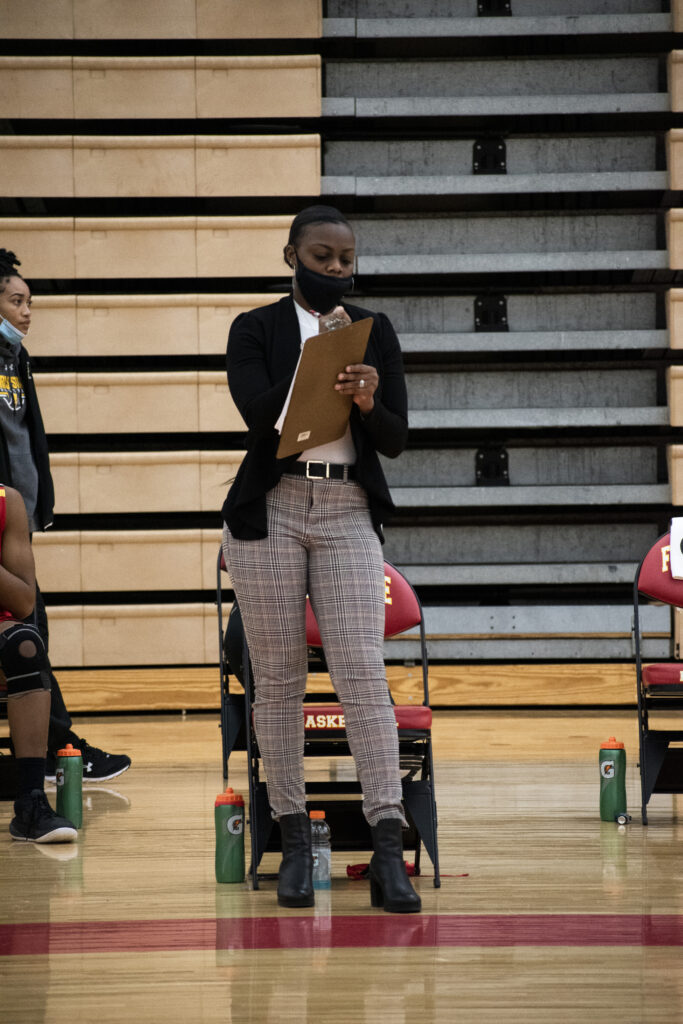 It wasn't until she got to Western that Jasmyn found a larger Black community, and even had a Black woman as an assistant coach. Now, she can be the coach for her Black players to identify with. During her mother's career, Danielle said there were no people of color in the women's program, something that would have meant a lot to her.
"If you have the opportunity to have someone of color on the staff, I think it is huge for young ladies playing, I really do, and I want to see it. I think it matters and you know I'm glad for the young ladies that are on the team," Danielle said. "I'm proud of her for that and I think she's built for it. She is built for the challenge. I think that her experiences are going to help her as she navigates that water, because it is tough. In women's athletics in general, it's good to see more women in it and certainly women of color."
While Jasmyn calls it an amazing time to be in coaching, with the efforts now to increase diversity on coaching staffs, she clarified that she never wants to be the token Black woman. She points out the increase of diversity initiatives created due to the current social climate, "when maybe these conversations were needed all along the way."
"This time that we're in, there's a lot of diversity councils and diversity staff and things like that, and not that I don't want to be a part of that stuff, I absolutely do," Jasmyn said. "I think it's important to have a different perspective at the table to have a conversation, and first off, for the table to include me and my perspective. But also making sure that you know, we're not doing things for the sake of [doing them]."
"It's kind of a double edged sword, I'm excited to be a part of the table, excited to be part of the conversation, but also frustrated because these are things that minorities and people have been saying for so long."
She admits she doesn't know that Big Rapids is exactly the place for her and her husband, Asantay Brown. But for minority coaches trying to get a seat at the table and increase diversity on coaching staffs, sometimes you have to go out on a limb. At the end of the day, though, she hopes she can be a different perspective in the community and someone for her players to identify with.