Ferris pharmacy students have been volunteering at the District Health Department's COVID-19 vaccine clinics.
Bethanie Dean is the immunization coordinator with District Health Department No. 10, which includes the Crawford, Kalkaska, Lake, Manistee, Mason, Mecosta, Missaukee, Newaygo, Oceana and Wexford counties. She explained that Ferris houses the vaccines for these 10 counties, and 27,335 vaccines have been administered to date.
"Students and volunteers have been a huge help and a wonderful addition to our clinics. We appreciate having them work with us and be a part of this historical time," Dean said.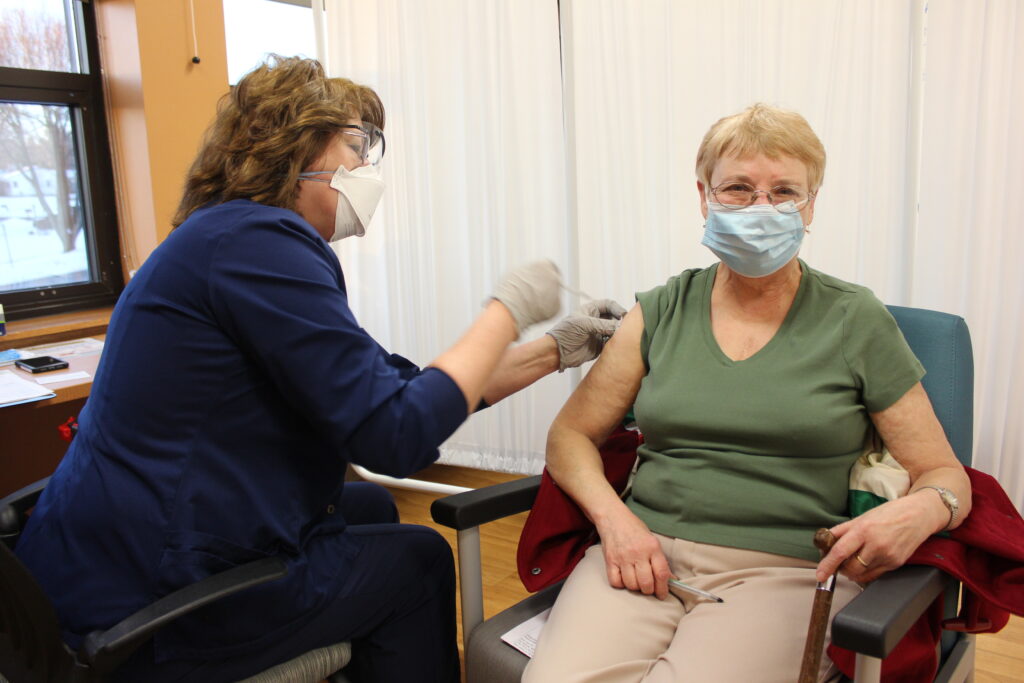 One of the students who has been involved with vaccine distribution is Veronica Mills, who is in her second year of pharmacy school. She explained that it's mandatory to get certified to administer vaccines when enrolled in the pharmacy program.
"There's like 6 hours of pre-work, then an 8-hour live session and, at the end, you have to show the preceptors 3 intramuscular and 1 subcutaneous injection," Mills said.
Because she was already certified, it made sense for her to give back to the community by volunteering at the vaccine clinics.
"I've worked both a first dose and a second dose clinic and used the Pfizer and Moderna vaccine. Both of the clinics went very smoothly, and all the patients were very thankful," Mills said.
Sara Aljajawi is another second-year pharmacy student who has been volunteering her time on weekends at vaccine clinics. She has worked in both a first and second dose clinic.
After the first dose she observed that some patients had arm soreness, which is common with all intramuscular injections including the flu shot.
"With second doses [the reaction is] like 50/50. Some people will have mild headache, tiredness, fatigue a little bit of soreness, maybe a sore throat," Aljajawi said.
Despite a few mild adverse effects, Aljajawi explained that overall, most patients getting the vaccines were incredibly appreciative.
Aljajawi was also quick to point out that often the effects she's witnessed are signs that the vaccine is doing its job.
"It's just your immune response, so your body is saying, 'I've seen this before, and I'm going to get it this time,' so really it tells us that the vaccine [is] working," Aljajawi said. "Even if you don't have that reaction, it doesn't mean the vaccine isn't working. It just means that your body didn't have that immune response."
Aljajawi emphasized the importance of continued mask and social distancing protocols even as more people get vaccinated. One reason for this is because scientists don't yet know if the virus can be carried by people who have been vaccinated.
"If we get everyone vaccinated faster, then we can slowly move back to normal life, which I think everyone wants to get back to," Aljajawi said.
Both Aljajawi and Mills intend to continue volunteering at vaccine clinics. According to the Health Department, the clinics will continue at least through the summer.
"Based on the state's prediction, the general population could expect to start getting vaccinated towards the end of summer. This all depends on… how fast the state can vaccinate other priority groups," Dean said.