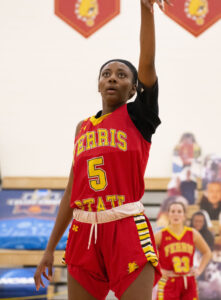 The Ferris women's basketball team lost consecutive games against Wayne State to close their regular season.
On Friday, Feb. 26, the Bulldogs played strong defense and recorded a season high number of steals but fell to 48 – 47 on a last second made shot by the Warriors.
The next day, Ferris fell again 59-54. They got 21 points from freshman guard Kadyn Blanchard and 13 points from senior guard Samantha Krauss.
Wayne State's 48 points on Friday were the second fewest allowed in a contest by the Bulldogs this year. Ferris also recorded a season high 15 steals.
The Bulldogs needed a strong defensive effort, as they shot just 25% from the floor, well below their season average of 38%. Their 47 points were also their second fewest in a game all season. However, their strong defensive play was not enough to beat the Warriors.
"Mentally, we were locked into our defensive game," head coach Kurt Westendorp said. "This is four games in a row where we've held our opponents to under 50 points in regulation. We executed on that end of the floor really, really well. Offensively, we couldn't knock down the big shot when we needed it. We got a lot of looks that we liked, but we have to do a much better job of focusing and finishing around the basket."
Freshman guard DeShonna Day said her team prepared to play strong defense.
"In practice we all locked into the game plan coach was giving us for the week," Day said. "We executed the plan, forcing them to make extra passes and get them out of their comfort zone."
The first quarter concluded with the Bulldogs on top 13 – 8. They forced Wayne State into eight first quarter turnovers and capitalized with nine points off those turnovers.
Ferris got off to a slow start offensively in the second quarter, scoring just five points in the first eight minutes of the quarter. Sophomore guard Mallory McCartney hit a three-pointer with two minutes remaining in the quarter to end a Warrior 7 – 0 run and pull the Bulldogs within one point.
To close the half, the Bulldogs had the ball and got down the floor quickly. Junior forward Zoe Anderson hit a three-point shot to beat the buzzer and give her team a 26 – 24 lead heading into halftime.
The Bulldogs recorded eight steals in the first half, forced 12 turnovers, and recorded eight second chance points. Anderson, McCartney and Day each had six points for the Bulldogs in the half.
Wayne State started the second half with a strong 6 – 0 nothing run in the first two minutes of play, forcing Bulldog head coach Kurt Westendorp to burn a timeout. Anderson scored a two-point shot out of the timeout to end the Warrior's run and start an 8 – 0 run for Ferris to give them a 34 – 30 lead. Ferris ended the quarter up 39-34.
Ferris had a 46 – 39 lead with two minutes remaining in the game. Wayne State cut the Bulldog's lead to 46 – 44 with one minute left on the clock. The Warriors had the ball and a chance to tie or take the lead, but Anderson stole the ball and passed up the court to Blanchard.
Blanchard was called for an offensive foul while dribbling up the court, and Wayne State capitalized with a game-tying two point shot on their ensuing possession with just over 30 seconds remaining in regulation.
With seven seconds remaining in the game, Anderson was fouled on a shot. She hit 1-of-2 free throws to give Ferris a 47 – 46 lead.
"I stepped up to the line with confidence ready to go but when the first one left my hands, I knew instantly it was off," Anderson said. "I knew I needed to just take a deep breath and knock the second down."
Wayne State missed a layup with three seconds remaining but corralled an offensive rebound and scored to take a 48 – 47 lead with just over one second to play.
"It was frustrating that 95% of the game we controlled defensively and then didn't box out the missed shot with 2 seconds left," Anderson said. "We just need to close out those rebounds and missed shots in crunch time."
Ferris had a chance to win the game on their last possession, but McCartney missed a three-point shot.
"We had a really good look," Westendorp said. "That's all you can ask for with a little over a second left on the clock. We'll take Mallory shooting that shot every single time. We have a ton of confidence in her, so if we get that same situation tomorrow, we'll try to get the ball back in her hands."
For the game, Anderson, Day and Blanchard each recorded nine points. McCartney had six points on 2 – of – 15 shooting and recorded four steals and zero turnovers while playing all 40 minutes of the game. She also played all 40 minutes of Saturday's game.
The losses knocked Ferris to 6 – 12 to conclude the regular season.
Ferris will begin the GLIAC tournament March 2 as the ninth seed against Wisconsin Parkside, a team they split their regular season matchups with.