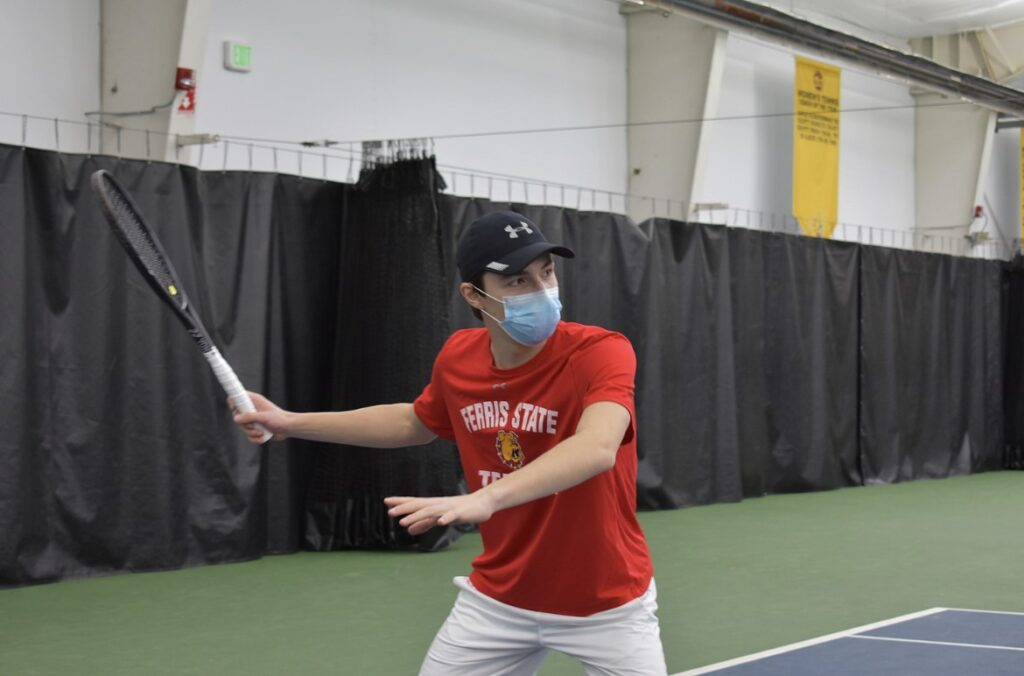 Playing on a team is something new to freshman tennis player Jan Koupil.
Jan Koupil has been around the world during his tennis career, competing in tournaments that have brought him to the continents of Australia and Africa along with living in Stockholm, Sweden. But at Ferris, he seeks a new adventure.
Already the number No.2 singles player on the tennis team, Koupil has already found some success with the Bulldogs as the team's record sits at 4 – 2. His personal singles record sits at 3 – 3, with his only two losses coming against Western Michigan before a loss to Hillsdale in his singles match. He is also 4 – 2 in doubles matches.
Koupil wanted to compete for a university, for a team. For his entire career, the most teamwork he had seen was working with a partner in a doubles competition. Now, he is part of a team of eight other players.
"Universities back home don't have the facilities like here, like tennis courts, all the athletic facilities, everything that we have here." Koupil said. "We don't have this back home as collegiate sports aren't the thing. So that's one big difference that we have all these facilities on campus, which makes it possible for me to combine my studies and my tennis."
Koupil came to America as a highly ranked tennis prospect, ranked as the 10th best Swedish prospect in his age group, and held an 11.5 Universal Tennis Rating. He is competed in tournaments across the world, including matches in both Australia and Kenya.
"I've played for a long time. I've competed nationally in Sweden, and like internationally, like the Swedish Championship tournament, regional tournaments, something like Under-18 international tournaments." Koupil said.
The main team that he played for growing up was the Royal Tennis Club of Stockholm. The club was founded in 1896 and has been home to some of Sweden's largest tennis events.
"I played for my club, I was playing for the Royal Tennis Club of Stockholm, which is a very big club in the in the capital of Sweden, Stockholm." Koupil said. "And I played there for a very, very long time. And I was fortunate enough to play for them. I was very happy to represent my home club. It's just, a couple top clubs that recruit players internationally. But mostly is just any regular, recreational players."
One may ask how a prolific player in Sweden could find his way to a team such as Ferris State. Koupil explained that a major part of the process is sending out his film and seeing which coaches respond.
"One way that we get recruited by producing a video of us playing tennis, as well as coaches, looking through our results and that kind of thing." Koupil said. "If there's a match, somewhere, you get in contact, you can reach out to coaches, or coaches can reach out to you. I got in contact with Coach Doren."
Koupil explained how talking with future teammates helped make the decision for him to come to Ferris even easier.
"When I was in talks with Coach Doren, he had me speak to a couple guys on the team." Koupil said. "Speaking to the guys I got to know the coach from their perspective, learn about how the place is from a student's perspective. And I think that was really nice to be able to get to know someone or a couple of people before I committed. And that in combination with the team atmosphere that everything is there just felt right."
Luckily, there was not much of a change in playing style when it came to playing here in Michigan compared to Sweden, with the seasons being relatively similar.
"Well, differences I mean, back home. Like outside, as I said, we play on clay during the summer." Koupil said. "And Sweden, we have a similar climate to Michigan. So, we have our winters when we play indoors, and then we have our summers when we play outdoors."
Michigan also allows Koupil to participate in some of his other hobbies, along with the chance to play somewhere that had snowy winters that were like Sweden.
"I had never been to Michigan before, but I felt like I wanted a place where it wasn't insanely hot." Koupil said. "But, I mean, it's a nice place. Personally, I like skiing, or like I like winter activities. I don't mind the cold. So, I felt like it was a good fit for me. Instead of having rainy winters. So I'm happy with Michigan and the way it is just like home."
Currently, Koupil is studying Business Data Analytics and is planning to get a Master's degree in the program.
"And, being in business, data analytics, there's a lot of data and data analytics, fields you can go into." Koupil said. "It is very broad as, a lot of different industries revolve around data. So I feel like I'd be interested in doing, exploring, and I haven't gone to depth into what exactly I want to do. But, I'm a freshman, so I mean, there's not many decisions that I've already made. But I feel like I'm interested in technology. I'm interested in nature. There's a lot of different stuff. I'm interested in. I feel like, being able to incorporate data and data analytic into these different fields, I think could be a good fit for me."
Jan Koupil and the rest of the men's tennis team will be competing once again on March 13 against Lewis University in Plainfield, Illinois. The team's sights are on the success in the GLIAC tournament, with the GLIAC season starting March 19 against Wayne State.