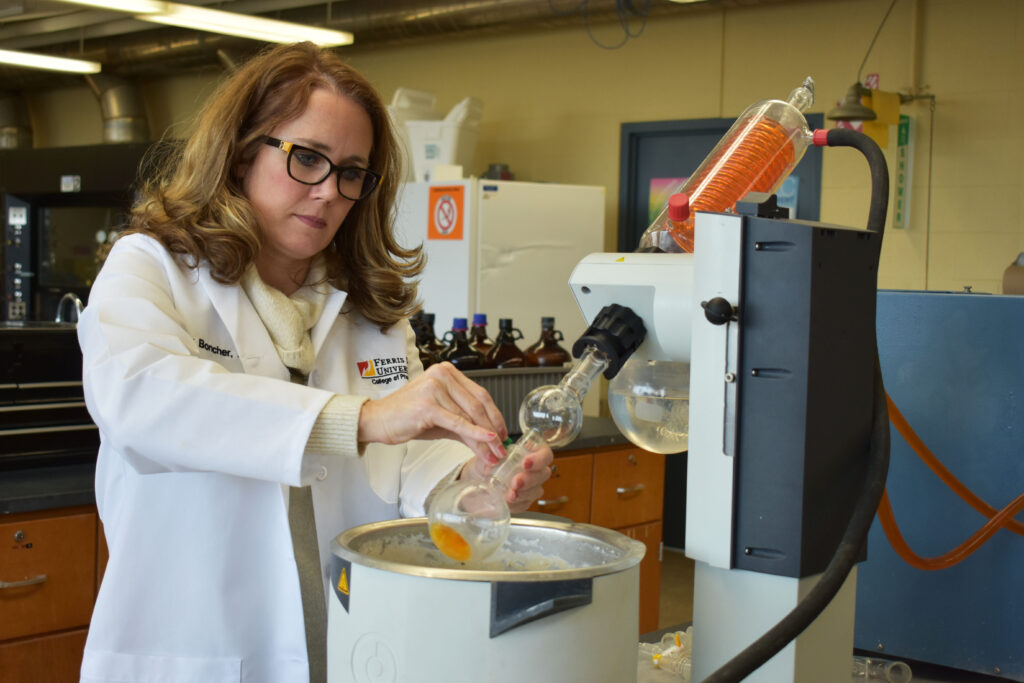 Ferris Professor of medicinal chemistry and medicinal biochemistry Dr. Tracey Ward has reimagined and redesigned prescription Alzheimer's treatments.
Ward has studied Alzheimer's disease for over a decade and is currently working on her treatment in a clinical trial phase.
"I've designed a series of molecules that work via a completely different mechanism than the ones currently in the market," Ward said.
Alzheimer's disease, also known as senile dementia, progressively destroys mental functions, such as memory, through the degeneration of brain cells and their connections. Mayo Clinic reports more than three million annual cases of Alzheimer's disease in the United States alone.
"We only have a handful of drugs on the market and all they do is delay the symptoms for six to 12 months. And after that, there's not a lot of hope from a therapeutic standpoint and it progressively gets worse," Ward said.
Someone suffering from Alzheimer's disease produces limited levels of the chemical acetylcholine. This chemical messenger aids in memory, motivation and attention by sending signals from nerve cells to the rest of the body. The average Alzheimer's drug prevents symptoms by boosting the ongoing production of this chemical. As the amount of available acetylcholine decreases with the disease, these drugs lose their effectiveness.
Ward is setting out to produce a drug that does more than postpone inevitable effects of Alzheimer's disease. According to data shown in animal trial tests, she is potentially on track to finding a cure.
Third year Ferris student and previous lab manager Nicholas Crall worked with computational software that informs researchers on the binding ability of their compounds. Once this is discovered, a lead compound may be built in a lab for further testing.
Crall explained that this prospective treatment for Alzheimer's all comes down to Ward's lead compound. In testing, Ward and a research partner from Auburn University gave this compound to mice.
"These are a group of mice that all have late-stage Alzheimer's and we have shown through electrophysiology studies that we've been able to almost take them pretty much back to the pre [Alzheimer's] state," Ward said.
After treating these mice for only 30 days, Ward and her team saw up to 400% improvement in neuro-activity.
To understand how Ward's compound differs from existing drugs, it is important to note how she discovered it in the first place.
Ward described the story as "serendipitous." For many years, she had been studying type two diabetes. While applying for a grant, she and her team were asked if their molecules could reach the central nervous system — home of the chemical messenger acetylcholine. Molecules reach the CNS by crossing the blood brain barrier. Cancer.gov describes the BBB as a network of blood vessels and tissue that protect the brain from harmful substances.
Because the researchers had not previously investigated this, their grant application was denied.
"We had to investigate that before we could reapply and so we found out that, oh my word, these things are actually getting into the blood brain barrier very well. And then we had to find out what's going on. That's when we stumbled upon it. Wow, I mean it's inducing these proteins that cause improved memory," Ward said.
With this breakthrough of a discovery, the team of researchers shifted their focus entirely and have not looked back since.
Ward has "tinkered" with the structure of her lead compound to come up with a series of second-generation molecules. With the help of a National Institutes of Health Small Business Innovation Research grant, this compound is on its way through animal clinical trials.
"I have a number of patents on this work and it might get purchased. Who knows, maybe one day we'll see it on a pharmacy shelf? It's cutting-edge research, it's extremely promising," Ward said.
To contribute to this promising future, Ward has a philosophy that transcends pharmacy.
"Regardless of what profession people have out there, we have an obligation to give back to our youth and inspire them. And so, I involve a lot of students in my research," Ward said.
Because of this principle of inclusivity, Crall has been able to work on computational software, drug design and drug synthesis in Alzheimer's research. To him, it is exciting and rewarding.
"I will say that it's challenging, you know, it's because it's a lot of chemistry and it's very difficult," Crall said. "Things don't always go the way that you want them to go. So you must be resilient and you must be willing to try new things and make mistakes."