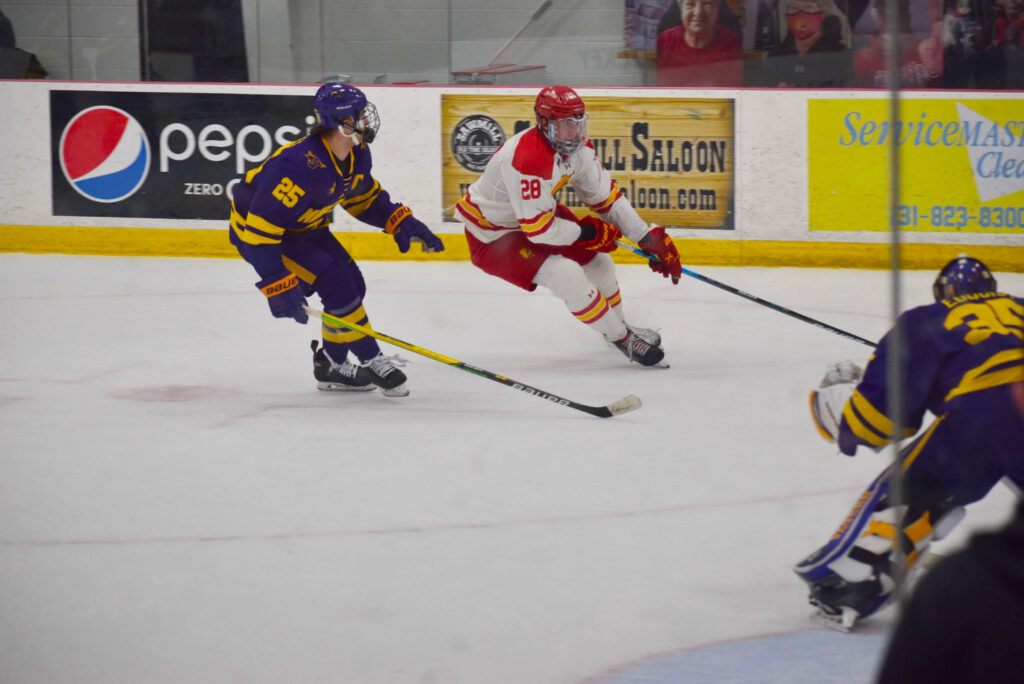 A rough regular season record of 1 – 20 -1 for Ferris hockey will give way to a difficult first round playoff matchup.
Ferris is locked into last place in the WCHA. A last place finish in the conference results in a first-round playoff matchup with the first-place team in the conference and nationally third ranked Minnesota State.
The Bulldogs had a chance to draw a different first round opponent in the playoffs. If they beat Lake Superior State University in their two final regular season games and Alabama-Huntsville lost their final three games, Ferris would move up one spot in the conference standings. However, Ferris lost their Feb. 26 matchup with Lake State, meaning they will play Minnesota State first in the playoffs.
In their 4 – 2 loss to the Lakers Feb. 26, Ferris got goals from freshman defenseman Luke Farthing and sophomore forward Dallas Tulik. The goals were both players' first of the season. Junior goaltender Roni Salmenkangas recorded 25 saves in the loss.
Head coach Bob Daniels liked the way his team fought in the game against Lake State and the past Feb. 19 and Feb. 20 matchup against Minnesota State but recognized that it was not enough.
"There's not much any of us can do in the way of building confidence other than to win," Daniels said. "I have a lot of faith in the guys, and I let them know that. I like the fact that they continue to work hard and compete. Last weekend against a very good Minnesota State team we battled tooth and nail. We gained some confidence from that, but the only way to gain true confidence is to win."
Locked into their playoff seeding, Daniels wants his team to end the regular season Saturday, March 6 against Lake State on a high note.
"I'd like to see us win," Daniels said. "I've seen some pretty good development from this team. Our young defensive core has matured and played better. I'd like to continue to see that growth. We've played some good teams recently and played them pretty tough, so I want to see some continued growth. At the end of the day, we want to see some wins too."
A win in the last game of the regular season would help the Bulldogs heading into their matchup with the first-place team in the WCHA. Daniels spoke on what a win would do for his team.
"It would give us some momentum and some confidence, which we would need," Daniels said. "Winning this game would go a long way."
Daniels likes that his team has back-to-back single-game weekends to close the regular season, adding that it gives his team some "much-needed rest."
Looking towards the playoffs, senior forward Coale Norris said that playoff hockey is "just different."
"When playoff time comes, everything is off the table and it's a different type of game," Norris said. "Once you get to playoff hockey, it's more of a team game. Playoff hockey comes down to competing. You have to out-compete the team you're playing for the series, so when it comes down to it, it comes down to competing."
The Bulldogs played Minnesota State four times in the regular season, losing all four games but taking the Mavericks to overtime in one of those games.
"Seeing them multiple times in the regular season helps to know some of their tendencies and how they play, what they do well and what they don't do well, but they know the same things about us," Norris said.
Daniels echoed similar thoughts regarding their playoff opponent, adding that because both teams know each other well, they might "throw in some wrinkles" to their game plans.
Ferris battled hard against the Mavericks the last time the teams played. When Ferris last met the Mavericks on the ice, there were a combined three player ejections between the two teams. For the Bulldogs, one of those players was junior forward Jake Transit.
"All four games we've played against them this year have felt like playoff games, they've been that intense," Transit said. "We don't really get along, so it's been a grind playing them."
Transit also talked about what his team aims to do in the playoffs to give them the best shot of winning.
"We want to force the action against whoever we play against and be hard to play against," Transit said. "I think that's the main thing. In playoff hockey, it becomes a little bit more serious and intense, so having everybody a little bit more focused and ready to play is huge."
According to Daniels, playoff hockey "brings out the best in everyone." The Bulldogs will face one of the best teams in the entire nation, but Transit is excited to see what his 1 – 20 – 1 team can do against the 16 – 2 – 1 Mavericks.
"Once you get to playoffs, anything can happen," Transit said. "You could see eight seeds in the NHL win the Stanley Cup. That's why hockey is such a unique sport; anybody can make a run."