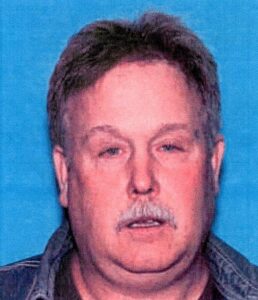 A Big Rapids resident is being accused of misdemeanor stalking and harassment with an anti-Black bias.
The suspect, Terry Lee Carlson, is a 57-year-old white man. He has been reported following at least one Ferris student on multiple occasions, both on and off campus, since October of 2020. Carlson has been reported driving a red pickup truck with Trump stickers and two small American flags located on the back.
"We currently have an active arrest warrant for stalking for him," Captain Gary Green of the Ferris Department of Public Safety said.
On Jan. 10, 2021, a report was filed when Carlson followed a Ferris student into the parking lot at Finch Court on campus.
Sergeant Timothy Jacobs, the lead officer on the case, explained in his police report that the victim was concerned that Carlson was going to harm him.
"He said there are other students in which this guy has followed people on campus and in the student apartments through town," Jacobs wrote in the police report.
When questioned, Carlson said that he was the one who was being followed. However, the victim provided video evidence of Carlson's truck following them.
According to Jacobs, the victim had recorded the suspect following him on Oct. 29, at the Arts and Science building, Dec. 27, at the Hillcrest Apartments and Jan. 8, from Family Drive to Sports Drive.
When Carlson was provided with this information, he "said he videotaped the person following him, but it did not take or save," Jacobs wrote.
Using the Michigan criminal history file, a background check was run on Carlson that did not reveal any previous charges. However, throughout the past year, there have been multiple reports of stalking levied against him.
"Meceola dispatch has received numerous calls regarding Terry Carlson's disturbing behavior. There are a number of reports of Mr. Carlson harassing minorities in the city and township of Big Rapids," the police report said.
In Jacob's reports, there was information on an Aug. 11, 2020, incident when a family called to tell authorities that Carlson had been known to carry firearms and had been coming to Big Rapids to harass African Americans. In addition, USDA from Newaygo called because Carlson had been acting oddly.
"(Carlson) followed two African American students to Campus Creek apartments, where they reported he said racial slurs at them. When interviewed, it was found that he had no reason to be on Gilbert drive," the Mecosta County Sheriff's report said.
Lastly, in a Big Rapids Police Report from Dec. 20, 2020, Carlson was said to have followed an individual from Curries lot. Prior to this, Carlson was also seen driving by this person's house numerous times.
Due to the nature and pattern of Carlson's offenses, Green issued a letter banning him from the Ferris campus for six months. After that period, he could apply to come back to campus.
A warrant is currently open for Carlson's arrest. If found guilty, the misdemeanor charge is punishable by imprisonment for not more than one year, a fine of not more than $1,000, or both.
Carlson's photo can be found on the Ferris Department of Public Safety trespassing list. Any on-campus sightings of Carlson can be reported to Ferris DPS at (231) 591-5000.
Becca Witkowski contributed to the reporting of this story.