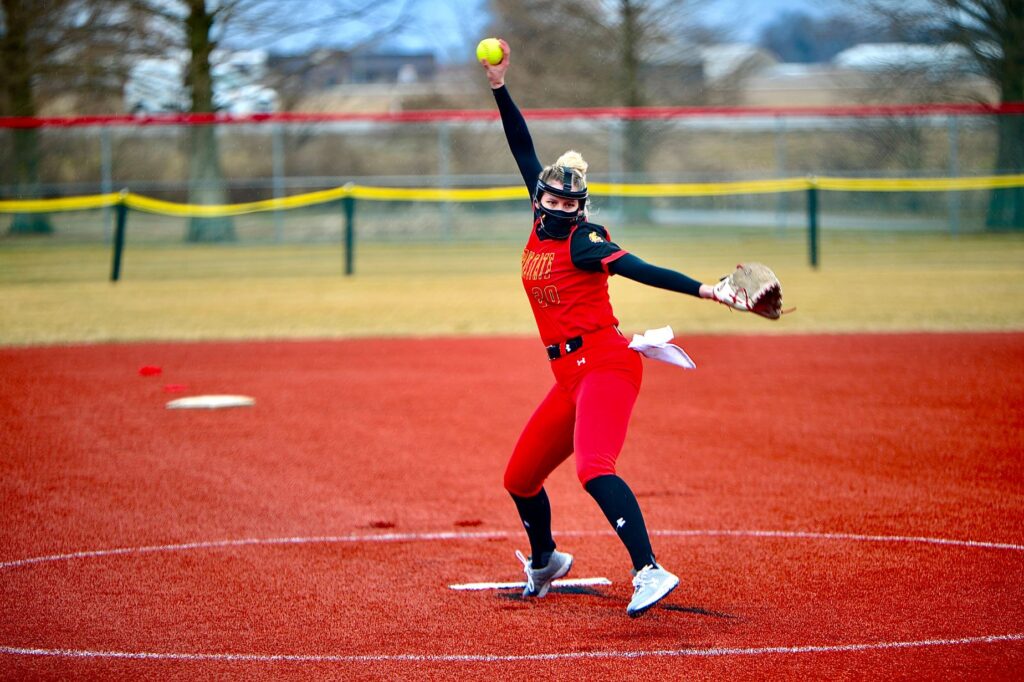 On Feb. 18, the Bulldogs packed their bats, gloves, and uniforms and set off for their first road trip of the 2021 season.
The season began with the Lewis Dome Invitational in Rosemont, Illinois. While the Bulldogs did not take on the hosting Lewis University Flyers, they were able to play five games against teams around the region.
"Being able to get back out there is a victory in itself," Coach Kirsten Janes said. "Not just for us (coaches), but it is so much for the girls."
Ferris started off their season on the right foot with a 3 – 0 win Thursday over Lindenwood. The Bulldogs were led by a strong pitching performance from freshman Mckenzie Cleland. Her complete game shutout performance was one of many great starts during the tournament, helping her earn the National Fastpitch Coaches Association Pitcher of the Week.
"She's throwing well." Janes said. "The way she is handled things was that of a veteran. That's been really cool to see."
The Bulldogs followed up the opening tourney win by adding two more close wins Friday, including an 11-inning, 18-run barnburner against Ursaline. Kylie Winkels led the team with four hits with Paige Kortz adding three more.
"The game took about three hours, which is roughly an hour longer than a typical game." Kortz said on the Ursaline game. "We could have easily 'rolled over' but our team and pitching staff came out every inning fighting."
Janes' team went on to win Saturday's opener 4 – 2 against former GLIAC competitor Findlay, thanks to sixth inning RBIs from sophomore Jessica Tucci and junior Ali Magiera. Although the Bulldogs took an early 2 – 0 lead in the nightcap finale, they ultimately fell 6 – 3 against Illinois-Springfield to finish the tournament 4 – 1 overall.
Despite not winning the tournament, coach Janes was happy with how her team performed in their first Dome Invitational.
"It's very different than playing outside and playing on turf," Janes said. "The girls came out with a chip on their shoulder and (went) out to prove a point."
The following weekend, the Bulldogs travelled to Owensboro, Kentucky. for the three-day Blue Bridge Classic.
Ferris's bats started out hon fire, winning Friday's contests 8 – 3 and 7 – 2. Junior shortstop Kodi Ramirez led the bulldogs with a combined four hits Friday, including a 2-run homer against Lake Erie in game one. First baseman Kaitlyn Orme also had three hits, three runs, and two RBIs throughout the day.
Saturday's games did not follow the successful suit of Friday. The Bulldogs suffered a 12 – 4 loss against Quincy followed by a 4 – 2 defeat to preseason ranked number 10 Trevecca Nazarene.
Orme lead the team with two hits in game two, with sophomore outfielder Justice Ruggles adding a double and freshman outfielder Abby Mitchell hitting her first collegiate home run.
"The first game we came out a little bit slow. We played a good second game but had a bit of adversity and things didn't go our way." Janes said.
Due to weather, the Bulldogs' Sunday games against Lake Erie and University of Indianapolis were cancelled. Ferris finished the tournament with a 2 – 2 split, putting their season
record at 6 – 3.
"We played well." Janes said reflecting on the tournament. "Even from losses, (we're) becoming a better team. Those losses were not for nothing. We learned a lot about ourselves the
entire weekend."
Although this season will include the challenges of COVID-19 protocols, the Bulldogs are not letting that stop them.
"Our team is simply excited to be out on the field and playing the game we love." Kortz said via message. "If we have to wear a mask to have a season, we will do it in a heartbeat."
Ferris is off to their best nine-game start since 2016, where the Bulldogs began with seven wins en route to a successful 36-18 season. Despite the Bulldogs coming off four losing seasons since that 2016 season, Coach Janes believes this team has great shape for a great season.
"We've got some returning veterans that have some great experience. Our freshmen and transfers bring a nice balance of energy and athleticism. I think that balance is what's going to help us excel. They're here and they mean business."
The teams' next contests will be on Mar. 17, where the Bulldogs will travel back to Lewis for a regional double header against the Flyers. For more information on Bulldog Softball, visit the Ferris Athletics website, www.ferrisstatebulldogs.com.