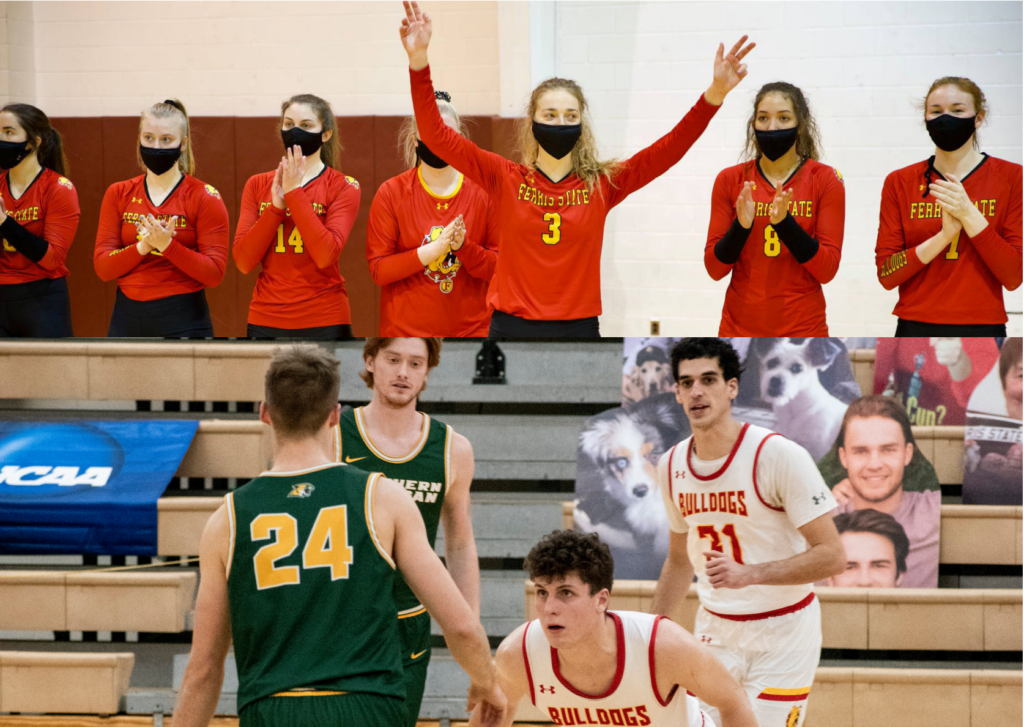 Having sports this year meant new policies, including the wearing of masks while playing. Some teams, however, have been exempt from masks during play due to more frequent testing.
Safe-to-play protocols were enacted by numerous sports organizations worldwide this year, including the NCAA. Assistant athletic director Rob Bentley provided the following statement on Ferris' COVID-19 protocols and declined to comment further or explain testing protocols for individual teams.
"Ferris State University student-athletes are asked to follow the guidelines and requirements established by the campus re-entry committee as it pertains to all COVID-19 protocols, including the wearing of masks. This includes at all team meetings, practices, workouts and competitions, unless specific testing requirements are met," Ferris State Athletics said. "The testing requirements vary by sport based on the risk level of the particular sport along with established NCAA, conference, state or institutional testing requirements."
In an announcement made from Ferris Athletics on Aug. 27 of last year, the department said that all student-athletes, coaches and staff members would be tested for COVID-19. The test was to be taken before any physical athletic activity was allowed, and after the first testing Ferris Athletics would conduct surveillance tests which composed of 25% of all team rosters every two weeks. Fast forward a few months later, and protocols seem to be unclear among the various sports teams at Ferris.
At the beginning of the season, both the men's and women's basketball teams had to practice in masks, and the women's team even played two games in masks. Since then, the teams have been tested six times a week and are able to escape the masks. Sophomore guard Mallory McCartney said that these masks add an entire new dynamic to the game.
"Playing with a mask causes you to get tired faster but also can affect communication not being able to hear everything," McCartney said. "Definitely, a team who does not have to wear a mask [has] an advantage against a team who does."
For some members of the team, they are forced to wear a mask during any team activity. Senior wing on the women's basketball team Adrienne Anderson has a much different personal protocol due to an injury. Because Anderson isn't playing this season, she only is tested three times a week instead of six, and she has to wear a mask while participating in team activities.
"Personally, wearing one while running long distances and even quick bursts are very uncomfortable and makes it hard to breathe," Anderson said. "It would be easier to play without one, and I would say it's preferred that way. However, I do not think that having one on while playing carries enough weight to be deemed advantageous or disadvantageous, but it's hard to tell."
Anderson and McCartney agree that it's a challenge the team has tackled head-on and fought through, but they are just grateful to play. Anderson said that a nice reminder here and there is needed if a mask falls down, but besides that there are no penalties.
The men's team faces many of the same issues and standards. Sophomore wing Ben Davidson said that they are also tested six times a week and are not required to wear masks when they practice or play. Davidson agreed that the masks aren't that bad, but overall they are just happy to be playing the game they love.
Ewigleben Sports Arena holds the same intensity for the Ferris women's volleyball team; however, communication skills have become much harder for the team to get across due to masks. Unlike the basketball teams and hockey team, the volleyball team has to wear a mask during practices and games this season.
Junior middle hitter Samantha Hermann emphasized that volleyball team invests in good communication, but masks force the team to adapt their communication styles. Whether it's being louder, more vocal, clearer or using hand signals, these masks will not stop Ferris volleyball from competing at their highest potential.
With this new adaptation to the season Ferris isn't at any disadvantage, as all teams in the GLIAC are to abide by the same rules. There are not any penalties if a mask falls off or down during a game, but the Ferris volleyball team was instructed to wear them and follow the standards and protocols set.
With basketball ending and hockey soon to follow, it remains to be seen if more funds will be allocated to other sports to be tested enough to compete without masks. As a vaccines continue to roll out, it has yet to be seen about how that will be enforced in athletics.