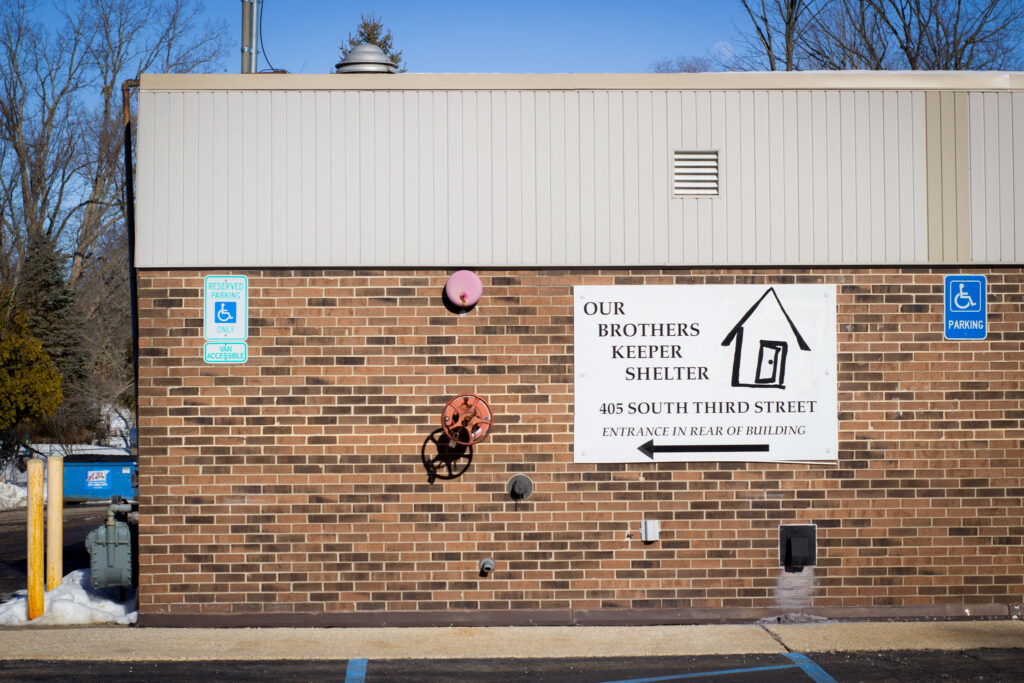 Homelessness in Big Rapids might not be as extreme as it is in bigger cities, but it is a real problem in our township that affects people of all ages every day. Though there are some gaps, the people of Big Rapids do a lot to aid the less fortunate.
Our Brothers Keeper is a shelter in Big Rapids that has been in operation since 2013. OBK provides temporary shelter, structure and a support system needed for guests to make major, lasting lifestyle changes.
"We connect guests with appropriate local agencies and organizations to move forward in their goal to become self-sufficient in their own home," OBK shelter administrator Lila Ecker said. "OBK staff assists guests with housing applications, state assistance, appointments to obtain their identification, etc. I meet weekly with guests to set goals, track progress and answer questions or address any concerns the guest has."
While guests are staying at the shelter, they live typical lives. They use electronics like TVs and computers, work on housing goals, spend time in common areas, go to appointments and work when necessary.
"Lights on is at six a.m. at the shelter, [which] is the guest's first opportunity for their hourly smoke break outside," Ecker said. "Breakfast is typically cereal or toast and occasionally a warm kitchen cooked breakfast by staff. Lunch is from the cupboards or fridge on a normal day, and dinner is a hot meal cooked by staff or volunteers. Bedtime for children is eight p.m. and adults is 11 p.m."
OBK is a nonprofit organization, and it depends strongly on community donations. Due to a deficit in funding, OBK can only afford to open its doors during the coldest months. This year, they extended their season, so they're open 24 hours a day from Oct. 1– June 30. When they aren't open, their guests must find somewhere else to go. Hemlock Park is a popular spot.
"The park has free wi-fi and a shelter to stay out of the sun or rain. We don't commonly see them staying there overnight though," Department of Public Safety Officer William Sell said.
"It is not uncommon to find those homeless sleeping under the bridge near Hemlock Park in Big Rapids, on church steps or panhandling for money near Meijer in Big Rapids or the 131 highway on ramps," Ecker said.
OBK wants to remain open year long, but to do that they need volunteers and donations. With enough funding they could acquire full-time status, which would qualify them for various state and federal funding opportunities.
"Donations go towards all OBK operational expenses, from payroll, to utilities, guest care and support, facilities, equipment and administrative costs," Ecker said. "OBK depends completely on small grants and donations from individuals, businesses and other organizations. Without the generous communities we are surrounded by, OBK would not exist."
Project Starburst is a non-profit, community-based pantry located in the basement of the United Church of Big Rapids. Though they are affiliated with a church, religious affiliation is not asked of guests.
"Project Starburst provides food and other basic needs, such as toilet paper, soap, diapers and other miscellaneous items and has for 50 years," Project Starburst executive director Diane Long said. "Clients that have come to Project Starburst know they will be treated with respect and a smile."
In addition to that, they offer a monthly grocery program and individual case management. According to their website, they've served 10,859 individuals and provided 434,360 total meals.
They also rely on volunteers and donations.
"Volunteers are necessary to the survival of the agency, as we only have two paid staff. Donations of food, money or volunteer time are always needed," Long said.
Big Rapids has an abundance of churches, and many of them pool together resources and time to offer services to the less fortunate. Grace Calvary Church falls into this category.
"We offer a paper and bath product pantry to those in need, and we do not require any specific things to receive the service," Pastor Robert Weller said. "There are a lot of good food pantries, and a food card from the state helps with food, but [it] does not help with toiletries, which is why we offer the service."
Weller is also a full-time jail chaplain, so he offers a unique perspective on the situation in Big Rapids.
"There is a lot of help for individuals that are homeless — unless they have felonies. Incarcerated individuals do not have a lot of places to go when they are released in our area, because they do not, a lot of times, qualify for vouchers or HUD housing, and some will not qualify for the homeless shelter in our area. A lot of ex-inmates end up living in tents in our area. I would love to see more resources in our area for people that need help. People leaving jail have very few options when it comes to places to live in our area. We, as a community, need to come together and help more as people look for second chances."
Though it isn't perfect, Big Rapids offers many services and opportunities that cater towards the less fortunate. Most of these operations are run by non-profit organizations and churches. A donation of any size could do a lot of good.