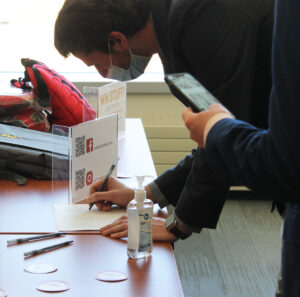 Ferris State seniors reflect on their senior year and the graduation being virtual rather than the classic in-person.
Ferris will host the Commencement ceremony for the seniors of Spring 2021 virtually with no tickets required. The ceremony is being done virtually to protect the health and safety of all who would be attending. The virtual commencement ceremonies will be broadcasted on the Ferris State YouTube Channel.
"I'm really sad about it being virtual," said Josh Cole a senior in Professional Tennis Management, "I'll be the first person from my family to get a college diploma. So, it's a big deal for me."
The day of the commencement will consist of four ceremonies starting at 9:00 a.m. on Saturday, May 1, 2021.
Criminal Justice senior Connor Kish wishes the commencement was in person because virtually would make it feel like another "Zoom meeting."
Graduates from classes of May 2020, Dec. 2020 and May 2021 are invited to the next in-person graduation according to the Ferris State Commencement page.
Welding Engineering senior Kyle Leonard said, "It sucks that my last few years here were being cooped up behind my computer."
When seniors were asked what they would change from the past year if they could, they said it would be COVID-19.
"I mean 100% it would have to do with COVID, like, I haven't been to shooters one time this year, like literally Not once. And, like, that's just such a big part of my lifestyle," said Cole.
The restrictions set on the public due to the pandemic made the seniors stay cooped up in the year they usually would not. Instead of hitting the bars and enjoying their last year of college Netflix was the safest substitution.
"I would have started looking for jobs a little bit sooner than I was but now I'm trying to look for jobs now," said Kish.
Now that seniors are set to start their professional careers after college the job market is looking good for some.
"I actually just accepted a full-time job in Louisville, Kentucky," said Cole.
Kish who is in the Criminal Justice program claims the job market for this career is the best it has ever been.
"You go on the state website, where all the job postings are and there's literally like, 80 job postings right now," said Kish.
This year and the second half of last year consisted of almost all courses done remotely but the seniors remember the pre-COVID-19 campus.
"This year is so different than out of my four years here," said Cole.
Seniors intend to spend their commencement with friends and family to celebrate their accomplishments before they start their careers.
"Once I graduate, I'm going to be moving back home and spend time with family and just probably having a little celebration with them," said Welding Engineering senior Kyle Leonard.
Now with the future in sight, the seniors look back on their time at Ferris through memories and the lifelong friends made.
"I loved Ferris state it was a blast. I had some of the best memories and met the best people here," said Kish.