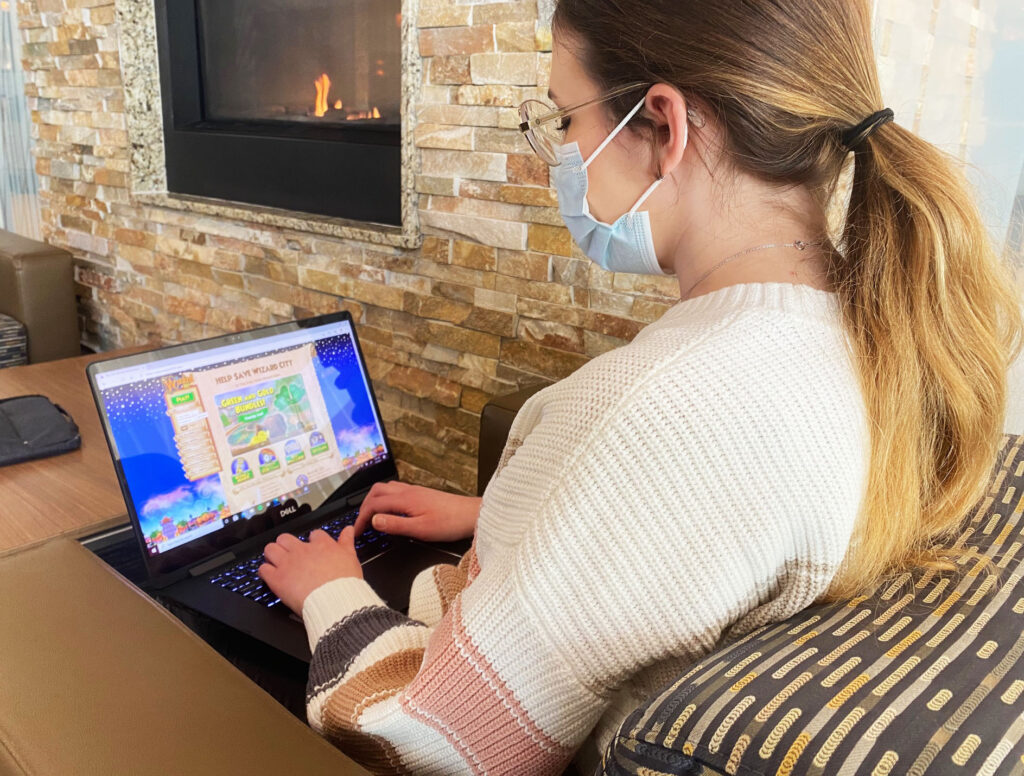 There's something satisfying about using free time to learn a new skill, play games or craft that helps pass the time and possibly help others.
Over the last year and throughout the pandemic, people have found that they have more free time during the day. There are many different ways to fill that empty space. Some people took this opportunity to find or rediscover a hobby.
Always finding new crafts and hobbies to try is Ferris pre-pharmacy junior Hunter DeWitt, who recently took up loom weaving. A couple years ago, DeWitt bought a loom kit from the store and decided to challenge herself with something new.
"When COVID first started and I was spending all my time at home, I cleaned my room and found my loom kit in the closet," DeWitt said. "I figured I'd try it out again to escape some of the boredom."
DeWitt's salvaged hobby has taught her very practical skills. She now knows how to weave yarn into intricate patterns, which she then transforms into scarves.
"It's helped me find some time to relax and work on something that isn't related to work or school," DeWitt said. "It's also a handy way to make an inexpensive Christmas gift that's useful and meaningful, since you made it yourself."
Another student who returned to an old and just as functional craft is music and entertainment business junior Nicole Hollinsky.
During the lockdown last spring, Hollinsky chose to start sewing again. In April, they began sewing face masks for their old job at Tea Party Castle and realized they could create much more. After borrowing a cousin's sewing machine, Hollinsky said "[the hobby] grew from there."
Hollinsky's father taught them how to hand sew when they were younger. Back then, Hollinsky used this newfound skill to fix up falling apart stuffed animals and patch up holey clothes.
So far Hollinsky has sewn 30 face masks and four pillowcases.
"Sewing is so useful, even if you do it by hand," Hollinsky said. "I think everyone should at least learn how to sew by hand. It'll help you in the future when you don't want to throw that shirt away that has an obvious hole in it."
While hobbies like loom weaving and sewing offer handy abilities, there are many other ways, some non-traditional, that can teach someone important skills as well.
Kendall illustration junior Emily Gudzinski spent her time getting back into computer games from her childhood, such as Wizard101, ToonTown, Club Penguin and more.
Gudzinski has learned and developed her skills in teamwork, communication and strategizing.
"What I like about my hobby is it gives me something to look forward to after completing work," Gudzinski said. "Also, it allows me to stay in contact with friends and gives us something to do together until things become safer to hang out. Not to mention, I get the chance to meet people who are interested in the same things I am."
Gudzinski guessed that she's probably spent over 100 hours playing computer games. She said that playing has helped her relax and have fun.
"I feel like my hobby has definitely helped with my mental health," Gudzinski said. "Being able to be in contact with friends and playing things with them would definitely distract me from things that [are] going on."
It's important to have a balance of work and play. Spending some time away from the stress of school and everyday life by having a hobby can do wonders.