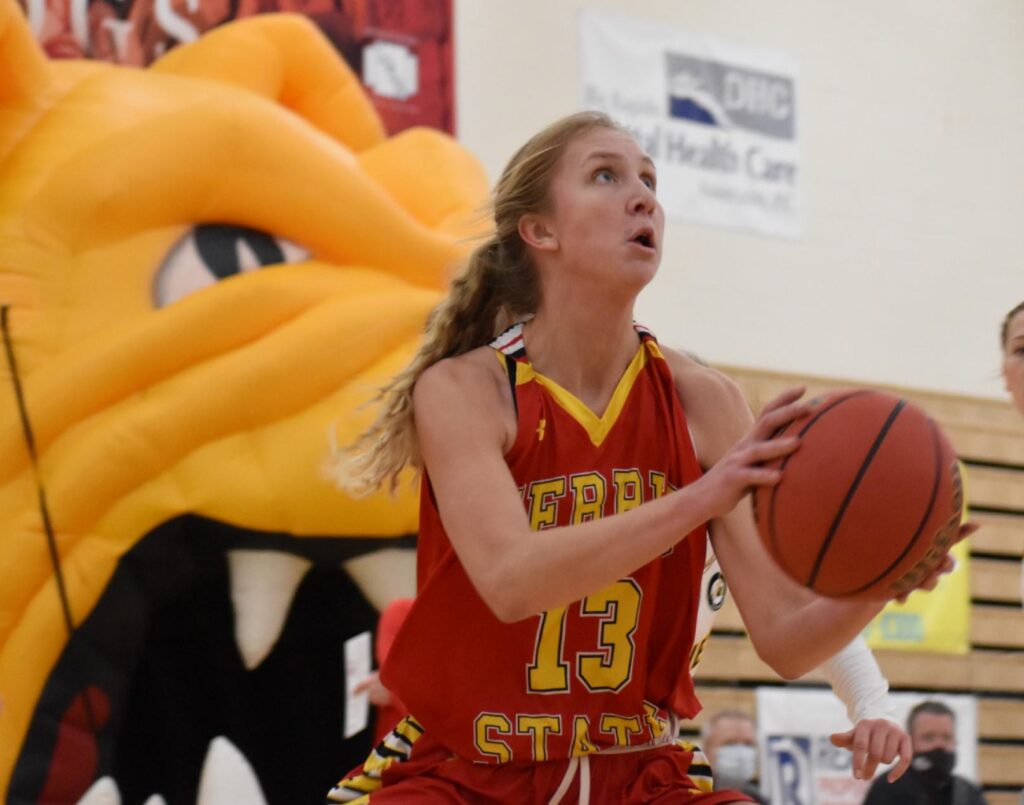 It was playoff time for the Bulldogs, but they were unable to extend their season with a 82-59 loss to Wisconsin-Parkside.
Ferris women's basketball team entered the GLIAC tournament with a 6 – 12 record and landed the ninth seed in the tournament. The eight-seeded Rangers proved to be too much for Ferris in the first round of the playoffs.
Parkside averaged a GLIAC league-high 75 points per game in the regular season, and they wasted no time putting points on the board against Ferris on Tuesday, March 2. In the first quarter, the Rangers scored 28 points and followed that with another 22 points in the second quarter, taking a 50 – 32 lead into halftime.
"They did an amazing job moving the basketball," head coach Kurt Westendorp said. "Defensively, we were just a step slow on everything. They hit 10 threes in one half, so that's tough to cover. You can see why they're the best offense in the league. I wish you could take that first quarter away, but that's not how the game is played."
For the game, Parkside shot 13 of 33 points from the three-point line. Westendorp had his Bulldogs playing different defenses in the first half to try to slow the Rangers down but switched to match up defense in the second half. While he noted that the second half defense was better, Westendorp added that, "It was just too big a deficit to overcome."
On Jan. 16, the Bulldogs beat the Rangers 91-89 after trailing 47 – 33 at halftime. Because the Bulldogs recorded that comeback victory against Parkside, sophomore guard Mallory
McCartney felt her team could "definitely come back" and do it again.
Ultimately, her team was unable to pull out another incredible comeback, and McCartney felt that her team's offensive struggles were a big reason why.
"We need to put the ball in the basket," McCartney said. "We did not shoot great at all. We're a very gifted shooting team, but no one shot the ball good. Defensively, we had a few breakdowns. We need to play a full, consistent game. If we made a couple shots, maybe that first quarter [could have been] a seven-point game rather than a 20 point game."
In the Jan. 16 matchup with the Rangers, McCartney recorded 25 points. She scored a season high 38 points against Purdue Northwest Feb. 20 but recorded just five points against the Rangers in the playoffs.
She spoke on the differences in her scoring performances throughout this season.
"It's a confidence thing," McCartney said. "When you see the first couple fall, it's really easy to keep shooting. On the other hand, when you don't see the first few fall, you think maybe this isn't this best shot. I need to go be a player, and I can't let anything really affect me. I have to know that sometimes my shot is the best shot. I need to not hesitate and be more of a threat that way instead of playing more passively."
For their playoff game against Parkside, Ferris got a team high with 16 points from junior forward Ellie Dykstra and 10 points from freshman forward Ariel Jenkins.
McCartney gave Parkside credit for the win but said it was disappointing for her team to lose the way they did. While she acknowledged that the Bulldog's record was not what her team wanted, she also has high hopes for next season.
"I'll say it right now: I think Ferris is going to win the GLIAC outright. I think we're going to be right back to holding the trophy," McCartney said. "We have all the pieces to do it, we just have to remember how it felt to lose and use it as motivation to go be the best team out there.
"COVID-19 hindered a lot of things. You never know when you could be shut down, so we were more just thankful that we got to play this season. Next year, we're going to be back to business. We'll be thankful for each game we get, but also focused on the big picture of wanting to go to the tournament and experience how amazing of a feeling it is."
In McCartney's freshman season, her team would have played in the NCAA DII national tournament had it not be canceled due to the COVID-19 pandemic. She looks forward to getting back to the tournament.
Westendorp cherished every moment of this season because of the uncertainty COVID-19 creates regarding it. He noted that playing 19 games and having his young players play "a ton of minutes" was really important for the future of the program.
"Every minute that our young kids are on the court is a minute they're learning," Westendorp said. "That's why this season was so valuable for us. When we were in August and September, we didn't know what the season was going to look like.
In terms of how the roster will look next year, Westendorp said he is excited that his team will return so many players.
"We're a team that's not going to be graduating anybody," Westendorp said. "Everybody that was out here is going to be back next year, plus we'll hopefully be plugging in some of those kids that were in street clothes and some new freshman. I'm really pleased with the way the program is trending. We're obviously not pleased with what the record was this year, but we have to look at things more big picture and see the experience that we have."
This season did not go how Westendorp or McCartney had hoped, but both appreciated that they even had a season to play. This upcoming offseason will be huge for the Bulldogs to achieve the goals McCartney has set, and with so many young, talented players, the future looks brightfor the Bulldogs.