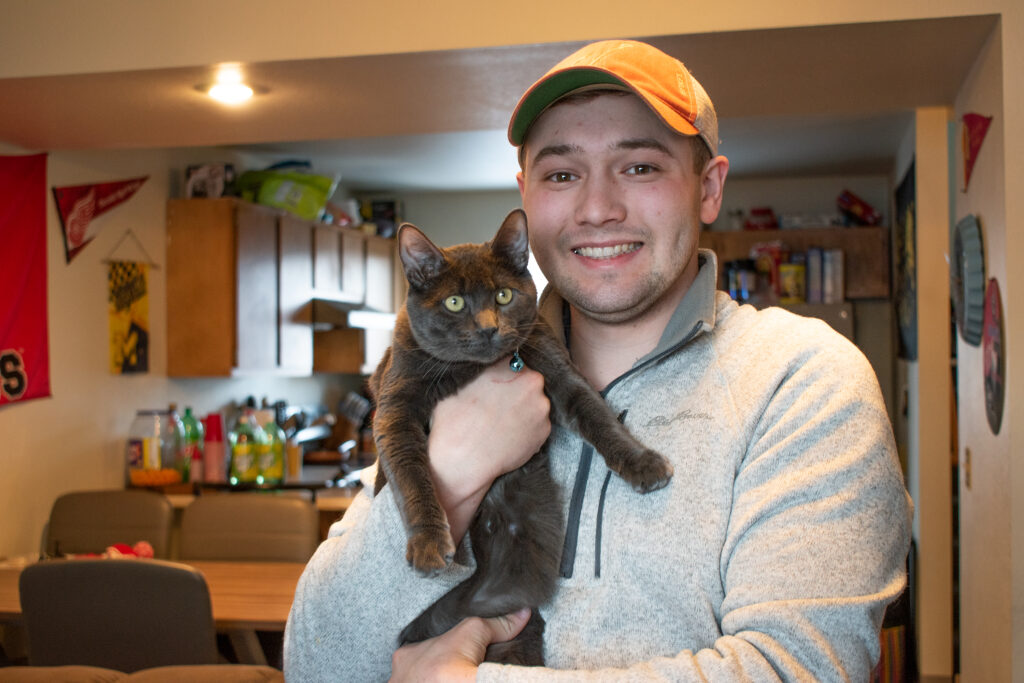 The one-year anniversary of the mid-March quarantine is fast approaching and for many students the anniversary of their first pet adoption is also soon. During the quarantine, many Ferris students and homes around the world adopted pets in order to combat the loneliness of quarantine.
Shelters in the area saw a significant jump in adoption applications throughout the quarantine. Ingham County Animal Shelter reported in U.S. News that in August of 2020 they had 146 adoptions compared to 60 adoptions in August of the previous year.
"There was an increase in adoption and there was also an increase in veterinarian services, an estimated 20%," The director of Osceola County Animal Shelter Michelle Kuz said. "Many adopters have indicated how much their adopted pets have enhanced their time at home and helped them cope with both isolation and their need for exercise."
When computer information systems sophomore Hanna Bastien adopted her dog Addie in March of 2020, she helped Bastien to do exactly this.
"After I came home from joining the military I wanted to get my own dog. I needed a dog in the home." Bastien said.
Once the quarantine started Addie helped Bastien to stay active. Bastien and her roommate took Addie on a lot of walks because there was nothing else for them to do.
According to Cate Arroe, the director of the Mecosta County Animal Rescue Coalition, their shelter saw a huge increase in dog adoptions. At one point the shelter was down to only two dogs up for adoption.
When plastics engineering junior Brendan Edgington's family cat could not get used to the 'college life', he had to take it home and decided instead to adopt his own cat. Edgington found Mr. Whiskers on Facebook for free and is thankful to have had him during the quarantine.
"Mr.Whiskers is very personable. If you're having a bad day with the quarantine and such, he's bound to make it better."
With adopting an animal comes a lot of responsibility.
"My advice to students is to put a lot of thought and research into getting a pet before you get one. They require a financial as well as a consistent time commitment. Also, it can be difficult to find rentals that will accept pets and that's how they end up in shelters when students move." Arroe said.
Edgington believes having a cat has been a huge responsibility, but is still easier than a dog.
"I don't have to take him outside, I do have to clean his litter box every day, but I don't have to be [home] constantly," Edgington said. "If I have to go to class, he can entertain himself. I put on Mickey Mouse Clubhouse for him to watch when I go to class."
Bastien experienced a lot of unexpected financial costs adopting her dog, "She has many allergies and has had to be taken to the veterinarian and animal hospital multiple times because of it."
However, she still recommends adopting a dog,"I would say do it. Having a pet is really rewarding for both the animal and the owner."
If you are thinking of adopting a pet, visit some of the shelters mentioned. Remember to research into the accommodations your specific pet and breed need in order to live a happy life.