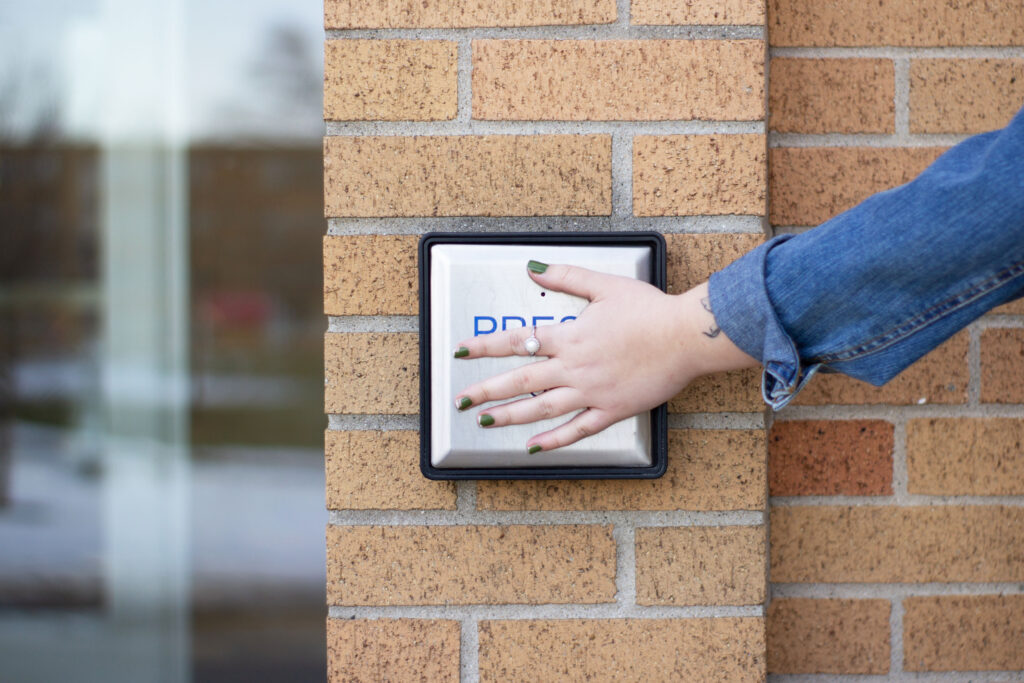 It can be easy to take getting around campus for granted, but for students with accessibility requirements, campus is not always the most welcoming place.
Kalina Mohnke is a psychology senior who uses a wheelchair and attending class isn't her only difficulty. Mohnke expresses difficulties related to attending sports matches, such as hockey.
"I have to go up four elevators just to get to my classes," Mohnke said. "At games the only accessible spot is the opposite side with the opponents. It makes you feel very much not like a student."
Director of accessibility and disability resources Julie Alexander said they have a liaison committee for students with disabilities to work on plans to fix issues like this. The group is made up of 20 students, faculty and staff who work on initiatives to make campus more accessible for all.
"A big initiative that we have for this year is going over some of those physical accessibility concerns and making sure that those things get into the five year plan for the university, so that there is a plan in place to address some of those accessibility concerns," Alexander said.
On Ferris' Disabilities Services webpage it requires students to fill out an Online Intake and schedule an appointment with an ECDS counselor. At this appointment, students and their counselor will discuss disability barriers and determine access solutions. The website says these accommodations will not fundamentally alter the course or program. Accommodations may be need in the following environments: classroom, testing, campus housing, internships, clinical/fieldwork placements, and any other environments that are required for your degree.
In summary, this means a student is to have access to programs and services of an institution regardless of the disability and is to be provided accommodations, as appropriate, to have access.
While the ECDS website says their goal is to have access to various environments and are working towards a plan, many students still have issues like Mohnke. This includes Dustin Norman, a digital animation and game design senior who uses a wheelchair.
In regards to the current state of the sidewalks around campus, Norman has concerns about hitting a pothole that he doesn't see because he is moving around fellow students.
Sidewalks aren't the only issues either. Norman also explained that many of the handicap buttons that open outside doors on campus often do not work, making getting into buildings difficult.
Alexander said the biggest problem with addressing the issues students with disabilities have on campus is not knowing the issue is there.
"If students can let us know right away if they noticed that problem, that would be great," Alexander said. "We do work with the physical plants to try to make sure that those are functioning properly at all times. But, there may be times when they're not, so they just need to let us know."
Norman also had trouble in the past with campus elevators, one time getting stuck in a building for the better part of a day.
"The elevator was having issues and I found out it was broken," Norman said. "I was stuck on the third floor of Bishop Hall for most of the day. I don't think someone should have to miss any class because of accessibility issues."
For most of the year, getting around campus for students with accessibility needs is already a challenge. During the colder parts of the year, however, these troubles are made worse with the addition of snow and ice. Both Mohnke and Norman explained issues they had in the winter.
Mohnke lives in North Hall and there have been times where he can't get into his building because the snow is too built up. Alexander said she has received a couple complaints this winter about the snow buildup. When the complaints are received, she said works directly with the physical plant to fix the situation "as quickly as we can."
"If I had to go to the IRC computer lab, I would kind of have to fight my way through the snow to get to the lab," Mohnke said. "I remember this one time I literally couldn't get into the library because I couldn't get up the ramp because I kept slipping. I want to show regular students and I want to get the word out about disabilities more now. With a return to in person class set for this upcoming fall, it's important to keep looking for ways to make sure students with accessibility needs to be welcome on campus."