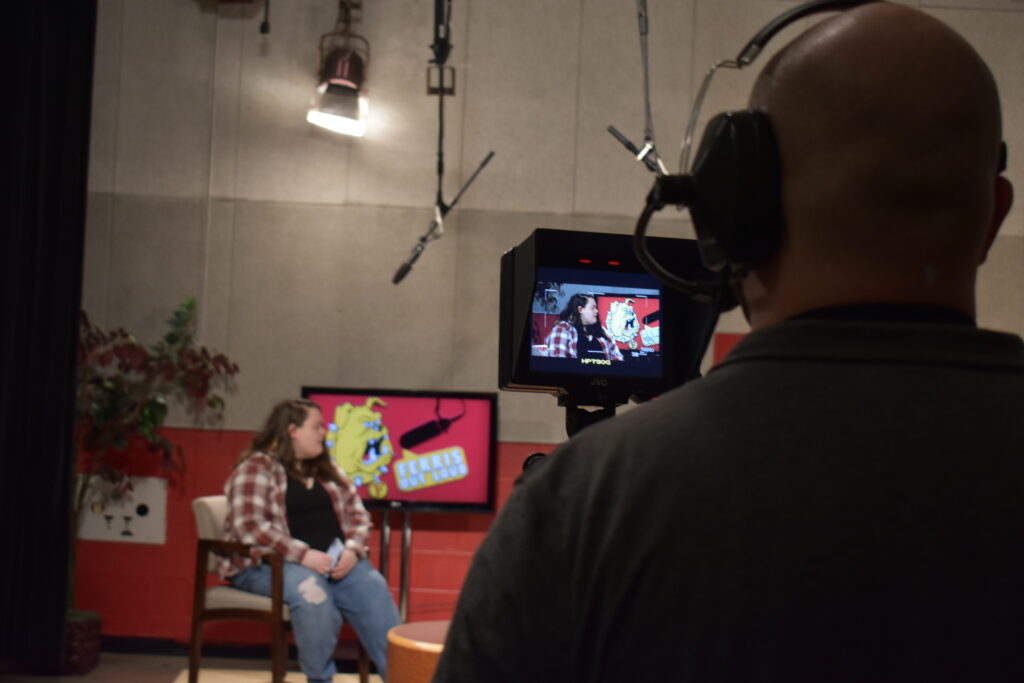 Lights. Camera. Action.
Television and Digital Media Production students live and breathe this phrase. From recording and producing TV shows, to having six-month-long internships, Ferris tries to make students in this program well-rounded and ready for real life work.
TDMP students are taught not only how to become visual storytellers but also learn how to market themselves and learn different aspects in the media world.
From making their own TV shows to recording live sports, students are allowed a lot of hands on experience. The studio class has four different TV shows, almost all of them are produced every week. Students rotate roles to allow more work place experience with tight deadlines.
Behind the scenes
Davis Fosgitt didn't originally plan on coming to Ferris. Fosgitt had planned on going to Northern Michigan but, due to the fact his mother worked for Ferris, Fosgitt decided to give the TDMP program a chance.
"I was originally wanting to go for just film, so I would just go and learn how to make movies not necessarily do a TV broadcast or anything," Fosgitt said. "But learning all of the stuff that goes into a broadcast is huge, because I've now learned so much… I'm just becoming more well-rounded and more media fluent basically."
Fosgitt recommends TDMP over specialized majors for anyone thinking about going into something like film or animation. Fosgitt said students can end up being better worker or being better in the field than the average person because they have all of the different aspects in the TDMP classes. Because Fosgitt is a first semester junior, he has some ways to go in his classes.
"I haven't been in the remote production class yet," Fosgitt said. "That's a big one because you're getting hands on experience with cameras and working in the trailer with either graphics, technical directing replay or audio."
There is also the studio production class, which is a really good one for that experience, in Fosgitts opinion. Every week students are producing two shows, and they are either working a camera, directing, technical directing, producing or doing some role like that and it rotates around for that.
"We've got one class that I'm really excited for. We've got Doc, which is where you do like mini documentaries or just learn how to tell a story better," Fosgitt said.
Students are also get exposure to professors who have experience in the industry and real world situations. Fosgitt said all of his professors have done their own thing and done it successfully or have worked for somebody in the industry before. His current mentor is his professor, Andrew Tingley, who also helps him shoot film for Ferris athletics.
More than a professor
Tingley is an adjunct instructor who originally got his Bachelors degree at Ferris in 2004. The first time Tingley taught at Ferris was in 2007 where he began teaching computer animation for video, or 3D animation, and then compositing for video.
Tingley taught these for two years until his company took off and he had to give up his teaching roll and focus on his company in Grand Rapids. Tingley's first video production company was called Creo Productions, which started in Grand Rapids, and that lasted from 2006 until 2011.
"At that point my business partner and I wanted to do different things, we wanted to essentially take the company in different directions," Tingley said. "So actually, we both shut down that business entirely and we both started our own production companies because I was more focused on cinematography, and that's when I started Cinerrific!"
The Cinerrific! motto is, "We exist to create videos that serve a purpose." They provide clients with full service video production including pre-production, production and post-production. Pre-production meaning scripting and storyboarding and production as in the directing and cinematography done during shoot. Editing, motion graphics and animation is where post production finishes the process.
Because Tingley has had a lot of experiences with his businesses, Fosgitt likes to go to him whenever he has questions about his own business, Talen Media. Talen Media is a small advertisement business based out of Bay City ran by Fosgitt and two of his high school best friends.
Getting real world experience
Ferris associate professor and internship coordinator Joshua Pardon said that the TDMP internship program has been placing students into quality internship experiences for over 40 years. Their network of internship placement sites is national in scope and the program has its own Internship Coordinator who mentors and places students into these opportunities. All TDMP students who complete the degree program will graduate with six months of work experience, an online visual portfolio featuring a video demo reel, and a polished professional resume.
Internship sites can range from small independent production companies, television networks and stations, larger film production studios, sports teams, and large corporations with their own in-house media production operations.
The TDMP internship is six months long, during which time Ferris interns are expected to log 1,000 hours of work time on-site. Most other college programs in the media production field are three
months or less.
Pardon feels that their approach to internship gives students an advantage over the competition. Interns are actively involved with a variety of production activities at their internship sites.
Throughout the duration of the internship, the intern is assigned a TDMP faculty supervisor, who stays in close contact with them, grades their weekly work and visits with them twice to evaluate their performance on-site.
"I feel that our broad-based curriculum and our internship program are both a big part of that success," Pardon said.
Pardon said that the fact that the internship program is a "capstone" experience is a major factor. The six-month internship occurs at the end of the student's time in the program after the completion of all other coursework. This facilitates the "school-to-work" transition better than other internships in the media production field which often occur during the summer in between junior and senior year.
The TDMP broad-based curriculum gives students experience in all aspects of media production, according to Pardon. This includes anything from studio television production, to animation, to scriptwriting.
"I think that the TDMP program's approach to curriculum and learning is the right approach for today's job market," Pardon said. "Students in all fields need to be versatile and resilient in a 21st Century job market, because change will be the only constant in their careers. For this reason, our program doesn't take a strictly "film school" approach or "broadcasting school" approach to the subject matter.
"We feel that this makes our graduates more adaptable with their skill set, and over the long term, more successful in their careers."
Fosgitt plans to try and get an internship in either Washington D.C. or New York and learn how to be visual storyteller. He wants to leave a legacy, something that people still watch decades after its created.
"What's something that you can leave behind after you're gone," Fosgitt asked. "What is something that somebody could have died but people are still consuming what they've created? If it's a good enough story it's going to be around for a long time. I want to leave a legacy."