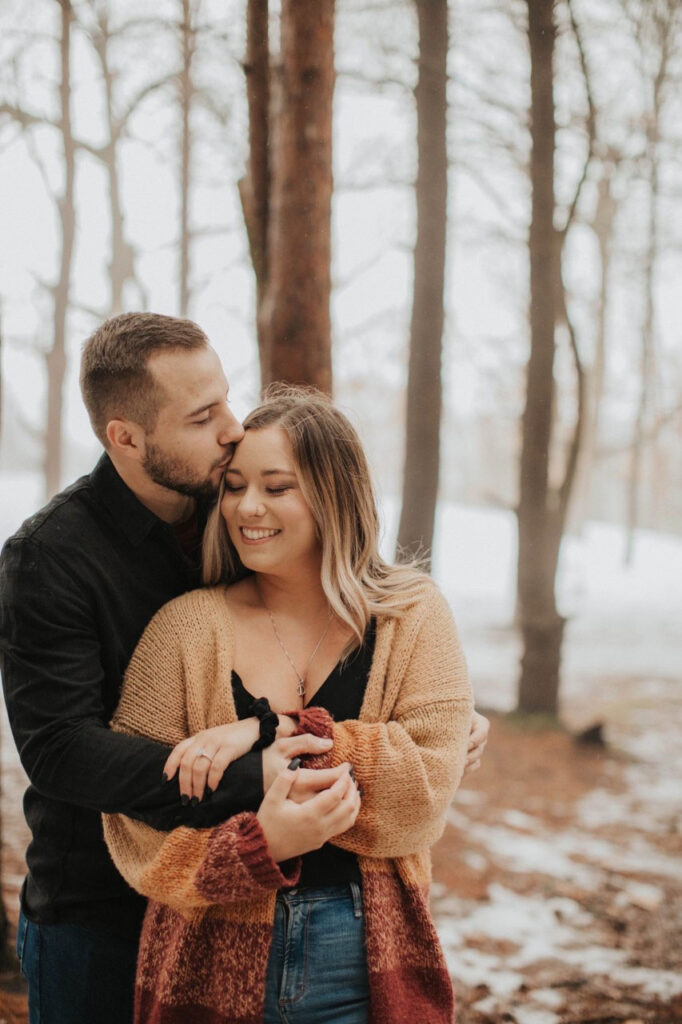 Although Millennials and Generation Z are deciding to marry later in life, that doesn't stop students from following their hearts earlier than expected.
According to The Guardian, the Office for National Statistics (ONS) recorded in 2017 that heterosexual women are getting married around the age of 36 and men, 38.
As time goes on and different generations are born, people are choosing to get married later in life than in the past. The National Vital Statistics System reported that in the late 1960's, women were getting married around 20 years old and men, around age 23.
However, true love has not stopped a few Ferris students from following their hearts and getting married younger than "the normal age."
Holly (age 22) and James (age 21) Bryant are recently married Ferris students who are pleased with their decision to get married younger than the average age for Americans.
"Through my personal experience, being married at this age is weird," elementary education senior Holly Bryant said. "There have been times where I'll go out with my friends and I'll mention to someone I just met that I'm married and I'll kind of get a weird look. It's not like I regret it; It's just not a normal thing, not a bad thing necessarily."
Holly and James were high school sweethearts, who went to their junior proms together. They had been together for 3 – 4 years before they got engaged in 2019. The happy couple officially wed on July 24, 2020.
A relationship like the Bryant's is rare to find. According to Brandon Gaille Marketing, only 2% of high school relationships result in marriage. In the 1940's, it was more common to marry a high school love or first love.
Facility management senior August Lee met her fiancé Darren O'Malley through some mutual friends when she was a freshman at Ferris. This couple dated for three years before they got engaged. Lee and O'Malley plan to get married later this year on Oct. 23, 2021.
Lee knew that O'Malley was the one for her when, even during a fight or Lee's darkest moments, O'Malley still found a way to make her laugh and smile. He's never judged her for it and always welcomes Lee with open arms, which Lee is so thankful for.
"We've gone through so much together in the short three years that we've been together, and we've always made it through," Lee said. "It hasn't always been easy, but it has just proven to me that Darren truly is my best friend and that I'm so excited to go through the good, bad and ugly with him."
People have joked with the Bryants that they're too young to be married, but they've never received hate for their choice. Because more people are deciding to marry at an older age, there's a stigma (not necessarily negative) surrounding the concept of getting married young, especially as college students.
"College is a time to go out and find yourself, be single. Honestly, everyone's on their own journey. What works for some people won't work for others," Holly said.
Because marrying young seems a bit "old-fashioned" to many other people now, it can sometimes be hard to understand why people still choose this lifestyle.
"I think people get weird about marrying young because it's viewed as people 'rushing' into things or that 'we have our whole lives for that' but I think when it's the right person, you just know and that shouldn't be viewed a certain way," Lee said.
Although being young and in love is a thrill, it does come with its fair share of obstacles.
Lee mentioned that planning a wedding and "all the fun stuff" can be hard to balance while studying for classes.
Because the Bryants will be graduating from Ferris soon, they're worried about finding jobs that are close to each other.
Regardless of trials, both couples are pleased that they've found someone they wanted to spend the rest of their lives with.
Lee and Holly shared their wise counsel for anyone who feels like they "need" to get married young, or by a certain age.
"Everybody has different things that work in their life," Holly said. "I've had so many people come up to me and say 'I wish I had you and James' relationship', 'I want a boyfriend.' There's no right or wrong way to do life. It made sense for us to get married. It might not make sense for someone else to marry until they're 30 or 40. It's just what works for you."
"I've never thought that marriage should come at a certain age, because when you know you know but I do think that you should put a lot of thought into it because marriage is a big deal," Lee said. "This is the person you are going to spend your whole life with, and life isn't always easy. You have to be willing to fight when things get hard and be able to work when it's not always easy and it's also not always hard parts, but you have your whole lives to be together. You have to make sure that, that person is who you want to spend your whole life with."