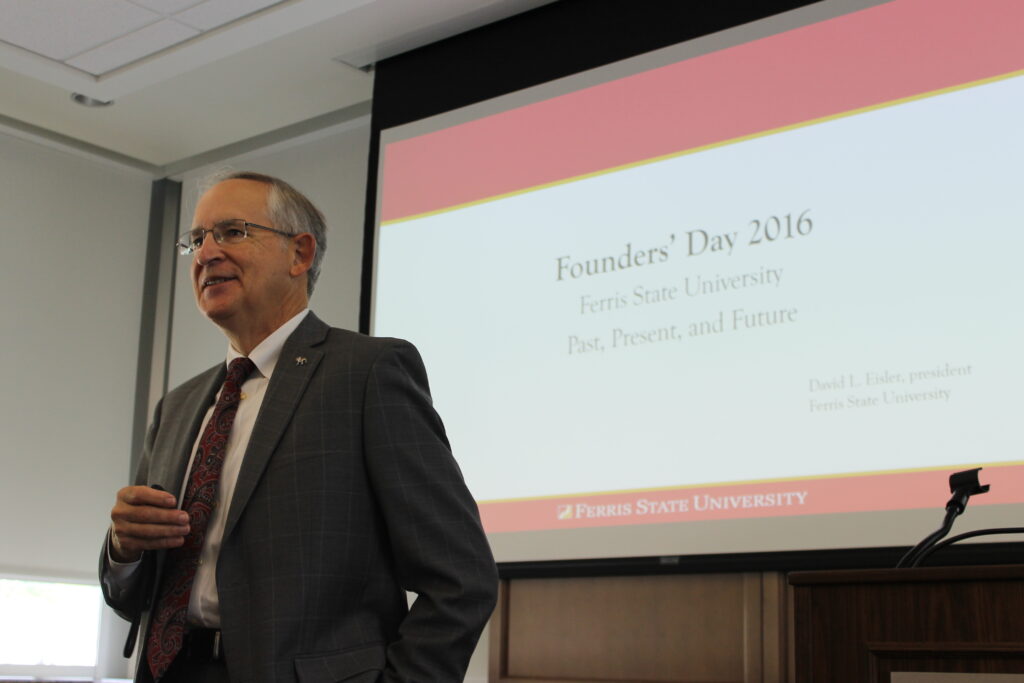 President David Eisler announced Monday, March 15 that he plans to retire in June of 2022 after what will be a 19-year tenure.
Some of the most significant aspects of his presidency listed in the university press release include increasing the graduation rate to 65%, starting 15 building projects worth $400 million and increasing the Ferris Foundation's endowment from $18 million to $100 million.
In regard to the timing of his announcement, Eisler said that is important to him that the university be past the COVID-19 pandemic and have pieces in place for the university's next president to build upon.
"There is an effective strategic plan [and] we will be in strong financial position with forward momentum," Eisler said. "By this time next year we will have completed our Now and Always comprehensive campaign. I want Ferris' [next] president to join a dynamic university with forward momentum."
In his original announcement Monday, March 15, Eisler called working at Ferris a privilege, and that Ferris is "a great university, with a unique and special mission that provides life-changing opportunities."
He will leave as the university's longest serving president besides its founder, Woodbridge N. Ferris, which physical sciences professor and Ferris Faculty Association Charles Bacon called "quite an accomplishment." Bacon, who has been at Ferris for 37 years, said he had not expected Eisler to retire for a couple more years.
"This is a little faster than I thought," Bacon said. "But he had some goals he wanted to accomplish, and I guess he's accomplished what he wants to do.
"I think people need to give credit to folks that are willing to step up into leadership positions like that, that are difficult and they're going to go through good times and bad times."
Though Bacon said he enjoyed working with Eisler, he wished there would have been more focus towards running and maintaining programs in recent years.
"Administrations always love building projects because they can point to a building to say, I built that," Bacon said. "So we would have preferred a little stronger focus on on the employees over the last five years, but that's just the way it is. They'd rather build buildings than build people."
Political science professor David Takitaki saw the university's change firsthand, having visited the campus as a high schooler. He said when he returned 20 years later in 2017 for his interview process, he didn't recognize campus.
"The growth and change that happened in those 20 years were absolutely phenomenal," Takitaki said.
Amna Seibold, the chair of Ferris' Board of Trustees, said one of Eisler's successes in the big picture is the university's increased presence in Grand Rapids with Kendall School of Art and other satellite programs there.
"That has really been a strength and a change for Ferris and he has broadened the urban portion of Ferris State University and that was driven in large part by Dave Eisler, making those contacts and bringing those things forward," Seibold said.
Since he was hired as president in 2003, Eisler has led the university through significant nationwide challenges, most recently being the COVID-19 pandemic. He categorized the pandemic as the greatest challenge in his career.
Communications professor and academic senate president Sandra Alspach said she has worked with Eisler in various settings throughout his time at Ferris, and he has "kept the ship afloat through many a storm."
"Even though I haven't always agreed with his decisions, perhaps because I didn't see the charts he followed, we've seen the University in full sail moving forward and surviving a pandemic tempest during his watch," Alspach said.
Nursing professor Mary Beaudry said Eisler's strength was his connection with the community and was impressed with his leadership through the pandemic.
"Dr. Eisler kept us on task, yet recognizes the challenge that COVID-19 provided. Communication turned out to be an important part of his job," Beaudry said. "In addition, he is a comforting presence when we were all going through such chaos."
Takitaki has worked at two universities previously and called 18 years a long run for any president. There has been significant challenges in higher education the past few years in Takitaki's eyes and if Eisler was looking for a time to transition leadership after seeing the university through them, "this maybe is the right window."
Among Eisler's accomplishments there were also shortcomings, such as the strained FFA contract negotiations that led to a strike on the first day of classes in the fall of 2018. There was also two different votes of no confidence by the FFA, the second of which in 2018 resulted in 88.5% of FFA members voting that they had no confidence in Eisler's leadership. It was Eisler's fourth round of contract negotiations with the FFA as president, and it left a bitter taste in some members' mouths, such as
mathematics professor Holly Price.
"With respect to Dr. Eisler as a president, I'm going to follow the rule, 'If you don't have anything nice to say, don't say anything at all,'" Price said. "With respect to the next president, I hope it's someone who respects the uniqueness of Ferris State and better supports the programs, activities, and people that make it special."
Bacon said he and Eisler would always disagree on priorities, as is the nature of labor management relations, but he believes Eisler has done good things for the university.
"I like Dave personally, I've enjoyed our interactions," Bacon said. "I've kind of put the union stuff off to the side because that's just business, it's just the way it is but as a person, I've enjoyed working with him and he's a nice guy."
While a president can never make everyone happy, Seibold said Eisler's focus was always on what was best for the university.
"I will say that the job of a university president is never easy," Seibold said. "He is the lightning rod for all things. He is in the middle of all things, and he has the enviable job of trying to keep the board happy, the faculty happy, the students happy, the staff happy and the community happy… and there are always competing priorities and someone ends up feeling left out."
According to Seibold, the search for the next university president has yet to begin, and the board has yet to choose the search firms in charge of the candidate pools. In Bacon's eyes, search firms often "lead to a lack of transparency" in the process, however, Seibold said the search firms were to ensure the process "is as transparent as it is supposed to be."
As far as the next university president goes, Bacon hopes they'll find a candidate who has leadership experience in higher education, someone who has worked with unions before and who involves the faculty in decisions because "it's a tiring process all the time having to fight."
Takitaki is looking for leadership that puts the student experience first, which he considers to largely be dependent on having the right people in crucial faculty positions so students have "the support they need."
According to Seibold the search for the next Ferris president will begin in the coming months.
This story was last updated on March 17 to add quotes from President David Eisler.