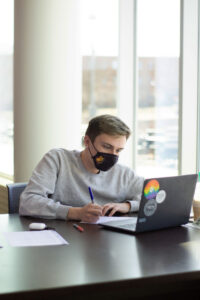 Ferris is now offering a program that provides free tuition to students with a higher expected need of financial aid.
The Ferris Launch program allows cost-free tuition to students with a GPA of 3.0 or higher who also have zero Expected Family Contribution as determined by the students Free Application for Federal Student Aid. The program also requires that this is the student's first time attending college, the student is attending 12 or more credit hours a semester and that they are taking these credits on the Big Rapids campus. The program will be available to incoming freshmen starting the fall semester of 2021.
This program will only be covering tuition. Other expenses such as housing, meal plans, books and other supplies are not covered under the Launch program.
Melanie Mulder, the university's financial aid coordinator is looking forward to the program.
"I think it's an opportunity for new students that maybe wouldn't have considered Ferris an option for them in the past… to at least take advantage or consider it now. So I think it's a good thing," Mulder said.
In terms of qualifying, Mulder said that anyone that meets the GPA and EFC requirements will receive the funding.
Ferris's tuition is $443 per credit hour or $13,160 for the school year taking 14 credits. Room and board are around $10,724 for a school year.
The program does not require students to fill out a separate application to be eligible for the funding. Once their FASFA is submitted, they will calculate the student's family income and their expected monetary contribution to the student's education. Once this process is complete and Ferris receives it, they will automatically determine if there is applicable aid.
Launch will be mainly funded by the discretionary dollars set aside by the university according to Mulder.
"Students that qualify for Ferris Launch are receiving a fund called Ferris Merit Grant," said Mulder. "Current students have been receiving various merit grants if they met the eligibility requirements each year."
There is a difference between the currently offered merit grants and the new Launch program though as current students receiving these grants were never promised fully subsidized tuition.
According to the Ferris Launch website, the program is renewable when the student reapplies for aid through FASFA. The student must also be eligible for the Pell Grant each year as well as meet the terms of Satisfactory Academic Progress.
For more information visit the Ferris Launch page on ferris.edu