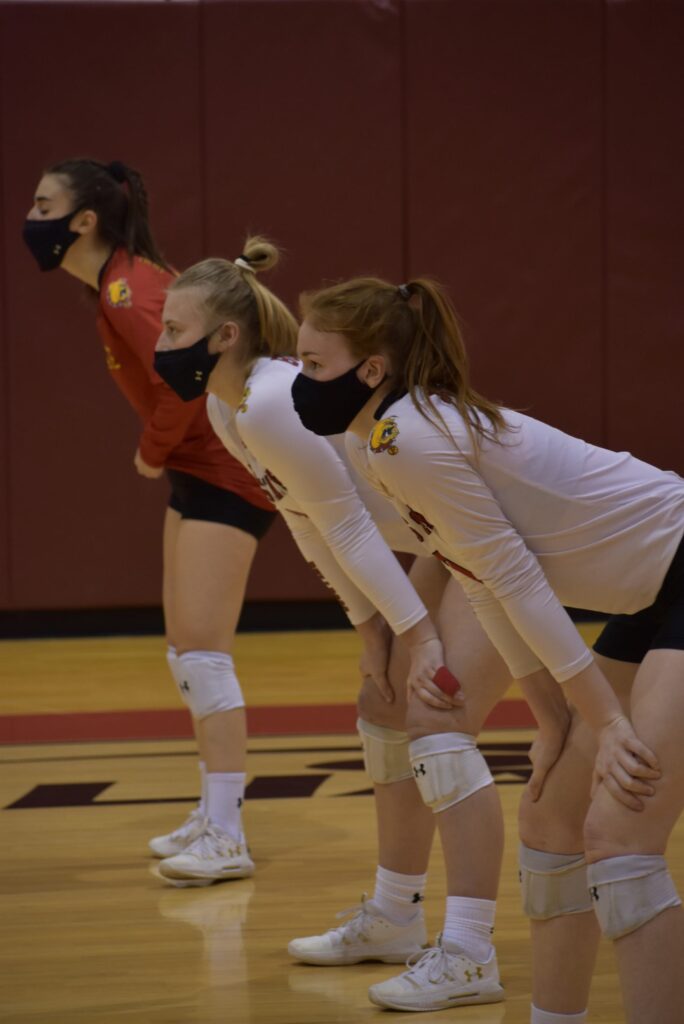 They might have a solid 6 – 4 record on the season, but Ferris volleyball wants to be even better.
Bulldog volleyball has found a way to continue their success from their 25 – 6 season a year ago despite moving through an unusual offseason. Because the offseason was atypical, head coach Tia Brandel-Wilhelm and her team are still working to improve their skill.
A big part of Ferris's success comes from their mentality. They always look for ways to improve.
"During the week, we're just focused on getting 1% better each day," senior outside hitter Katie O'Connell said. "We're focused on getting 1% better each day and working on executing our game plan. One of our mottos is 'adapt and conquer,' so we're going to grow and do what we need to do to be successful in the future."
Brandel-Wilhelm said her team uses that motto to overcome difficult situations that come their way, especially with COVID-19 this year.
"I see a lot of coaches and leaders from athletic teams at Ferris and around the country really working hard to keep their team focused and mindset strong," Brandel-Wilhelm said. "We're just doing what anyone would do in a situation like this-you just adapt to what happens and you can't control a lot of things, so you have to control the things you can. You do the best you can and get up the next day and do it again."
The Bulldogs started their season 5 – 1, and O'Connell's play was a big reason why. Following their sweep of Ashland March 5 and 6, O'Connell was named the American Volleyball Coaches Association player of the week. She became the fifth Bulldog in history to record that feat.
"To be the national player of the week is a pretty unique and cool honor," Brandel-Wilhelm said. "It is certainly really well deserved, yet the first thing Katie does when we tell her the honor is look at her teammates and tell them 'I don't do that without all of you.' That's what makes Katie really good is the fact that she plays for her team and does the best she can. She never tries to win any kind of honors. I think that's any incredible reflection of the kind of human being she is."
The two time All American recorded 41 kills, 49 digs and eight blocks in the weekend sweep of the Eagles March 5 and 6, earning her national recognition.
For the season, O'Connell leads the team with 114 kills and 132 points, and is second in digs with 137. She also has 22 blocks. Her play has been a big part of Ferris's success so far this season.
O'Connell agreed with her coach that she does not play for the accolades.
"It was an honor," O'Connell said. "It's a big thing, but I'm more focused on the success of the team and how we're doing in practice and competing on the weekends."
She added that her teammates are the reason for her success this year, saying she "wouldn't be here without them."
Following their 5 – 1 start to the season, the Bulldogs lost back-to-back games against Michigan Tech on March 12 and 13 to fall to 5 – 3. O'Connell compared those two losses to their early season wins.
"It was all about what we did on our side," O'Connell said. "We didn't come out as focused and didn't do what we were supposed to do in executing our game plan. We have to take care of our side."
Senior libero Nina Gorgijevska said that her team must put their losses in the past, learn from them and change their mindset going forward.
Gorgijevska has also been a key part of Ferris's success, leading the team in digs with 248. She credited her teammates with her success as well but acknowledged that she has to prepare herself too.
"I really want to see my hitters get a sweet kill or my setters get to the ball very easily, so I step in and make it easy on them," Gorgijevska said. "Obviously, I work on my skill every day in practice, but knowing the scout and watching film are things that get me ready too. My mental stae and physical preparedness are also very important, so I take care of those things as well."
On March 19, the Bulldogs lost to Northwood 3 – 1, but followed that up with a 3 – 0 win against Northwood on March 20 to move their record to 6-4. The Bulldogs will head to Wisconsin-Parkside March 26 and 27 before finishing up their regular season against Saginaw Valley State at home April 2 and 3.