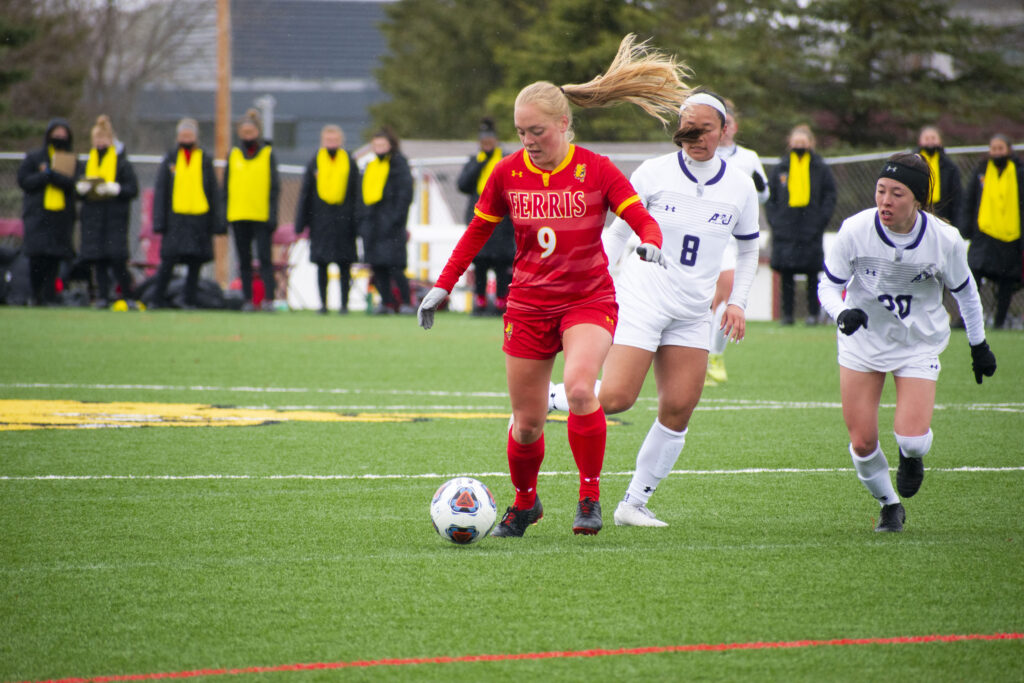 The last time Ferris women's soccer took the field, they lost to Grand Valley State University in the GLIAC Semifinals.
That was Nov. 15, 2019.
Fast forward 16 months, and the Bulldogs are back.
The Bulldogs finished their 2019 season 13 – 5 – 2. Due to COVID-19, their usual fall season was pushed back to the spring. To start their spring 2021 season, Ferris got right back in the 'win' column with back-to-back victories. On Friday, March 19, they beat Wisconsin-Parkside 1 – 0. They followed that shutout with another shutout 4 – 0 Sunday, March 21 against Purdue Northwest.
Head coach Greg Henson appreciated having the opportunity to play soccer again.
"It's great; it's been a long time coming," Henson said. "We've put a lot of hard work and time into a very unusual year, and I'm just really happy to see the girls back on the field competing. Obviously, we got off to a great start, and we're looking forward to the rest of the season and the opportunity we have in front of us.
Henson noted that his team has two main goals for this season: to compete for the GLIAC championship and to host the first round of the tournament playoffs. Two wins to start the season put them on a good track to achieve those goals.
In their matchup with Parkside, the Bulldogs started junior goalkeeper Taryn Meiste in goal. The Rangers recorded no shots on goal, and Meiste got the shutout.
"I wasn't tested too much," Meiste said. "It was really important for me to keep my back line organized and [to] stay calm when the ball was on our half."
Against Purdue-Northwest, sophomore goalkeeper Nora Potter got the start and also recorded a shutout. She recorded one save.
Going forward, Henson said he will continue to evaluate on a game-by-game basis to determine which goalkeeper will draw the start. He acknowledged that both Meiste and Potter performed well in their respective starts.
Henson emphasized that his team wants to continue to be strong defensively.
"It's an old cliché that I like to use… if they don't score, we can't lose," Henson said. "That's where we want our focus on… playing strong defensively. I thought we did that well in both games and limited our opponent's opportunities."
Offensively, Ferris got their lone goal against the Rangers of Wisconsin-Parkside from junior forward Emily Mergener.
Junior forward Grace VerHage scored two goals and recorded an assist in Ferris's 4 – 0 win over the Pride of Purdue Northwest.
"I think for me it was more of just a confidence thing," VerHage said, regarding her strong performance against Purdue-Northwest. "In practice I've been feeling a lot better. Any athlete will always say that when they're playing confidently, they're playing better, so it felt good for sure."
The Bulldogs faced Saginaw Valley on Friday, March 26 for their home opener. The GLIAC announced that up to 375 fans would be allowed at outdoor spring sport games. Before the game, Henson talked about getting to play at home in front of fans.
"It's just nice to be back on campus and playing," Henson said. "It's always nice to play where you train. I'm really excited about the GLIAC's announcement to allow fans. I know it's really important for our players to get to play in front of family and friends. I'm just excited for them to get to have a little sense of normalcy playing at home in front of loved ones."
Ferris won against the Cardinals 1 – 0, moving their record to 3 – 0. They also played on Sunday, March 28 against Ashland, winning 2 – 1 and improving to 4 – 0.
The Bulldogs will continue pushing towards their goal of competing for the GLIAC championship in their next contest on Thursday, April 1 against Davenport.