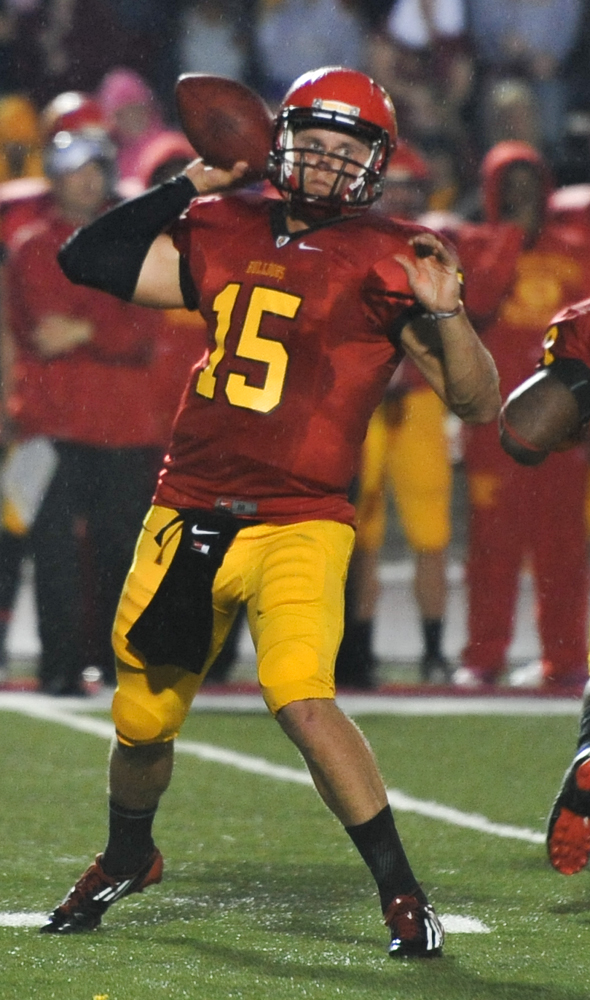 After four years in the NFL, Jason Vander Laan officially decided on March 10 that he would be trading in his cleats for a headset.
After opting out of the 2020 NFL season like many other players, Vander Laan took the year to prepare for his future.
"COVID gave me an extra year to finish up school. From this spring, I knew I was going to go after coaching adventures."
"I'm excited to be a Ram," Vander Laan said in the official press release. "Rockford has a tremendous history of excellence, both on and off the football field. I cannot wait to be a part of this program."
During his time as a Bulldog, Vander Laan became one of the best Division II players in the country. While he not only won back-to-back Harlon Hill trophies as the NCAA Division II Player of the Year in 2014 and 2015, he was also tabbed as the "Nation's Top Dual Threat Quarterback."
Ferris State Football play-by-play broadcaster Rob Bentley talked about the Vander Laan's tenure here at Ferris.
"Jason devoted time to make himself the biggest, fastest and strongest player he could be." Bentley said. "He was also highly intelligent and the winner of the National Scholar-Athlete of the Year award as the top student-athlete in the country twice. All of that translated to the field where his toughness and durability was also unmatched."
After watching Vander Laan firsthand for his four seasons, Bentley saw his impact go past the yards and touchdowns.
"He was an outstanding leader and teammate," Bentley said. "He was first to thank his offensive lineman and fellow teammates for all the recognition he received. It was awesome to be able to promote and work with him throughout his time at Ferris State."
Vander Laan's outstanding career as a Bulldog included 14,193 yards of total offense, 166 touchdowns, and a 37-9 record in his four seasons as starting quarterback. He was signed as an undrafted free agent in 2016 by the New York Jets, but he was not to take snaps under center.
"I didn't have many options in the NFL as a quarterback," Vander Laan said. "29 of the 31 teams at my pro-day looked at me as an athlete and wanted me to play tight end."
Despite the change in position, Vander Laan embraced the opportunity to play on football's greatest stage.
"It was a struggle, but I like challenges. It drives me to this day… going after something that's going to be difficult and approaching it head first."
Following other stints with the Panthers, Patriots and Colts, Vander Laan found his way to New Orleans in 2019. He appeared in two games in the 2019 season before being placed on the Injured Reserve list after suffering a concussion. During his recovery, the former Bulldog knew his career was going to change.
"[With] the way my head was feeling during working out, I wasn't necessarily comfortable going back on the field," Vander Laan said. "We knew it was the right decision for me to retire."
In his search for offensive coaching opportunities, Vander Laan was not initially looking to return to the mitten state.
"I'm from [Frankfort], Illinois and was in Northwest Indiana. I was originally looking at schools around there."
After not receiving any preferred offers, Vander Laan opened his search to "where his name goes a little bit farther" in Grand Rapids. Despite other high school and college teams giving him legitimate offers, the former quarterback found the perfect fit with Rockford.
"Rockford has a great culture and great community support. The offer they had for me to be the 'head coach of the offense' was a perfect situation. My family and I like Rockford and are looking forward to settling down there for several years."
When asked what the thought process was to Vander Laan as the choice as offensive coordinator, Rockford Athletic Director Cole Andrews said his intelligence and communication were key reasons.
"Jason has an incredibly high football IQ and outstanding communication skills," Andrews said via email. "Even though he doesn't have any coaching experience, we believed he was a diamond in the rough."
Along with his high intelligence, Vander Laan believes the relationships he can build with the players will be important.
"I want to be a guy that's going to be there for the kids, build relationships with them and help them succeed on and off the field. I also believe I'm a fun guy to be around."
Despite moving around each year during his four NFL seasons, Vander Laan was able to experience and learn from many different team cultures and coaches. This included six-time Super Bowl champion Bill Belichick and two-time Coach of the Year Ron Rivera.
"Belichick and Rivera have completely different coaching styles," Vander Laan said. "I've been able to see how the players respond to that comfortability and the relationships they build. At the end of the day, I can say what I agree with and don't agree [with]."
As Vander Laan 'fine tunes' his coaching tools and skills for the upcoming season, there is one thing he can count on: support from the Bulldog faithful.
"I'm excited for his success and know he will do well," Bentley said. "It has been a ton of fun watching him pursue a career in the National Football League, but now that he's moving away from competing at such a high level, I know he wants to get into coaching and believe he'll be great at working with student-athletes for years to come."
Vander Laan's coaching career will begin Aug. 26 when the Rockford Rams host Sterling-Heights Stevenson.