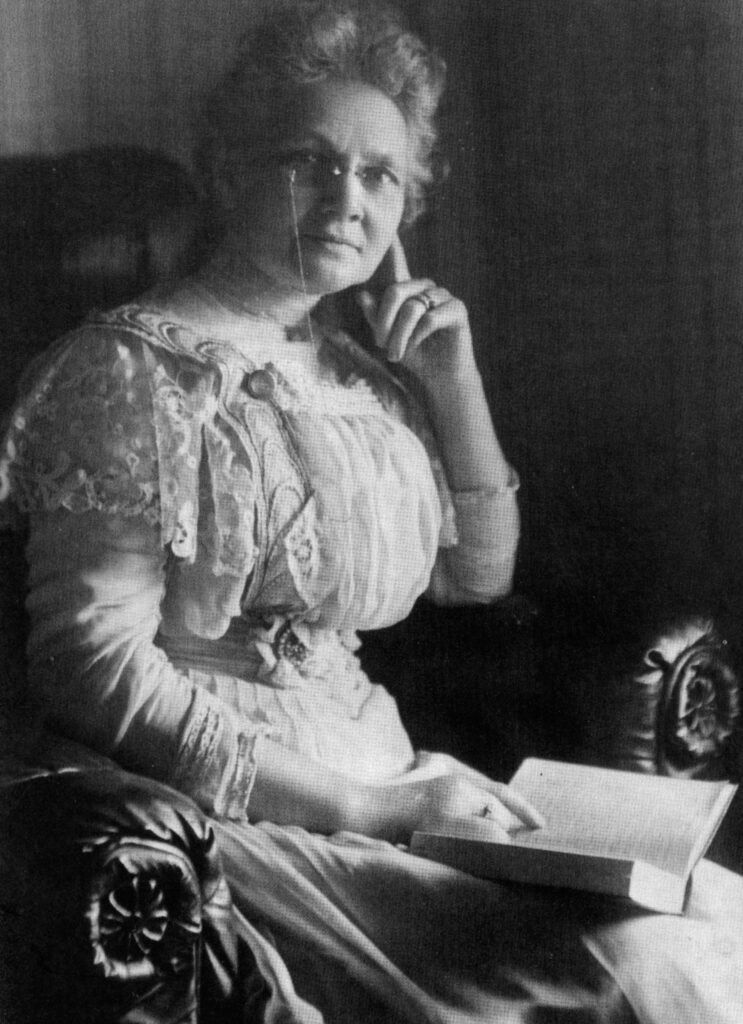 While a statue of university founder Woodbridge Nathan Ferris stands proudly in front of FLITE library, Helen Ferris Hall was demolished in 2015.
Today, her name ornaments Helen's Garden in the northeastern corner of campus, which she would have adored. W.N. Ferris remembered his wife's love of natural beauty as "little less than a religion."
Still, Helen Francis Gillespie Ferris' story runs deeper than the roots of hydrangeas. She was much more than the founder's wife.
Students may know W.N. Ferris as the founder and first president of Ferris State University, as well as 28th Governor of Michigan and eventual senator. He did not, however, carry out this work on his own.
"For the best service I rendered Michigan, Mrs. Ferris deserves a large part of the merited commendation," W.N. Ferris wrote. "Her sense of justice, her purity of motive, her Christian democracy illumined my pathway. In solving the problems that confront me, I shall ever ask, 'What would Mrs. Ferris suggest or advise, if she were at my side?' Her ideals were the ideals described in the Sermon on the Mount."
Helen Ferris served as vice president and contributed greatly to the founding of Ferris (then known as Big Rapids Industrial School) in 1884. W.N. Ferris himself often credited Helen Ferris' efforts in the building of the Industrial.
"[Helen and Woodbridge] were absolutely partners. She was actually better educated than he was. So, she was eminently qualified," History professor Dr. Tracey Busch said. "They were life partners, he respected her greatly. If we were talking about a different century, you know, I think she could have just as easily been the principal or the founder."
Helen Ferris was educated in her home state of New York at Mrs. Caldwell's private school for girls and Falley Seminary. She met W.N Ferris while attending Oswego Normal and Training School. From the young age of 15, Helen Ferris was praised for her mathematical wit. She first began teaching at age 16 and later taught at the Industrial from 1884-1901.
W.N. Ferris is known for being socially progressive and always showed great pride in his wife's success. During the school's early years, he wrote in a letter to his parents that Helen Ferris was teaching full time while fulfilling household duties such as raising their children.
"Mrs. Ferris furnished the sunshine for her husband and her two boys," W.N. Ferris stated in a tribute to Helen Ferris' life.
Helen Ferris' genius was, of course, not only impressive to her husband. Michigan's superintendent of public instruction, H.R. Pattengill, referred to her as the best geometry teacher in the entire state. Her expertise and degree were used to promote the university while recruiting new students.
An excerpt from the Ferris Industrial Advertiser published in May 1915 shared words of appreciation for Helen Ferris' work.
"As a teacher, she was thorough, inspiring, helpful. She was never too busy to give suggestions and encouragement to the plodder and many an F.I. student owes his successes to her painstaking work," it read.
This sentiment of grit and tenacity is echoed by Helen Ferris' own writings.
"One of the chief elements of success in any line of work is the power to take infinite pains with that work. No part of a task should be regarded as trifling, unworthy of attention," Helen Ferris wrote.
According to University archivist Melinda Isler, Helen Ferris was determined enough to perfect the art of teaching while W.N. Ferris pursued his political career.
"She remained focused as a teacher. Woodbridge went on to a lot of other things, but she remained dedicated to education in the end. And while she wasn't always the front-facing aspect of Ferris, she was critical in the Institute and all of the things that it did," Isler said.
This passion for education pushed Helen Ferris to support her students outside of the classroom as well. Even into her later years of life, she would open her personal library to students who were struggling with coursework. She would often read stories aloud in her home to upwards of 16 boys during her son Phelp's childhood.
Possibly the most admirable gift Helen Ferris ever gave was her dwelling.
"When it was difficult to give housing, she boarded some students and gave them a job to help them pay their tuition. While helping her take care of the children, they would actually live in the Ferris house," Isler said.
Despite her enormous contributions to the university, Helen Ferris' story is seldom told. Busch credits this to the great man theory of history, in which society looks for heroic men to attribute vast innovation to. While W.N. Ferris' legacy deserves preservation, perhaps not in a way that overshadows his wife and partner's.
May Helen Ferris be remembered in the wonderful light W.N. Ferris always shone upon her in his words. May her own words live on as well.
"A steady purpose attended by increasing effort will accomplish more than we have yet dreamed of. If we form that habit of giving to small matters our best endeavor, then great things must receive it. I have come to feel that our possibilities and powers are almost unlimited if we will but listen to the voice of duty and hold ourselves responsive to the light."
"Submission to our mistakes is the climax of cowardice. Submission to the right is the height of nobility."
"The two factors most essential to culture, growth and achievement, are to see the right and then to do it, to have the courage and force to work this into the web of life and carry our intuitions and better impulses into action. We curb our ambitions and distrust our ideals. When ease, comfort or pleasure stand in the way of advancement, they must be swept away with a power as relentless as fate."
"Selfishness creeps in and whispers some other time will do as well. The convenient time never comes and to all eternity those impulses, which, carried into action, would have conveyed happiness and joy, remain unused."
-BN