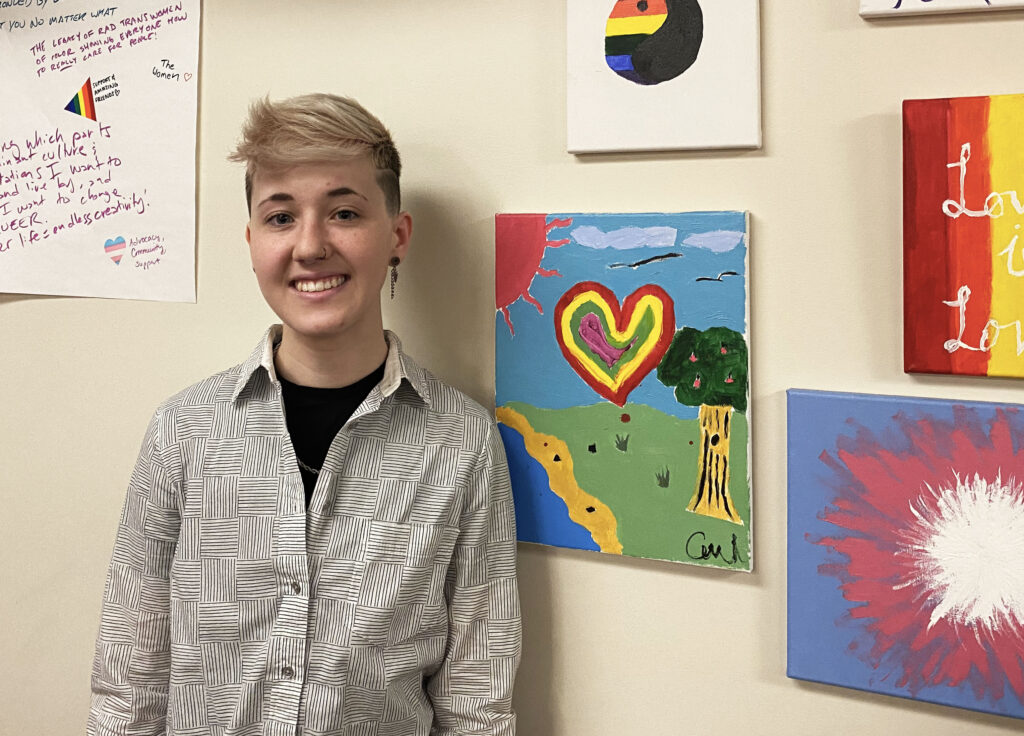 Many universities are working to make their campuses more inclusive for students. The LGBTQ+ Resource Center exists on campus at Ferris to ensure there is a welcoming and inclusive environment for students in the LGBTQ+ community, while also offering support services, resources, programs, training and counseling.
In 2018 Ferris opened its first LGBTQ+ Resource Center. According to the LGBTQ+ Resource Center homepage, the goal is to, "foster a supportive environment that is open, safe and inclusive for students of all sexual orientations, gender identities and gender expressions."
LGBTQ+ Resource Center coordinator Sarah Doherty explained that the founding of the center was a part of the diversity plan for the university to address issues with the climate at Ferris and in Big Rapids for LGBTQ+ people.
"The students who use the Resource Center include LGBTQIA+ students who can find community, support, space to vent, space to dream of a queerly fabulous future and also straight and cisgender students. Any and all students who are interested in improving their cultural competency or accountability, their professional practices, their understanding of the breadth and depth of human diversity."
Social work senior Alyssa Caron is the Senior BSN Intern at the center and believes the center should have been developed on campus a long time ago, but she is happy that it is available now.
"As a freshman I got involved with one of the LGBTQ+ RSOs. The resource center wasn't here when I got here so we were all really excited and so happy to have it. We even started to have our meetings there," Caron said.
Caron believes the center provides a sense of community and is a space where anyone can be themselves.
"You can walk in the door and drop any and all baggage that you have and one hundred percent be yourself," Caron said. "It goes without saying that, even though it is a tiny space, it is really amazing to feel so accepted. As a student it was frustrating when I was looking at schools to come to, knowing that there wasn't [a resource center] already [at Ferris] and not knowing if we would ever get one. Now that there is one, there is a problem with sustainability. The physical space is essentially a closet and if that's not ironic I don't know what is."
The center provides a wide range of services, including gender identity specific group meetings for students, LGBTQ+ sensitivity training and a gender affirming closet. One of the reoccurring events provided by the LGBTQ+ resource center is their Wednesday afternoon Coffee Houses. Each Wednesday the resource center hosts a discord chill session from 4-6p.m. Students are invited to hangout online in an open space while doing homework and meeting friends.
According to the Human Rights Campaign Foundation, LGBTQ+ young people are more than twice as likely to feel suicidal and more than four times as likely to attempt suicide compared to heterosexual youth. Which is why it is so important that safe spaces are created and maintained on campus for LGBTQ+ students.
Doherty said that the resources provided by the center are crucial for many students.
"It is important Ferris invests in the well-being of the LGBTQ+, Two-Spirit and same gender loving students and to invest in meeting the specific needs of traditionally underrepresented and underserved students," Doherty said.
Doherty said that if just one conversation helps a student to be more open and respectful, or helps a member of the LGBTQ+ become more comfortable, it helps everyone focus on what they need to succeed.
At the end of the semester the LGBTQ+ Resource Center will be celebrating their LGBTQ+ and ally graduates. Lavender Graduation, taking place via zoom on April 28 at 5 p.m., honors members of the community who are graduating and those who were leaders in the LGBTQ+ community. Due to COVID-19, this year Lavender Graduation will be opened up to students who graduated in winter of 2019 and 2020, as well as students who graduate in spring and summer of 2021.
Students who want their accomplishments celebrated can fill out some basic information in the Bulldog Connect link and email Doherty a picture or short video of themselves explaining what graduating as a member or ally of the LGBTQ+ community means to them.
If you are interested in getting involved in any of the activities offered by the LGBTQ+ Resource Center you can access links to the discord on the Ferris homepage or contact Sarah Doherty at SarahDoherty@nullferris.edu. The center is located in the University Center, but is currently closed due to COVID-19.