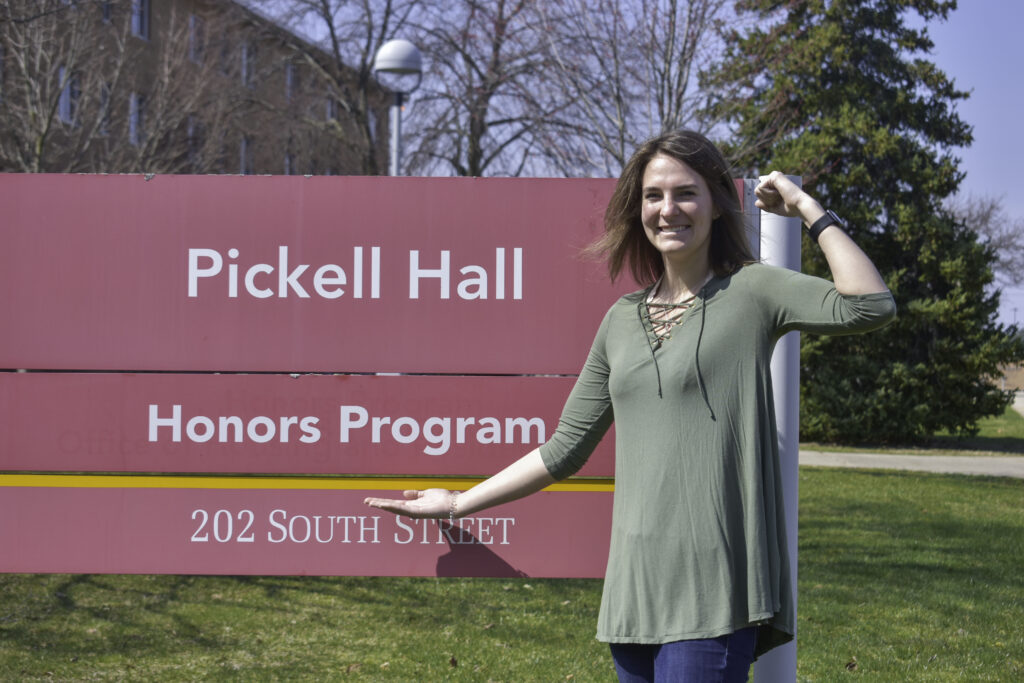 Multiple Ferris students were honored for demonstrating the importance of helping local communities by dedicating over 125 hours of their time to volunteering and serving.
Every April, the university hosts the Torchbearer event where students and student organizations are recognized for their hard work and positive impacts made on the community throughout the year. One award given out to students is the Initiative 125 Service Award.
The Initiative 125 Service Award was created in 2009, as a celebration for the university's 125th birthday. It represents founder Woodbridge Ferris' commitment to service. Students who completed at least 125 service hours over the year are given this award.
One student recognized for her incredible acts of service is elementary education junior Lilian Gray, a 2020 Torchbearer Initiative 125 recipient.
Gray was an active volunteer during her freshman year. She volunteered as a mentor for robotics teams in fifth – 12th grade and helped with their competitions. Gray felt inspired to actively volunteer because she enjoys encouraging the kids to pursue their interests in math, science, engineering and technology.
Volunteering and helping out the robotics team became very important to Gray. She has been involved with the robotics team since 2014 when she was in high school and continued to help out as an alumnus.
"Once I figured out how rewarding it feels to volunteer, I wanted to help as much as I could. It doesn't take a lot of time to help others," Gray said.
She also said that receiving the Initiative 125 Service Award was an honor and one of her "biggest achievements."
Biology and pre-med senior Adam Kociba was another student who won the Initiative 125 Service Award in 2020.
Kociba has been an active volunteer since 2017. He has helped multiple organizations including the Ferris Honors Peer Mentor Program, Spectrum Health Big Rapids Hospital, the FSU COVID Clinic and Project Starburst.
"There is something inherently enjoyable about assisting others without expecting any reward," Kociba said. "It's good for the soul, so to speak."
Kociba was pleasantly surprised when he was honored at the Torchbearer event. He thought it was nice that Ferris wanted to show appreciation for students who volunteer.
Hospitality management senior Katelyn Berens also received the Initiative 125 Service Award in 2020.
Berens mostly volunteers at Cranhill in Rodney, MI for Horsemanship Retreats and various events there. As a member of the Student Alumni Gold Club, she also helps with the annual Rake 'N' Run, Brutus the mascot handling events, alumni events and more. She also assists at the Mecosta County Animal Rescue Coalition.
"The reason that I volunteer is because I love to help those around me whether I know them or not," Berens said. "I know that taking a couple hours out of my week to volunteer somewhere for someone can make their entire day and make them feel so happy. It brings me so much joy to be able to help people out with something that they may not be able to do without people helping them."
Berens felt amazing when she received the Initiative 125 Service Award. However, she made it clear that she doesn't volunteer just to get an award. Berens uses her award as a reminder that what she does as she's volunteering means something to the people she's helping.
Each of these honorable volunteers would like to inspire others to go out and serve the community in any way they can because of the valuable experiences it offers.
"I think we can all identify with the desire to help make the world a better place," Honors Advisor Cathy Bordeau said. "It's moving to work with other people to benefit our community."
Bordeau added that volunteering is an educational experience. It's a great way for students to meet people they wouldn't have before and gain skills. Students can also build their resume through volunteering.
Serving the community also promotes wellness and makes someone feel good.
"I would encourage [students] to find an organization that suits their major, then pick a day of the week and make it a habit to go [volunteer] each week for a few hours," Kociba said. "It'll quickly become an enjoyable part of your weekly routine."
Bulldog Connect and the You@Ferris app provide students with resources and information about different volunteer opportunities around Big Rapids and Mecosta County.