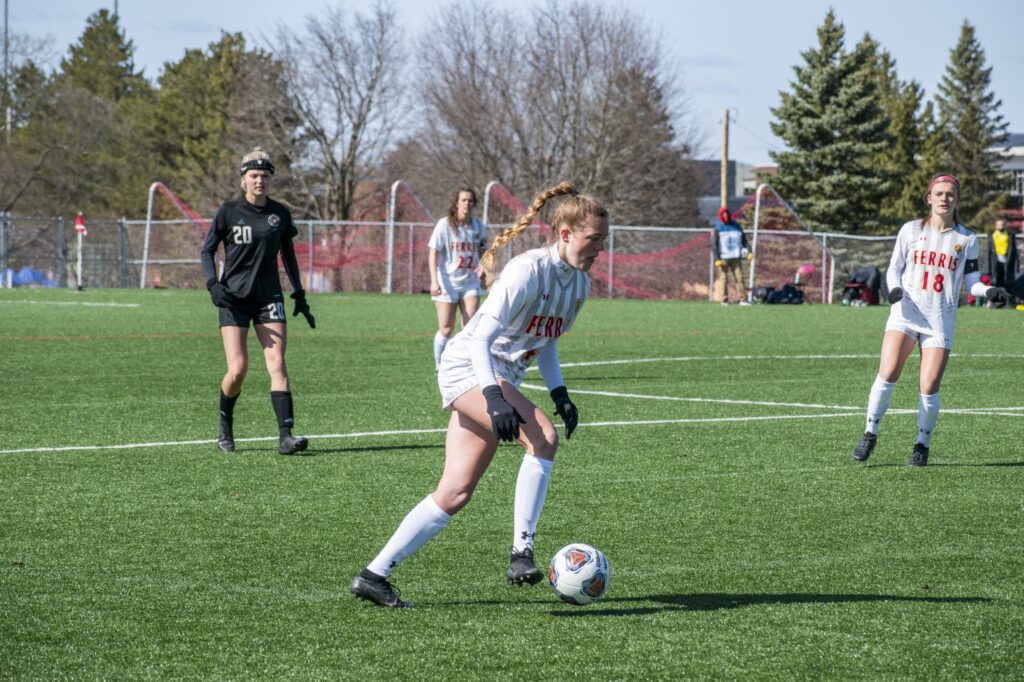 Life is a journey.
We all wonder how we have reached the point we are at today. Many times, we find ourselves in a place we did not expect. For Grace VerHage, the journey to collegiate soccer stardom was one she did not anticipate.
"I think if I went through this journey twice that it would not end the way that it did." VerHage said.
The journey began at a young age, when she found the sport of soccer thanks to her family.
"I started playing soccer when I was four years old." VerHage said. "My older sister did too and I always looked up to her."
Since kicking her first soccer ball, VerHage never turned back and continued to play the sport all the way into high school. While Otsego High School collected a number of successful seasons, head coach Levi Butcher knew VerHage was special.
"Oftentimes you see the high school star who has one elite skill; one way to beat you." Butcher said. "Grace could attack a defense in so many different ways, from so many areas on the field. If someone defended her right foot, she could shift and score with her left. If someone 'jammed' her dribble, she opened up others with her passing. If someone would mark her early in the game, she would run them 'ragged' and take over the match later in the game. She was very tough to contain."
While VerHage had so many talented skills and traits, her competitive nature and character are what coach Butcher appreciated the most.
"I appreciated Grace's maturity, desire to grow and perseverance." Butcher said. "She relished a challenge and never turned away from being tested. She was a leader in the program and set a great example for the younger players."
While VerHage continued her feet by breaking many school scoring records, she also found herself excelling rapidly in another sport.
"I was a big runner in high school. I loved the running atmosphere and it was so much different compared to other sports," VerHage said.
VerHage became a huge contributor during Otsego's incredible eight-year winning stretch, including three-team regional titles, two team state titles and an individual all-state finish her senior season.
When it came time to choose what sport to pursue at the next level, VerHage originally had her eyes set on wearing running shoes instead of cleats.
"I kind of banked on running for the longest time." VerHage said on her decision. "I also had a best friend who later on joined the Ferris State Cross Country team."
That best friend is current sophomore Sydney Kubiak, who knows VerHage is very determined.
"She was willing to put in extra work," Kubiak said. "I've always looked up to her and how hard she works in sports."
Ultimately, Grace felt she wanted to take a different journey and decided soccer was going to be the choice.
"After completing my goal of getting All-State and beating 19 minutes, I felt relieved closing that chapter the way I wanted to." VerHage said. "I knew with soccer something wasn't right. I didn't want it to be over."
With that decision made, VerHage began attending camps and getting exposure to college coaches. When she came across Ferris State as an option, she was all in for becoming a Bulldog.
"I had gone to some other schools and found some great opportunities, but they didn't feel right. When I got to tour Ferris and got a call from coach, I knew it was the place I wanted to be. I instantly said yes," VerHage said.
Throughout her first two seasons with former coach Andy McCaslin, VerHage thrived as both a starter and offensive substitute in 23 games. In her second contest, VerHage scored her first collegiate goal thanks to an assisted entry pass from a teammate she looked up to most.
"It was an amazing feeling I could not even describe to you." VerHage said remembering the moment. "I remember at that time I had really dropped off in the preseason, but I was taken back by Carley Dubbert. She gave me a lot of guidance and she was the first person I turned around to when I scored. There was so much happiness in a small moment of time."
VerHage finished her freshmen season with four goals and four assists to help the Bulldogs reach the record for most single-season wins in school history. She added two more goals and three assists to her career stat line in her sophomore season but knew she wasn't playing her best.
"I think I had a little bit of a slump last year." VerHage said. "I just couldn't exactly figure it out."
After COVID-19 canceled the 2020 season, the former Otsego standout has seen herself finding the back of the net frequently here in 2021. Since registering two goals and an assist in the second game of the year against Wisconsin-Parkside, VerHage has continued her hot play by adding two more goals and two assists through the Bulldogs' six contests so far.
"Grace is playing with confidence this season." Ferris head coach Greg Henson said. "She has the determination to be the impactful player she's capable of being game in and game out."
When asked about the impact VerHage has had as a Bulldog, coach Henson mentioned her ability to score and leadership.
"She's a natural leader both on and off the field. Grace provides quality service both in the run of play and from set plays. She has the ability to score whether it's finishing chances from teammates or creating it on her own."
As the postseason approaches, Verhage said the most important goal does not involve her stat line.
"I want to get a conference title so bad." VerHage said. "After making it to the national tournament my freshman year, I want to get there again and surpass the 'Sweet 16' mark. I believe we have the talent to do it."
At the end of the day, VerHage is happy to be out on the field playing for the people she loves.
"My family is everything to me. My little sisters have looked up to me and I try to be the best knowing they are watching me. I want to always be on my best game because they sacrificed their time getting me to where I am today."
To follow VerHage and the Women's soccer team, visit www.ferrisstatebulldogs.com