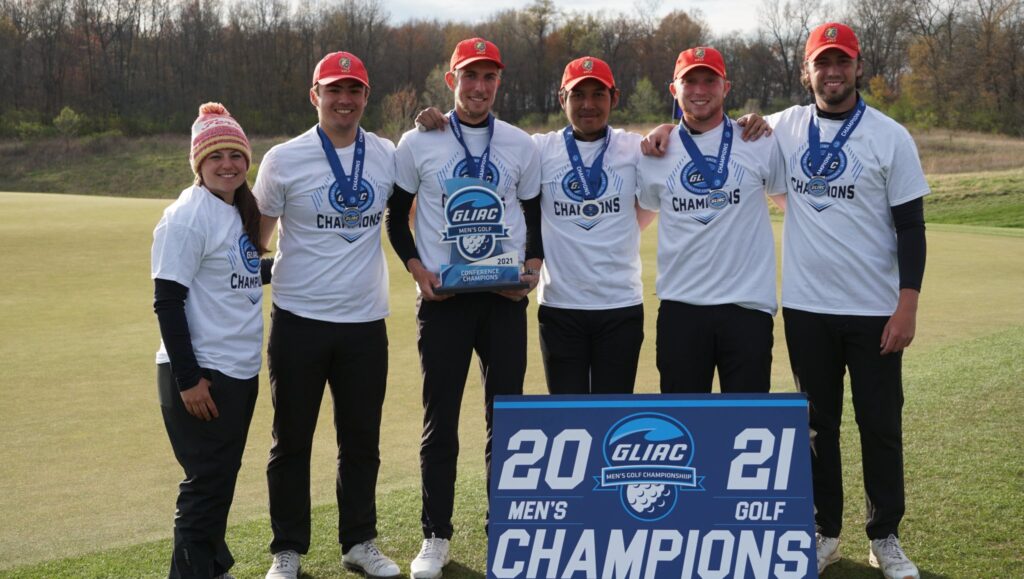 The time could not have come better for Bulldog golf to be in prime shape.
After qualifying for the final medal rounds with a top four finish in stroke play, the Bulldog men captured their 21st conference title with wins over Saginaw Valley State and top-seeded Grand Valley State in the final head-to-head medal round.
"It was a wonderful moment watching the men win the GLIAC championship," head coach Kylee Sullivan said. "They battled hard through two tough matches that day which made for a very exciting afternoon. I was very proud watching them collect the trophy."
In Sunday morning's opener against the three-seeded Cardinals, the Bulldogs used a mid-round momentum swing to tie and ultimately win the semi-final matchup by stroke total. Sophomores Thomas Hursey and Adam Madzri took advantage of their matchups to pull out two wins by a combined six strokes to ultimately outwit Saginaw's strong push of a tie, four-stroke win, and one-stroke wins in the other three matchups.
In his matchup, junior Josh Jeffords knew the pressure was on being tied going into the last hole. Despite an early misfire, Jeffords was able to keep Ferris' hopes alive.
"I got into trouble off the tee and ended up scrambling for a really nice par to tie the Saginaw Valley competitor." Jeffords said. "Had I lost my matchup after our first two guys losing, we would have lost."
From there, the Bulldogs found themselves staring down rival-opponent and top-seeded Grand Valley State in their way of the GLIAC title. After a back-and-forth heavyweight fight, the 'Dawgs found themselves holding the conference championship trophy with a 3 – 2 win over the Lakers.
Joshua Jeffords and Madzri came out with victories in both of their matchups with Grand Valley taking two other matchups. In a classic showdown of top players, Hursey sealed the deal with a par on 18 to claim a tight one-stroke victory and win the title.
"Those are the moments you live for." Hursey said regarding the pressure on the 18th hole. "I just told myself to enjoy the moment. My teammates had grinded all weekend to get us to this position. Being able to close the deal for them was an unbelievable experience."
After winning a title in her first year at the helm of the Bulldog Golf program, head coach Kylee Sullivan believes it was a full team effort.
"The support that I have from the athletic department and my family has given me this opportunity, but most importantly it was the hard work day in and day out from the student athletes that made this possible."
The championship run couldn't have been made without strong showings in the early weekend stroke play rounds, with the Bulldog men finishing second overall and the women placing fifth.
"I was very pleased with the performances from both teams this weekend." Sullivan said. "The men and women gave it their all and left everything out on the course."
For the men, Hursey continued his hot run from the previous two tournament victories with a second place individual finish following a five-under (66) first round and three-under (68) second round. Madzri finished close behind in fourth with rounds of 70 and 66 for a five-under score overall. Junior Josh Jeffords used a strong 11 stroke improvement in round two to finish at five-over, followed by freshmen Trent Barth and Nathan Kraynyk finishing tied for 32nd and 41st respectively. Ferris State finished stroke play with a 566-overall score, finishing only behind Grand Valley State in the team standings.
On the women's side, University of Minnesota transfer Alayna Eldred led the Bulldogs with a sixth-place individual finish at three-over par. Sophomore Elaina DeRose shaved four strokes in the second round to climb up to 11th place overall followed by freshman Dani Staskowski in 21st. Sophomore Mackenzie Dale (164) and freshman Abby Grevel (176) also contributed to the Bulldogs' card. The Bulldogs slashed eight strokes in round two to finish with a 620 combined score, only two strokes behind of Davenport and Sunday's medal round cutline.
From here, both squads will now await their seeding selection for the Division II national tournament starting Wed., May 5 in Kansas City, MO. With both teams heading into the tournament with top 10 regional rankings, coach Sullivan is feeling confident with her team's chances.
"We are very happy with the way the we played this weekend, but we always know that there is room for improvement." Sullivan said. "We will be working very hard in the upcoming weeks to make sure that we are fully prepared for regionals."
To see more results and news around Ferris State golf, visit the Ferris State athletic website www.ferrisstatebulldogs.com.