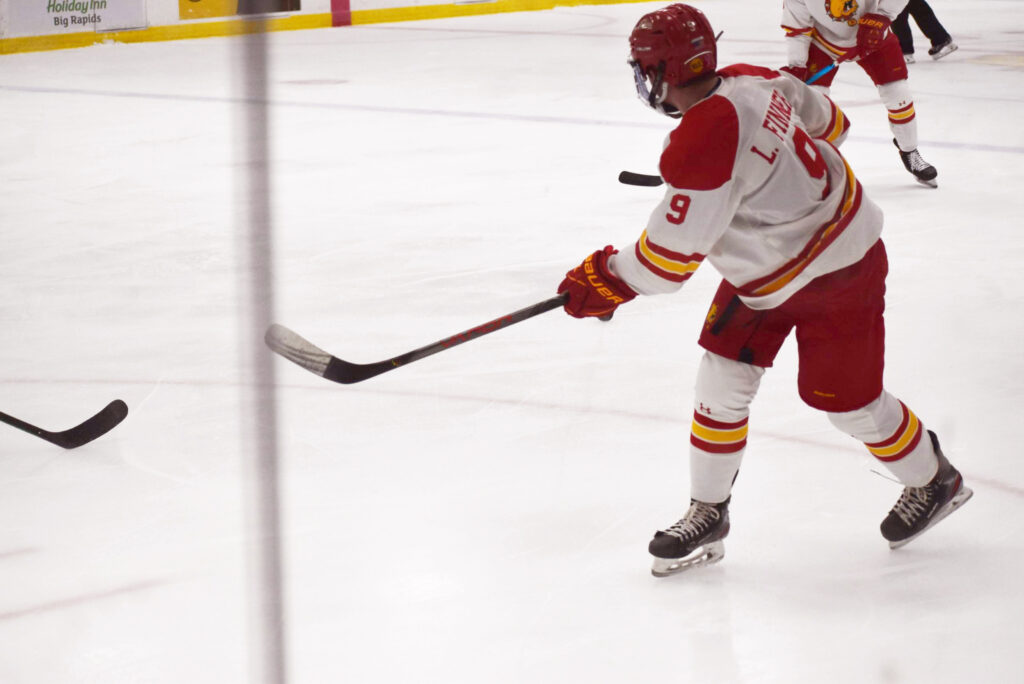 When Ferris hockey takes the ice for their 2021-2022 season, they will not only be looking to put together their first winning season in five years, but they will have to do it without their leading scorer.
Senior captain Coale Norris led the Bulldogs with 17 points in the 2020 – 2021 season with a team-high eight goals. He also had nine assists, good for second on the team. Due to COVID-19, the NCAA granted all winter athletes an extra year of eligibility. However, Norris will not return to the Bulldogs next season and will instead transfer to Bowling Green State University.
"I'm super grateful for my time at Ferris and have made lifelong memories and friendships," Norris said. "I'll miss the Big Rapids community and the people in it."
Head coach Bob Daniels spoke highly of Norris and felt not having the senior captain back next year is a big loss for the team.
"We're going to lose a lot on the ice," Daniels said. "I thought he had a really good year for us. That was probably his best season of overall hockey. He led our team in scoring, but equally we'll miss his leadership qualities. That's a tough one for us not to be having him [come] back."
Daniels noted that he is sure "there will be other guys that can step up," but he did not understate the loss of Norris.
Ferris is also losing senior Lucas Finner, according to Daniels. Finner tied Norris for second on the team with nine assists in the 2020 – 2021 season. Daniels was unsure if Finner will enter the transfer portal as a graduate student or pursue professional hockey.
However, the Bulldogs will return their other two seniors, captain Liam MacDougall and Marshall Moise. Both MacDougall and Moise need to finish their respective schooling and want to play hockey while doing so, according to Daniels.
Ferris closed its 2020 – 2021 season with playoff losses to Minnesota State. The Bulldogs' 1 – 23 -1 record was the worst in program history and their fifth consecutive losing season. Dating back to the 2015-2016 season, their combined record is 45 – 114 – 12.
Daniels felt his team was not in Division I shape for the 2020 – 2021 season, in part because of the absence of a typical offseason due to COVID-19. Going forward, Daniels said that must change.
"We need to address the conditioning," Daniels said. "Our second and third periods were our worst periods. I think there's a direct relationship between our conditioning level and our lack of success in the second and third period of games. That has to be addressed."
Daniels took full responsibility for the lack of conditioning of his players. He said it wasn't the players' fault by any means. However, he added that there are no excuses for this upcoming season when it comes to conditioning.
"We're returning the majority of our team," Daniels said. "We all know what to expect, and we should be able to get the work in that we need."
Outside of conditioning, Daniels felt his team did a good job following the game plans and executing them on the ice.
"I thought the players did a really good job of following things to a tee for the most part," Daniels said. "We just weren't in the type of conditioning you need to be to be successful. When the margin of error for success is so slim, something as small as conditioning could really weigh heavy on a team."
After the 2020 – 2021 season closed, the Bulldogs took a week off, but then got right back to work training and getting in the weight room. They have a full offseason to prepare for next year and try to put their recent trend of losing seasons behind them.