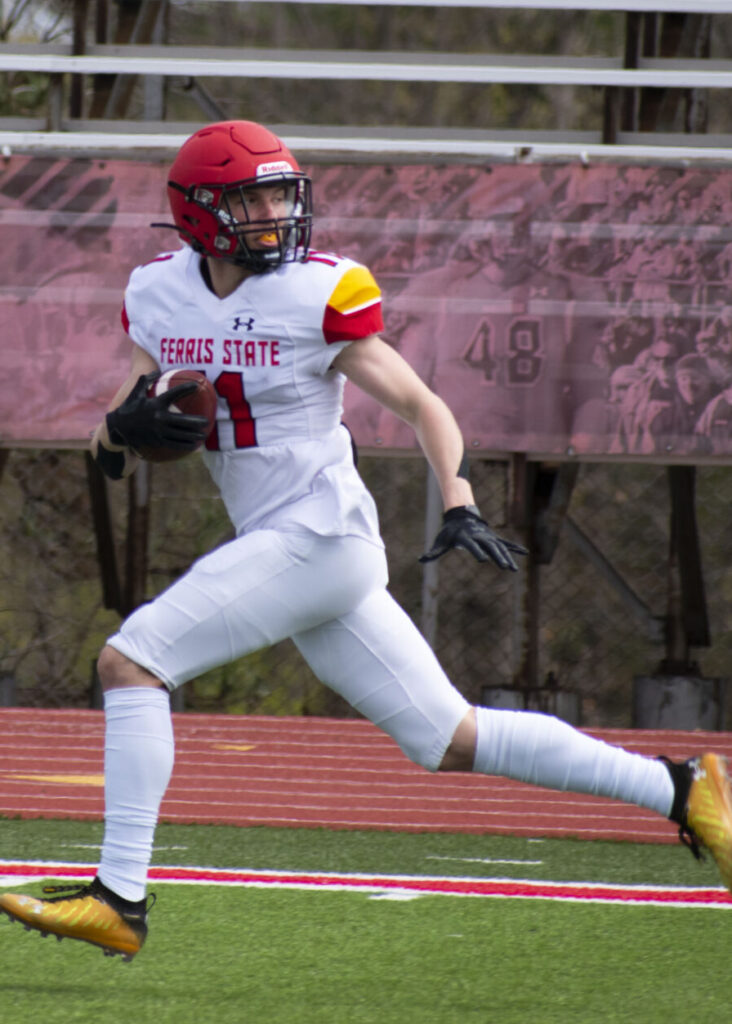 For the first time in 16 months, the Ferris football team played a competitive game, albeit against themselves, in front of hundreds of fans.
On Saturday, April 17, Ferris State hosted its annual spring game, in which it showcased the talents of what is expected to be a national championship contender come this fall. The Gold team beat the Crimson team 44 – 36 in a high scoring affair. The event saw hundreds of fans in attendance for the first time at Top Taggart Field since the Bulldogs lost to West Florida in the national semi-final game on Dec. 14, 2019.
Head coach Tony Annese described what it was like finally being able to take to the field and play in front of fans for the first time in over a year.
"I read somewhere that they were going to limit it to 500 (people) but that looked like a lot more than 500, so i'm guessing somebody said just let them in." Annese said. "It was unbelieveable, when I was addressing the team, I was at a Michigan spring game and we had more people at our spring game then Michigan had at theirs. Now I know with COVID protocols they limited their crowd, but our crowd was incredible."
The only returning quarterback who saw playing time in 2019, sophomore QB Evan Cummins, had arguably the best performance on the day amongst the QBs. Cummins showcased his improved deep ball in the game, he connected twice deep to true freshman wide receiver Cam Underwood.
Cummins is coming off a freshman season that saw him finish third on the team in rushing yards with 454 yards and 8 touchdowns while also completing 50% of his passes for 287 yards and a single touchdown. Cummins talked about how he worked specifically on hispassing game throughout much of spring practice.
"[I] threw a lot of deep balls in the spring, our quarterbacks coach took a lot of time… to just kind of work on our timing and our drops and just kind of [look] through our progressions a lot better," Cummins said.
Scoring was a little different during the game, with points being added for a first down (1 point), 20+ yard play (2 points), a turnover (defense, 3 points), a 3 & out (defense, 2 points) and a forced punt (defense, 1 point).
This allowed points to be scored early and often as nearly each play resulted in some sort of points for either the offense or defense.
The first score of the game outside of first downs and defensive stops/turnovers came from a 50 yard touchdown pass from Cummins to a wide open Cam Underwood for the Gold team.
The duo would then connect again for a 60 yard score in the second quarter. This connection was in the back of the end zone, where Underwood kept one foot in-bounds as he dove for the catch running out-of-bounds.
The third touchdown of the game was scored by the Crimson team, where redshirt freshman QB Jesse Rivera connected with Ferris' next big weapon.
TE/H-Back and Center on the men's basketball team, Mason Pline, who in his first game action caught a goal line fade, using his 6-foot 8-inch frame to high point the ball above his defender. Annese explained his excitement about the potential for Pline to be a solid contributor on the field this season.
"The ability to high point the ball, [was] at an extraordinarily high level. So, what I've been most impressed about him is his determination to learn our system, because he just started this spring. And, you know, once basketball ended, he was rolling with us two days later. So that was cool to see that he's been that committed to trying to learn our system. And a lot of what you do in your tight ends, you gotta be able to be a good blocker, and I've been really impressed by his capacity to block." Annese said.
Sincere Dent wrapped up touchdown scoring that day with a rumbling 14-yard score that saw him run through multiple tackles before diving across the goal line. The score put the Gold team up for good.
True freshman QB Caden Boersma led one last assault from the Crimson team scoring six first downs and drawing the Gold team within yards of a game winning score. However, a fourth down pass fall incomplete in the end zone with eight seconds left.
Other points that were scored during the game came from the 22 first downs that were scored between the two teams, three forced punts, three takeaways, five 20+ yard plays, and a 25 yard field goal from Sophomore kicker Jermaine Roemer.
Overall, the spring game wrapped up spring practice for the Bulldogs, and Annese was excited about many different aspects of the team heading into the summer.
"I think our defense has been great… Today, we had quite a few secondary players that did not play, but our secondary has been really, really good. I think they're, you know, they got a lot of potential, and I always view them as the key to our success. Our old lines and D-lines will be really good. But our secondary, I felt, had a great spring."
The Bulldogs will retake the field this fall for its first competition against another collegiate opponent in 20 months when they take on Findlay on Sept. 2 at Top Taggart Field. This is a matchup that in 2019 saw Findlay lose by one point after a failed two point conversion with less than a minute to play, falling 24 – 23 to the Bulldogs.
For more photo's of the game, visit fsutorch.com.