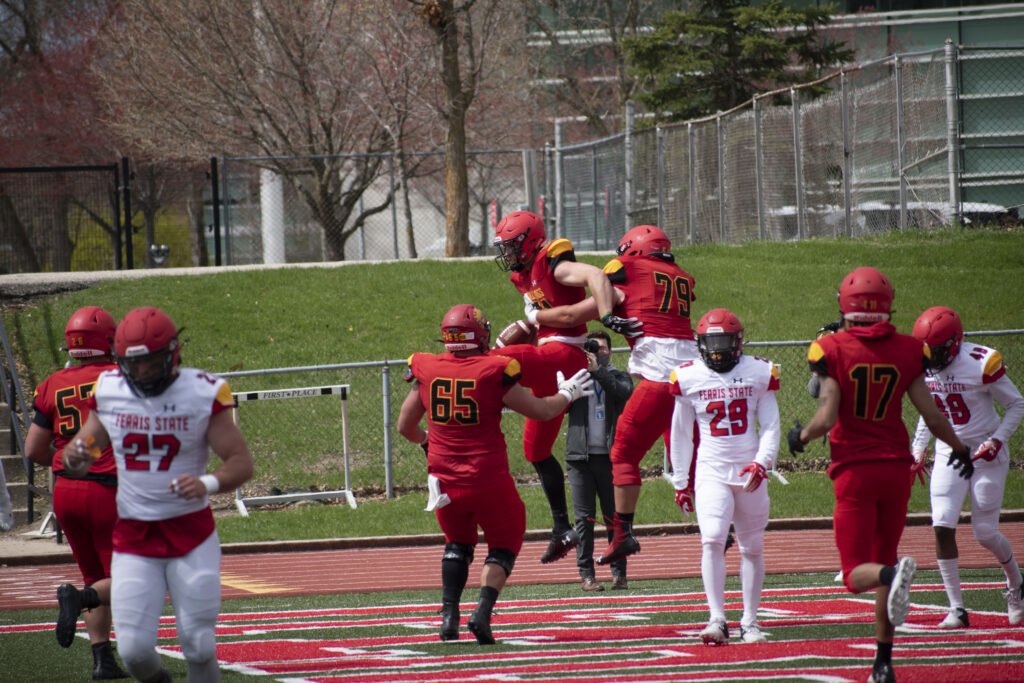 While many athletes experience transfers in an athletic program, one Ferris athlete has transferred his talents from the basketball court to the football field.
Former Ferris State men's basketball junior post, Mason Pline has chosen to leave the basketball team to pursue his dream of playing on the Ferris football team. Pline will always love basketball but he wants to take his opportunity to chase his dream. Whenever someone would ask Pline which sport he preferred his answer would be, whatever is in season.
"I grew up playing every sport I could and have grown to appreciate and love them all in different ways," Pline said. "I'd always thought about playing football ever since going to my first game and watching Ferris state play and I knew that one day I'd want to be a part of that."
Pline has had the thought to join the football team since his freshman year and finally understood this would be something he'd miss out on if he didn't go after it. Pline said the football coaches reassured him that his ability to be a good player could help make a difference on the team.
"Coach Annese would always joke with me and kind of hint to me ever since I got on campus my freshman year about coming and playing tight end and what initially started out as a joke has now turned into a reality," Pline said.
The wonder of "what if I didn't play" stayed in the back of Pline's mind. By playing both sports under two long-time coaches at Ferris, Pline has learned much from both coaches that he will take with himself for the rest of his life.
"Ferris state athletics are highly respected not only in the region but across the country and to be able to be a part of the basketball team and play under coach Bronkema and now play for Coach Annese be has just been a blessing," Pline said. "The coaching staff on the football team has been great at helping me make this transition and understanding of the new role and situation I'm coming into and have made the transition for me quite easy."
Pline said that everyone from the start of this transition has been supportive and just wants what is best for him which speaks volumes about the football coaches and his new teammates. A former teammate on the men's basketball team with Pline, senior wing Michael Peterson is happy that Pline is able to chase his dreams because not many get to do so.
"I just like how he wants to succeed. He's always looking to get better and selfishly that's just a good person to have around so I'll definitely miss being around him," Peterson said. "He showed he's not afraid of taking a risk."
While old teammates have been supportive to Pline, his new teammates have been unbelievable in his eyes. Whether it was being helpful, encouraging, or patient Pline said his teammates have made the transition that much smoother. Ferris football QB, Evan Cummins said that Pline has transitioned smoothly as far as he can tell but that Pline has done a great job.
"Mason's a guy that brings good energy to the team, he's always positive and you can tell he's a competitor," Cummins said. "Masons a great kid and a big target to throw the ball too, it'll be interesting to see how we can utilize him this fall."
Pline stands at 6'8 and weighs around 250 pounds as he looks to create numerous mismatches for the opposing team. The plan is to have Pline play tight end on offense but with his speed and agility shown in the previous spring game, we will see many big blocks in Ferris football's strong run game from Pline. There is uncertainty about playing time as the team gets back into the swing of things due to the gap year per COVID. Pline remains focused however by learning the entire offense and relearning football traits from when he played junior high football in 2016-2017.
Pline said the learning curve from not playing for almost four years is just like anything else, the more practices and repetitions you receive the better you become. The biggest thing for Pline is relearning techniques.
"It's easy to get down sometimes when you make a mistake but as long as you can look back at the day before and tell yourself 'I'm better today than I was yesterday' then it makes me that much more driven to keep moving forward," Pline said.
With such a big frame under the pads, Pline gives his new QB a big guy to throw to which Cummins finds nice to have, especially an athletic one not afraid to go up and make plays. Pline impressed Cummins with his focus as he knocked the rust off from not playing so long. Even Peterson said that Pline will translate easily.
"Mason is honestly a freak show so his athleticism will translate easy," Peterson said. "There isn't very many 6'8" 250 guys with that kind of vertical talent so he should be a weapon."
With the spring football game over for Ferris football the next time Pline will suit up is when Findlay comes to Top Taggart Field on Sept. 2, so look for number 81 to make his debut in five short months.