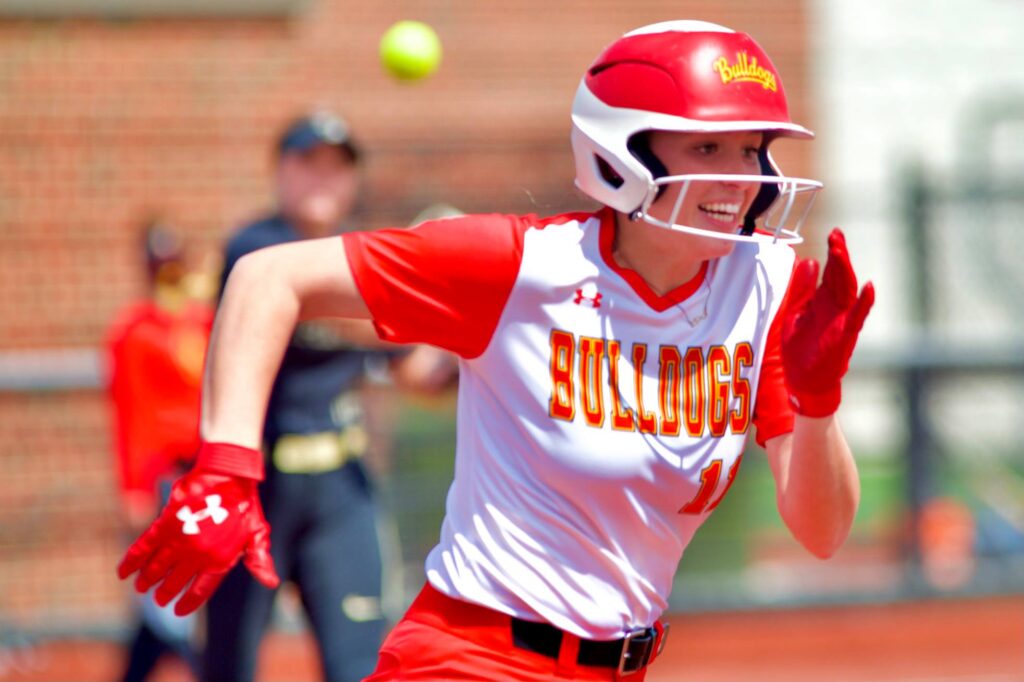 Record-setting success is nothing new for Paige Kortz.
The junior outfielder for Ferris softball started setting records in high school. A native of Napoleon, Michigan, Kortz attended Brooklyn High School and played three sports: bowling, volleyball and softball. Not only did she set school records in softball for single-season batting average (.611), slugging (.984), on base percentage (.622), hits (95) and runs (69), but she also was a first-team all-state bowler.
The high school accolades did not end there. Kortz was an all-state first team honoree, a four-time all-region, district and conference selection and three-time team MVP for Brooklyn softball.
Kortz played softball for head coach Doug Richardson at Brooklyn. He credited Kortz with being a hard worker and doing the right thing, not only for herself, but for others as well.
"She was always a competitor and an elite player who wanted to do the best she could do," Richardson said. "She wanted to be better than the other players and always worked harder than them. She pushed herself to be an elite athlete and she accomplished that. She's done a lot of great things throughout her high school and college career."
Her high school success certainly translated to her time at Ferris. Kortz is a four-year starter for the Bulldogs, with a career batting average of .316 and 65 RBIs. She was named GLIAC Player of the Week for the week of April 4 – 11, but took more pride in being named to the First Team All-GLIAC team for the 2018 – 2019 season.
"Earning accolades is a good feeling," Kortz said. "It not only reflects my actions, but also the coaching staff and the teams' actions. It always feels nice to be noticed and recognized for playing the game that I love."
This far into her junior season, Kortz is batting a career and team best .388, has knocked in a team-high 16 runs and leads the team with four home runs.
Kortz attributes part of the reason for her success to her competitive nature. Growing up with a twin brother, who is also a collegiate athlete at Olivet College, helped her find her competitive side. Her competitiveness helped her to be successful, but it is not the most important part of her success.
"I believe the key reason to my success overall is my time management skills," Kortz said. "Being a college-athlete requires me to jump back and forth between classes and practices on a daily schedule. In softball, I've been able to find success by reflecting on games and practices to determine what my current weaknesses are. If I'm struggling with a specific thing, I reach out to the coaching staff to figure out how to fix it quickly."
Through all the success on the softball field, Kortz said she has always put her education before athletics. That focus on education rewarded her with a cumulative 3.96 GPA as a dual major in accountancy and finance, while minoring in Leadership and Project Management.
"If I had to describe myself as a person, it would simply be as a Type A person," Kortz said. "I'm very driven and have taken on many roles during my college career. I had to develop strong multi-tasking abilities to accomplish numerous tasks."
On top of her educational and athletic commitments to Ferris, Kortz is also a member of the NCAA Student-Athlete Advisory Committee and an employee at Tenneco Automotive.
When she came in as a freshman, Kortz was undecided for her major and worried about being away from her friends and family. Since then, she has nearly completed her dual major and balanced everything else in her life.
Despite the busy schedule, Kortz finds time for the important people in her life. Outside of school and softball, Kortz spends her minimal free time with family, friends and teammates; something she wishes to continue.
"During the rest of my time at Ferris State University, I look forward to creating life-long friends and memories," Kortz said. "I'm hopeful that our daily lives will return to normal next year, but no matter what I will always be able to cherish the true friendships I've created."
Kortz's time as a Bulldog has rewarded her academically, athletically and interpersonally. She will look to continue finding success at Ferris as she wraps up her education and the Bulldogs push towards the GLIAC tournament scheduled for the week of May 10.