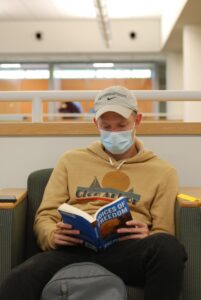 Ferris students are flocking back to campus for a new academic year, and this year, after most classes were virtual for the 2020-2021 academic year, students will once again be filling up classes in person.
Moving back to in person learning means that students must once again transition the way that they learn. For some students this mean simply going back to what is familiar, but for others having to get used to a change in learning can be stressful, especially while still having to be cautious of potentially catching a virus.
"I'm a little anxious because I haven't been in a true classroom setting in a long time," Ferris dental hygiene Bailey Good said. "When COVID lockdowns first hit we had to be able to learn and maneuver into all online learning which was super tough, flipping the switch back to the norm will definitely come with its challenges."
Sonography major Kendra Madrazo is also stressed about the transition. "Since I'm starting a program and I haven't been in person for so long I'm afraid I will get overwhelmed," Madrazo said. "With online classes you have all those lectures on video so you can re-watch them but now with in person you have to be in that class and retain it all right then."
Not all students are concerned about being back in person though, Ferris junior AJ Arechiga said he is not that nervous about being back in person, but can understand how some students would be.
The thing to remember about stress is that, no matter the cause, there are ways to deal with it. Everyone has their own way of taking their mind off the things that stress them out.
"I think the best way thing is to try to get into a schedule and a habit of doing the work and getting up and going to class in person," Good said. "You should definitely try and motivate yourself to get up and go to class."
Madrazo has a different approach to stress. "Something that helps me with my stress is working out and just trying to get as much done in each day as I can," Madrazo said.
Arechiga said that if students are not comfortable going back to in person just yet, they could try sticking to virtual. "If staying away from face to face classes is what makes them the most comfortable I would suggest reaching out to their teachers."
No matter the approach to dealing with the stress, one thing is still certain. Ferris students are resilient, and they will be able to get through this transition in whatever way they can.