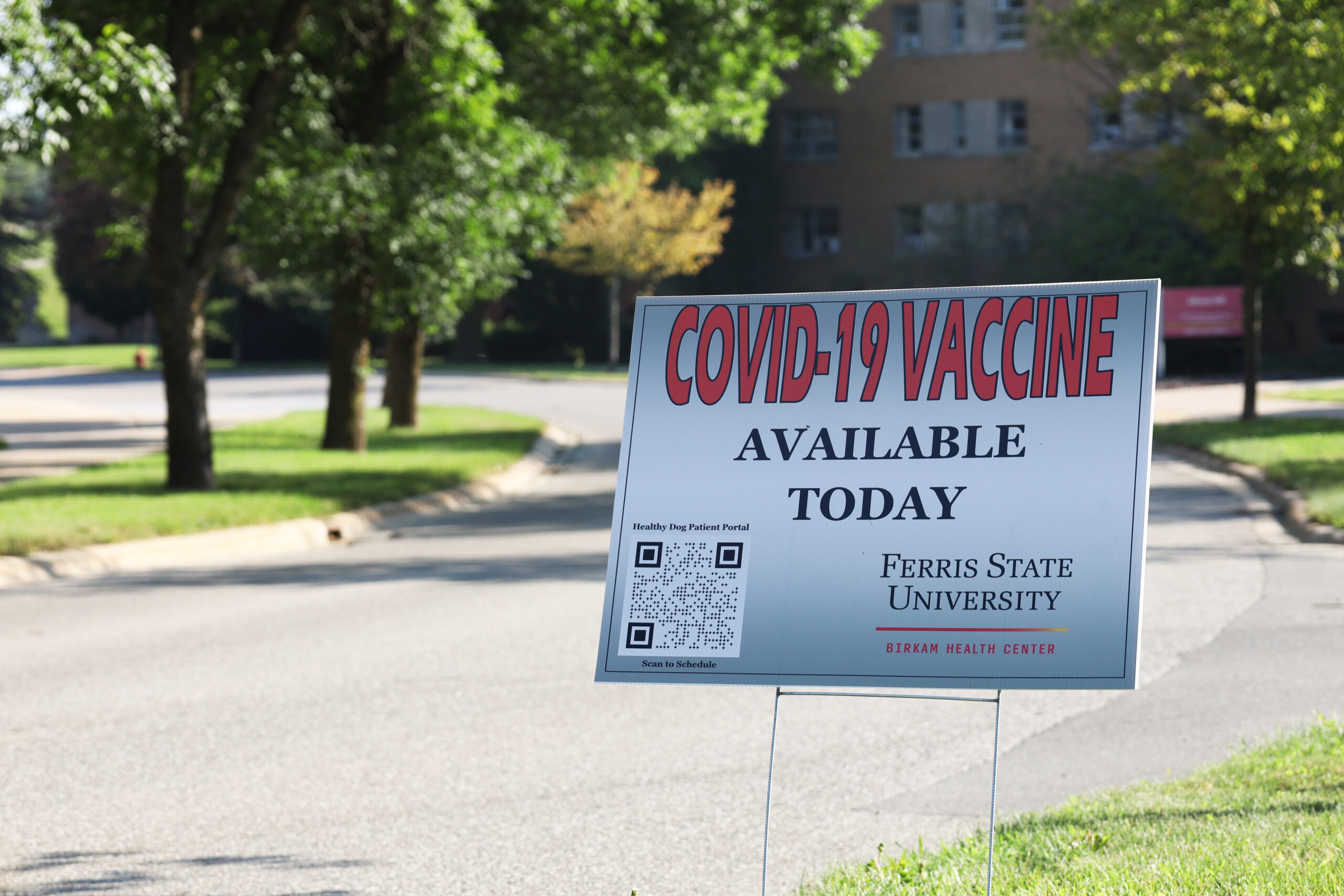 Ferris is taking precautions to limit the spread of COVID-19 this upcoming school year.
Vaccine
According to Joy Pulsifer, the dean of student life, students will not be required to get the COVID-19 vaccine, though the goal is for everyone on campus to be vaccinated. In a message to students, Pulsifer stated that Ferris "strongly recommends" all on campus to become immunized.
Jeremy Mishler, associate vice president for external relations, stated that Ferris is developing soon to be announced incentives that will be offered to students to raise vaccination numbers. Ferris will also be implementing pop-up clinics during move-in dates, and students can also schedule vaccination appointments with Birkham Health Clinic.
Faculty, students and staff are all encouraged to share their vaccination status through the Healthy Dog Portal.
Classes
Classes will be returning to normal sizes this fall, and more than 80% of them are scheduled to be in person. All faculty, staff and students must complete the symptom checker each day when on campus.
Masks
The CDC's COVID-19 Data Tracker moved Mecosta County from a "moderate" setting of COVID-19 transmission to a "substantial" level. In response to this, Ferris has mandated that all students, faculty, staff and visitors will be required to wear a mask in all campus buildings. Masks will be required regardless of vaccination status.
These regulations also goes for KCAD, GRCC Applied Technology Center and the College of Pharmacy. For requests on mask accommodation, students must contact Educational Counseling and Disabilities Services.
Dining & Housing
Touchless card swiping and plastic glove and hand sanitizer stations are just a few of the precautions that will be present in the dining areas, according to Mishler.
The dining areas will also be using "SafeSpace" to proctor the number of individuals in the dining areas, so they don't exceed occupancy. All dining locations on campus are scheduled to be open with full service. Additional flexibility will also be given to students and others when it comes to dining plans for this upcoming academic year.
Housing will continue to offer a mix of housing options. Housing has also returned to its "pre-COVID-19 rate structure" and will no longer offer incentives for students living in a single room, per Mishler. There is also no set limit on the number of guests a student may allow into their dorm or living space.
Ferris housing's FAQ page states that all students living on-campus are required to take part in free COVID-19 testing. This also goes for all students who lived on campus during summer break, as well as those in apartments and suites.
Pandemic Recovery
When it comes to recovering from the pandemic, Ferris has recently offered students extra relief funds to assist with expenses related to COVID-19. Ferris' page on Distribution of HEERF III Funding – American Rescue Plan (ARP) also offers in-depth information regarding the availability of these funds.
The page states the American Rescue Plan, which was once known as CARES, set up federal grant dollars "that must go directly to students in the form of emergency financial aid grants." These grants are for the students' use in the cost of attendance or for any emergency cost which may arise due to COVID-19.
According to NCSL, the CARES Act provided $14.25 billion for emergency relief for higher education institutes.
Ferris has also launched an inclusive Welcome Back webpage with information covering everything for college, such as getting your MyBulldog ID card, parking permits, student employment and ordering textbooks.
am