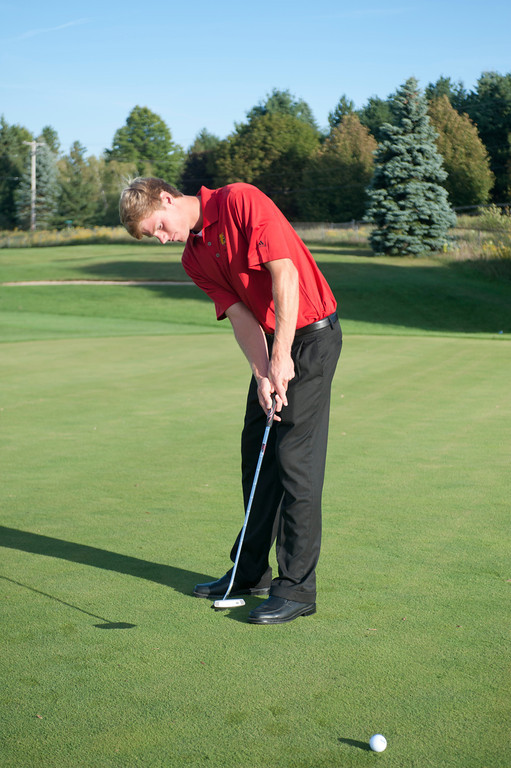 The road to the pro tour has been a continuous journey for former Bulldog Ben Cook.
While the destination is still slightly distant, there is light at the end of the tunnel. The former division two standout won the prestigious 100th annual Michigan PGA Professional Championship on Aug. 18 for his third win in the event. Although he held the lead through the entire round, Cook was glad to take home the win despite the discomfort.
"I was grinding out there," Cook said after his win. "Winning on a tough course like this against a great field, it helped me get better."
Cook is not unfamiliar with making history. As a two-time PING All-American, he finished his Ferris career with a record-breaking regional round to help the Bulldogs finish second and clinch their first national championship appearance since 2010. From there, Cook decided he felt ready to chase after the professional level.
"Being All-American my junior and fifth year was a huge confidence boost," Cook said. "I felt like I could play and compete with anybody."
Cook went on to join the PGA Tour Latinoamérica, a "third level" pro tour consisting of an 11-event schedule spanning worldwide, including tournaments in Mexico, Argentina, and Ecuador.
"Latinoamérica is really cool," Cook said regarding the tour. "Being able to travel the world doing something you love is a great bonus."
Despite the challenge of moving to the professional level, Cook continued winning. The former Caledonia native went on to win the Northern Ohio PGA Professional Championship and was also named the Northern Ohio PGA Section Player of the Year in 2017.
When asked about how the winning translated so quickly, Cook quoted the skills he developed in college and beyond were an essential part.
"I have always been a good ball-striker," Cook said. "Being able to ball-strike my way around a golf course makes it feel easier than it actually is. It helps me make more birdies and pars that way."
While playing under conditional tour status from 2018-2019, Cook played in nine top-level tournaments. Cook collected a top-20 finish in the PTLA Qualifying Tournament and a top-25 finish in the larger-scale Costa Rica Classic with an impressive 10-under par. He finished the season with a near top 100 ranking as well, winning over 5,700 dollars.
Cook then hit the ground running in the 2019 and 2020 campaigns with a top-10 and two top-5 finishes on the Latinoamérica Tour. The former Bulldog found himself ranked number 14 on the season leaderboard, giving him nearly 23,000 dollars in tour winnings.
"I had a lot more confidence than the previous year," Cook said on his 2020 improvement. "It was a change in mindset. Instead of being worried about making the cut, I was more worried about winning."
Thanks to his tremendous play, Cook received an invite to the PGA Championship in 2019 at the prestigious Bethpage Black in New York. Again, he played alongside the game's best until he missed the cut line. Then, Cook went on to play two more PGA Tour majors. Despite not making the cut at either event, Cook still knew he was a better golfer.
Cook continued to work hard through 2021. Even with the bumps in the road from the COVID-19 outbreak, Cook could still train by using locational resources.
"Everything was shut down for like four months," Cook said. "It was hard to stay motivated and practice knowing your event was three months away. Fortunately, I was in Florida, which was much more open than Michigan. I was just trying to make the most of what I had at the time."
When the time came, Cook qualified for his third consecutive PGA Championship. But, after a solid performance, Cook found himself in a position he hadn't experienced yet: playing his final two rounds after making his first PGA major cut.
"It was pretty easily one of the better days in my life for sure," Cook said. "Having all the hard work finally pay off in a PGA major was awesome."
Not only was making the cut a monumental accomplishment, but Cook also had an exclusive experience with one of his favorite players. He got to share the stage with the outright tournament champion: Phil Mickelson.
"I have always been a huge Phil fan my whole life. For him to be the one that won and being able to stand next to him (at the trophy presentation) was pretty cool."
As the season goes on for Cook, the pressure heightens knowing the tour qualifying tournament is just around the corner.
"Golf comes down to two weeks that can make or break your year. My game has been great this year and I'm just hoping and praying for a good week at 'Q School' in October."
To follow Ben Cook, check out the PGA Latinoamérica Tour at www.pgatour.com.
BS