Summer is nearly over, and that means the return of Ferris athletics is near.
Ferris competed without fans in attendance last year. With the return of fans this year, many athletes are eager to play in front of their beloved fan base once again.
Football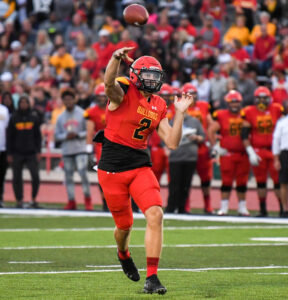 Ferris' football team had the chance to see fans again before other fall sports during the annual spring game hosted at Top Taggart field back in April. Senior quarterback Evan Cummins led the way for the Bulldogs in the spring game and will be a big piece of the team again this year. Cummins looks forward to competing with his teammates after almost a two-year hiatus.
"I can't wait to have fans back at Top Taggart. I remember for the spring game we had a pretty good-sized crowd, and it was awesome," Cummins said. "I can't wait to see the stands filled come week one on Sept. 2!"
The Bulldogs continued training hard ever since the announcement that they would not play in 2020. Cummins said many of the guys never let off the gas pedal, and some trained harder than ever.
The Ferris Football team camps have kept the team busy. During those two to three weeks it's nothing but football, which is Cummins favorite time of the year.
"You're with the team almost every waking second of the day," Cummins said. "I can't think of anything else I'd rather be doing. I think one of the only positive takeaways from this pandemic is how close we have grown as a team. Between us and the coaches, we have always done our best to support each other and keep each other on positive tracks."
Like many other athletes, Cummins wants to bring a championship home to Ferris. However, his personal goal for the season is to be the best teammate he can be. Whether his role is as the starter or backup, Cummins just wants to win.
"I was just talking to some of our defensive backs last week, and I don't think we have ever had a team here that has felt so comfortable around each other," Cummins said. "Everyone truly just wants what's best for this team and for each other, and it's a great thing to be around. I'm just happy that things are getting back to normal. We have been looking forward to getting back on the field for a long time now and cannot wait to see everyone at Top Taggart."
Ferris Football kicks off their season with a home opener at Top Taggert field on Thursday Sept. 2 against Findlay.
Volleyball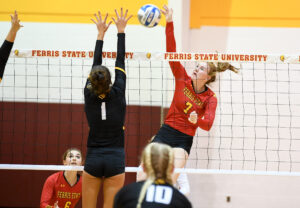 The last time Ferris volleyball played in front of fans was March of 2019. Senior outside hitter Katie O'Connell is excited for fans to fill the stands. The last time the Bulldogs were in action was during the GLIAC tournament semifinals that resulted in a loss to top seeded Michigan Tech with a 3-0 setback.
"It means a lot to get back to a regular fall season, and have a sense of normalcy with our season since we played our season in the spring," O'Connell said. "Last year was an adjustment because we had to work really hard to create our own energy in gyms without fans, so having them back will just create so much more energy and be a fun environment."
"After the unknown of last year, we're just grateful for each day we get to practice and play volleyball, and I think the best way our team has dealt with everything, such as playing volleyball in a pandemic, was staying connected with each other and to keep building our team relationships," O'Connell said. "I think it was most difficult when we were all home and away from each other, but we were very conscious of how hard we had to work to connect and stay together as a team."
The Bulldogs are focused on picking up where they left off before the pandemic. O'Connell is most looking forward to having the entire team back on campus and is excited to show their offseason efforts.
"A goal we have as a team is to win our conference, and we want to win our region to make it to the Elite Eight as well," O'Connell said. "My goal is just to be the best I can for whatever my team needs. We have a really talented team, so I'm excited to get to work with them and play this fall!"
The Ferris volleyball team serves up their season on Thursday, Sept. 2 against Tiffin with a 5 p.m. start time.
Cross Country
Junior teammates Katrina Droski and Donis Harris are ready to show all the hard work and training they have been doing since the pandemic started. Harris said he is very thankful to have coaches and training staff that've been working hard so the teams can compete safely.
"I think the best way to deal with the pandemic is to just try not to worry about it and control what you're able to, and this means doing everything in your control to be in the best shape possible whenever the opportunity to compete again does arise," Harris said.
Droski learned how to keep training despite the difficulties of COVID-19.
"With the pandemic and sports I dealt with it fine. Even when we had to wear masks to run it was a bit annoying, but I just waited each day till the day came to where we didn't need to wear one. I just keep on practicing my sport because running you can do anywhere," Droski said
Harris talked about getting back to competing.
"We've all been working hard to get to this point, so it'll be exciting to see everything come together," Harris said. "I've really seen these guys put in a lot of hard work over the past year and a half. Even when it hasn't been easy, especially not knowing when we were going to be able to compete again, but I think it's really going to pay off for us as a team, and I'm excited to see what we can do."
For the men, Harris said it has been an odd year in terms of team chemistry, since there were restrictions on what the team was allowed to do, so they had to get creative. On the women's side, Droski said they have all kept each other up to date on social media and planned game nights together. Both teams have made plans for having team runs and have gone to dinner together on multiple occasions.
For Droski, she wants to post under a 24-minute 6k and hopes her team places top five this year. Harris would like to compete for the school record in the 8k race and break that record. For the team, Harris believes they have the potential to be the fastest team that Ferris has had in the past six years.
The Bulldogs will have their first competition at the Ray Helsing Bulldog invitational on Saturday Sept. 11 in Big Rapids.
Soccer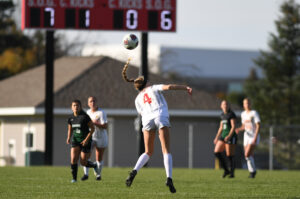 This season, Ferris State women's soccer will defend their GLIAC Championship from last season.
For seniors like forward Grace Verhage, it will be the last time they lace up their cleats for Ferris. For Verhage, it is especially important that fans will be back.
"At one point in time, I was so nervous I would never get to close my college soccer chapter," VerHage said. "And now, with the ability to get back out on the field again this fall, I will never take anything for granted because you never know when something so special could be taken from you so fast."
VerHage took in all the support from her family and friends as she believes it helped being a part of such a close-knit team because everyone was experiencing the same situation. She said the team chemistry is always there with the soccer team. No matter how long they are apart from each other.
"Everyone gets along so well, both on and off the field, making soccer even more enjoyable than it already is because you get to play the game you love with all of your best friends," VerHage said. "Something I've learned in my college career is the importance of team chemistry. When you learn to play for bigger reasons than yourself, that is what makes college athletics that much more special."
VerHage hopes to have made an impact on both the team's success and culture during her time at Ferris. This year, VerHage and her teammates are ready to work to defend their championship title and aim for higher heights.
"As a team we hope to win both the tournament and regular season play conference titles, and now that we finally have a chance to enter the National tournament again, a national championship title has always been the end goal," VerHage said. "As we advance through the season, we hope to check off these boxes. Personally, I hope to have the highest point scoring season I have had yet over the course of my four years here."
Ferris soccer will lace up the 2021 regular season at home against Findlay on Thursday, Sept. 2, starting at 1 p.m. on the Bulldog soccer field.
Tennis
May 9, 2021 was the last time we saw the Ferris tennis teams take to the courts. Both the men's and women's squads lost to Southwest Baptist in the NCAA Division II Midwest Regional Semifinals in Midland. That loss ended a streak of 15-matches won for the men's team and 16 straight victories for the women.
Last spring, the Bulldogs captured both of the GLIAC regular season and Tournament Championships, joining the Bulldog women's squad atop the conference. Ferris was making their 24th all-time NCAA Division II Tournament appearance with it being the sixth in a row this season for the men.
With a majority of both lineups returning for action this season, hopes are once again high for head coach Mark Doren's squads.
The Bulldogs open their season Sep. 11 against Grand Valley State University.
am