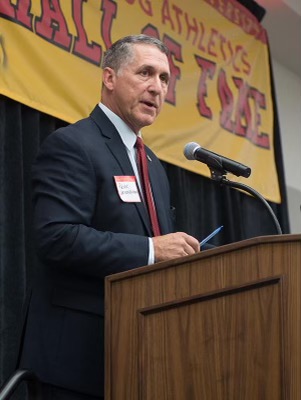 After 11 successful years at Ferris State as the Athletic Director and over forty years spent in athletic administration, Perk Weisenburger is retiring.
In 2010, Weisenburger joined Ferris State, and since then, he has led the Bulldogs to many victories. His prior experience included a position as the Athletics Director for External Operations at the University of Nevada, Las Vegas, and Athletic Director at Illinois State University. In addition, Perk positively impacted the culture of athletics at Ferris through his unique background and impactful interactions with others.
Rob Bentley works as the Assistant Athletic Director for Ferris and has worked closely with Perk for the last 11 years.
"Perk brought a lot of experience, and the whole department was better overall because he was there," Bentley said. "He helped me a lot professionally and made us all better."
Not only did Weisenburger bring in positive change, but he also brought in success. Sara Higley, the Senior Associate Athletic Director and Senior Woman Administrator at Ferris State, has also worked closely with Weisenburger for several years.
"The most exciting thing about working with Perk was that he brought Ferris so much success," Higley said. "Perk helped Ferris to grow in Division II athletics."
In the case of the hockey team, Weisenburger was integral in the switch from the Central Collegiate Hockey Association (CCHA) to the Western Collegiate Hockey Association (WCHA) in 2013. Recently, they switched back to the CCHA under the guidance of Weisenburger.
Some highlights that demonstrate the success the Bulldogs have had in the past several years under Weisenburger's time include the appearance of the hockey team at the Frozen Four in 2012, the men's basketball team's National Championship title in 2018, and the football team making it to the Division II National Championship in 2019.
The Bulldogs earned accolades among these accomplishments, including 23 conference titles and 17 conference tournament championship titles. In addition, the volleyball team claimed six of these conference championship titles from years 2014-2019.
"Ultimately, we had success as a whole program," said Higley.
Bulldog success is directly related to those coaches that lead each team and some of these all-star coaches that Weisenburger recruited, including Tia Brandel-Wilhelm, head coach of the volleyball team, Tony Anesse, the head coach of the football team, and Andy Bronkema, head coach of the men's basketball team.
In the past several years, the Athletic Department has been working towards establishing the Center for Athletics Performance, a multi-million dollar project. During his time, Weisenburger has been integral in planning the construction of this facility, which will provide a place for student-athletes to train for years to come.
"He placed a huge priority on the student-athletes and on championships and, more importantly, degrees," Bentley said.
Weisenburger will be working with the university to find a new athletic director, and his retirement is in full effect on Oct. 1, 2021. Weisenburger's colleagues had nothing but positive regards for the soon-to-be retiree.
"I wish him all the best, and I am certainly going to miss him, " Bentley said. "We appreciate all that he did, and it's time for him to enjoy his retirement."
"I'd like to thank him for all he has done. I hope he is able to take time to reflect on the great success that has taken place here," Higley said. "Perk has been a great mentor to me, it has been a great experience working together. I wish him nothing but the best."
As Weisenburger begins his retirement, he leaves big shoes to fill, but he has left behind a legacy.
"It has been a very rewarding experience to be able to work with the university administration, the coaches, staff, the outstanding student-athletes, and our wonderfully proud alumni has been a highlight of my time as the Athletic Director," Weisenburger said.