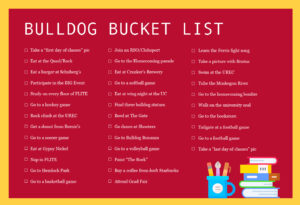 Taking part in traditions and unique experiences are what make for a great start to the year, especially here on the bulldog campus.
At Ferris, there are many great traditions that have been established over the years. One of them is to take a picture with Woodbridge Ferris, our illustrious founder who can be found in the North Quad watching kindly over the University Center.
There are many photo opportunities to take across campus, but none can be more traditional than taking a photo with Brutus.
Emma Polski is the Vice President of the Student Alumni Gold Club which helps current students and alumni stay connected, engage students in campus activities and keeps school spirit high.
The SAGC's most notable activities involve covering the emblem on the BR campus, their rake and run service project and most of all coordinating their Brutus mascot program, acting as his bodyguard. Polski says Brutus is a big part of the Ferris traditions and helping him out is extra special.
"He is so loved around campus," Polski said. "Everyone lights up when they are around Brutus and I think that is so fun. So whether I saw him at a game or whether I was with him, helping him, I think that is one of the best traditions that we have."
Polski says having Brutus so active on campus and interacting with fans of all ages is what makes any interaction with him exciting.
The SAGC is always working to keep students engaged on campus. One way they try to do this throughout the year is through their Bulldog Bucket List. It contains activities for students to take part in across campus and within the city, such as bowling at The Gate and eating at Gypsy Nickel.
Advisor to SAGC Brandi Behrenwald says the list was first introduced and passed out to the Ferris community in 2016.
"The idea came together from a group of students who went to a student-leadership conference. We adapted the program from there and made it Ferris worthy." Behrenwald said.
The SAGC is excited for this year to begin as they have multiple activities prepared for the next few weeks to get new students acquainted with the campus and get returning students excited for the year to begin.
"Oh my gosh, let me get my list!" Polski said. "We have something new every week. Definitely covering the seal, the rake and run activity, welcome weekend events with Brutus, an alumni tailgate that all are welcome too and homecoming events."
The SAGC will be seen quite often around campus at different events. They can be caught at Rec fest which is just around the corner. This group isn't the only one excited to welcome students back to campus and get the excitement rolling, Residence Hall Association is preparing itself as well.
After a year of hosting little to no events on campus, the Residence Hall Association is returning to having events on campus to engage students in person, rather than just in their online classes.
RHA hosts campus-wide events such as drive-in movies, carnivals and pancakes with the president. All intended to engage students with the campus and with each other.
Alando Steele is currently a co-President of RHA and says the group not only creates its own events but also supports many other campus-wide events.
"For activities around campus," Steele said. "If there are any campus events going on with a little more pizazz, usually the resident advisors come to RHA for planning and decision making for lending money out to others."
Steele also mentioned RHA works closely with housing and the events they run, hosting them and supporting their events in any way possible.
RHA helps students within the residence hall feel more welcome where they are staying. The RHA's connection with the RA's and the planning of events specified to fit the theme of each hall help to further the sense of community.
It's tradition for Ferris groups to have a welcome week filled with fun events that everyone can participate in, enjoy and begin making connections with others and with the campus. RHA, in particular, helps bring uniqueness to it all.
Sydney Stevens, the hospitality manager, says that a lot of the uniqueness in their events comes from students themselves as they are encouraged to share their ideas with the group.
"RHA is an inclusive place where the resident halls and students can share their opinions," Stevens said. "We love student views and everyone is always welcome."
Because of students' voices in the RHA's planning, they have been able to have events more oriented to the students' tastes, such as movie selections for the drive-ins, what items they would like to win at raffle drawings and keeping events recurring like the popular Stuff-A-Plush. Which is expected to make a return this year.
Ferris is filled with tradition and has unique upcoming events around every corner that any bulldog can take part in and enjoy. This year will hold a lot of excitement that all students should be looking forward to.