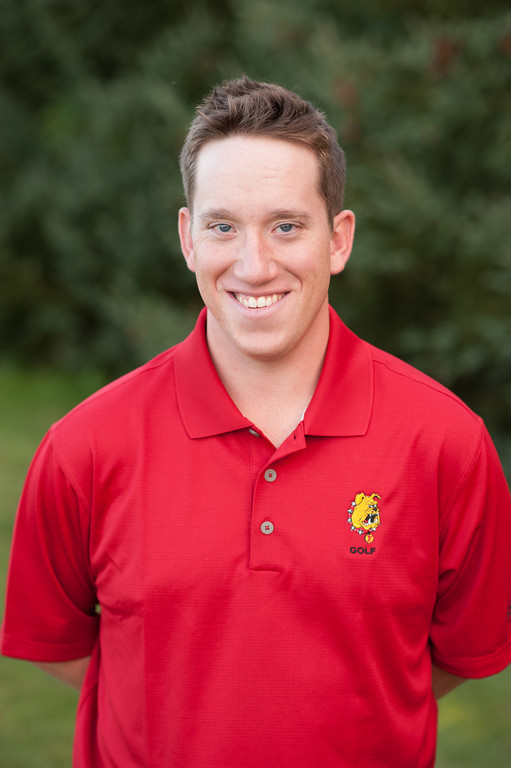 Bulldog alum Sam Stark is set to lead Ferris's men's and women's golf teams after being hired as the newest head coach.
Stark, who started his coaching tenure with Ferris July 1, golfed for the Bulldogs from 2010-2015. After his time as a player at Ferris, Stark became the head coach at Alderson Broaddus University from 2017-2019 and then at Coker University for two seasons after that. Now the newest Bulldog head coach, Stark is happy to be back at Ferris.
"It's a great feeling," Stark said. "This is a place that I have a lot of pride in and a program that has had a lot of success, and I got to be a little part of that success. It's good to be back here and trying to bring us a little more success in the future."
Stark feels that the experience he garnered from his previous coaching jobs will help him here at Ferris as a young coach.
"Having those four years of experience as a young coach really made this a rapid process when it comes to gaining experience," Stark said. "Not having an assistant coach meant I had to do a lot of the little things myself and get into the nitty-gritty of the job. All of it was leading up to finding my way back home, and now that it's happened, I'm just happy to be here."
"It's important that at both those places, I used Ferris as a framework for what we were going to do," Stark continued. "Everything I did at those two places led me back home."
Athletic success is vital to any coach, but Stark also firmly believes in academic success for his players. He stressed the importance of efficiency when balancing time on the course and in the classroom. He plans to build Ferris's program around efficiency, saying that he will "be here for a while" and time management will be a focal point for his Bulldogs "for the next decade or so."
Stark and his previous teams have found success academically and on the golf course. As a player himself, Stark had four top-15 tournament finishes, made the Dean's List, and won the President's Award for having the team's highest GPA.
As a coach, Stark led Coker's men's team to its first tournament championship since 2017, and the women's team posted a 3.87 GPA, good for eighth highest in the nation. Stark feels he can lead the Bulldogs to the same sort of success.
Last season, the men's team won the GLIAC Championship and competed in the NCAA tournament. The women's team had a strong season overall, with a fifth-place finish in the GLIAC tournament.
Junior women's golfer Alayna Eldred hopes to build off last year's strong season.
"I'm hoping that as a team, we can continue to build on the momentum we had from the spring season," Eldred said. "I saw a lot of personal growth both on and off the golf course from my team in the spring, and I am looking forward to building on that this fall. Personally, I'm looking to build on my spring season and continue to be a competitive player not only in the GLIAC but in the region as well."
Eldred thinks Stark will be an essential part of building the program's success and can provide consistency at the head coaching position.
Coming in as a new head coach to a successful program does not have Stark worried. Instead, he is excited about the opportunity at Ferris.
Stark mentioned a quote from former Michigan State University basketball player Aaron Henry where Henry talked about what it is like to play for a winning program.
"Don't applaud a fish for swimming," Henry said in an interview following a victory over Ohio State University. "Fish swim all day, and Spartans have won before."
Stark used that quote to lay down what his expectations are for the Bulldogs. The Bulldogs are successful on the golf course, and Stark expects them to continue finding success. Even though this is his first season with Ferris, that expectation does not change.
BS