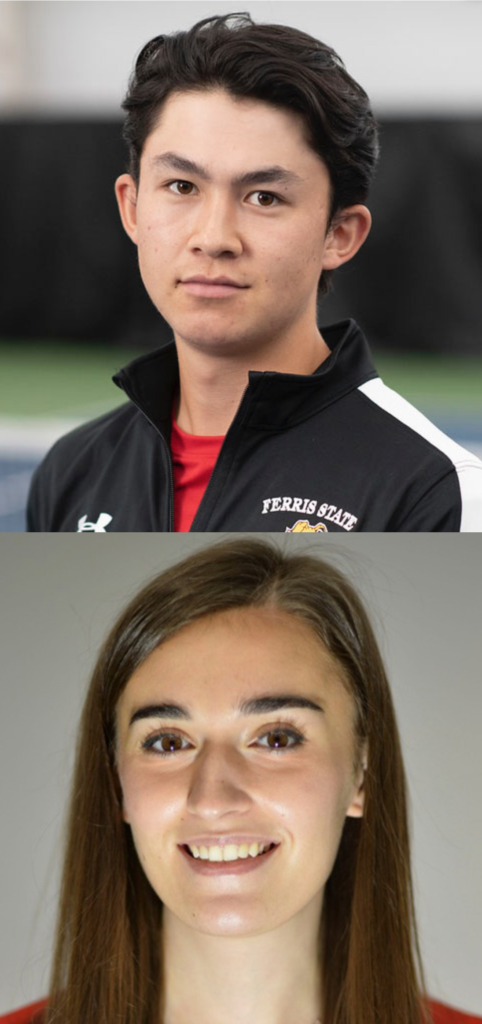 All athletes, coaches and support staff for Ferris athletics are required to get the COVID-19 vaccine for the 2021-2022 season, per an official statement from the University and its Athletic Department.
The statement goes on to say that athletes, coaches and support staff must be fully vaccinated by Oct. 1. Those athletes wishing to take a medical or religious exemption or to remain unvaccinated must withdraw from their athletic program completely and will be removed from all team-related activities.
Senior volleyball libero Nina Gorgijevska believes the athletic department has the athletes' best interests in mind when making COVID-19 and vaccine related decisions.
"There's always different opinions, but I trust the athletic department to decide what's best for us athletes," Gorgijevska said. "I don't want to be the one to say this is good or this is not good because it's not just up to me, it's up to everyone."
Junior tennis player Josh McDermott expressed his thoughts on the athletic department's decision to require vaccinations.
"I think people should have a choice, but us athletes should know what's best for the team," McDermott said. "We're playing for a team, it's not just ourselves. We have to take that into perspective as well.
"On the men's team, we're all vaccinated now," McDermott continued. "I think we all did a good job getting vaccinated and doing what we needed to do to get ourselves ready for the season."
On top of requiring vaccinations, Assistant Athletic Director Rob Bentley explained other precautions Ferris is taking to keep athletes, coaches and support staff safe from COVID-19.
"Everyone has to wear a mask indoors," Bentley said. "There will be some travel precautions in terms of wearing masks on buses and things like that. At the team meetings, team meals and things like that they are wearing masks. The teams that compete outside are also wearing masks when they come indoors."
While all teams must wear a mask indoors, Bentley said there is no requirement for outdoor teams to wear a mask when practicing, working out or competing outside. He also hopes that indoor teams will not have to wear a mask when competing this season.
Fans will be allowed to attend Ferris athletic contests this year, and they will follow many of the same rules as the athletes.
"Right now, with the campus mandate, they will have to wear masks indoors," Bentley said. "We'll take some precautions to keep our athletes separated from the fans. There are still a lot of decisions being made and reviewed before the start of the season."
Athletes, coaches and support staff will also be tested regularly, according to Bentley. Teams will follow their respective conferences' COVID-19 protocols, which Bentley acknowledged are still being reviewed. However, Bentley said testing of all athletes, coaches and support staff, regardless of vaccination status "will be part of the process."
COVID-19 greatly affected sports at Ferris a year ago, and while there will be a slight return to normal this season, the virus will still have an impact. However, Gorgijevska is more appreciative to have an opportunity to play again than she is worried about the virus.
"I'm not anxious or nervous about it," Gorgijevska said. "There are times where I have to stop and think about it. For example, when I go to the grocery store, I don't have to wear a mask anymore, but I think about my team and put a mask on. We don't want to be shut down again or bring COVID-19 to the team. We're extra aware of where we go and what we do. We make that decision to be careful."
Safety of athletes, coaches, support staff, fans and anyone else involved in athletics is of paramount importance. For as long as COVID-19 remains a danger to athletics, Ferris will take the necessary steps to ensure that safety comes first.