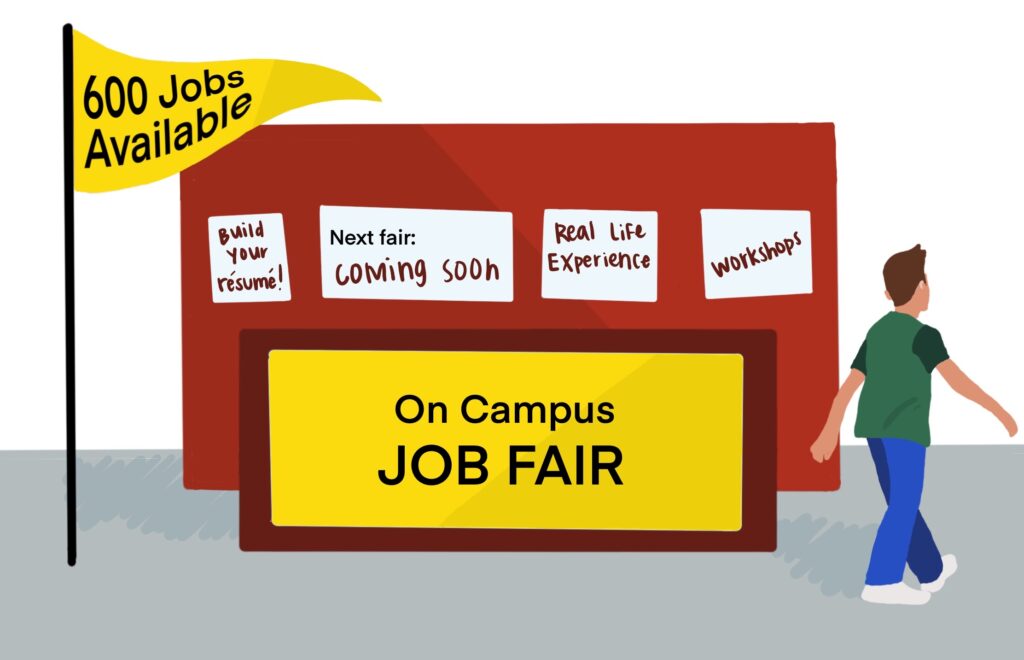 A job fair hosted by Ferris on Aug 31 provided students with an opportunity to learn about on-campus jobs available to them that they might be interested in.
The event was attended by several employers and organizations including dining services, IT, admissions, Ready for Life, Birkam Health Center and Eagle Village. The Big Rapids Fire Division was also looking to hire at the event.
"The student job fair was primarily focused on connecting students with campus employment and supporting campus departments with their hiring needs," said Michele Albright, the career and professional success coordinator who organized the job fair.
There was a previous job fair hosted virtually on Aug 10. According to Albright, there were more than 600 open positions available on campus prior to both job fairs.
"Following both events, department recruiters communicated that they appreciated the opportunity to engage with students, that they were interviewing many students, and were having success in filling their schedules," explained Albright.
The fair was focused on providing students with on-campus jobs due to the many benefits they are believed to have. According to Albright, on-campus jobs provide real-world experience, connect with classroom learning, strengthens time management, builds students' resume, and has been proven to improve academic performance.
The job fair also hosted workshops during the event. The workshops covered topics ranging from event planning to marketing through social media to technology tools.
Groups also used the job fair to show off different things that made their organization unique or more enticing to potential employees. For example, Makerspace, an open laboratory free to Ferris students, used the opportunity to show off one of their 3-D printers.
Even with the relative success of the job fairs, it is likely that many positions will remain unfilled. As of Sept 3, Ferris State's job search showed 69 positions that were still needing to be filled. Jobs included office assistants, custodians, dining service helpers, IT technicians, and more.
Students interested in applying for an on-campus job should sign in to the Ferris State job search through the FSU website. Students looking to work in specific departments should reach out to those departments directly since not all open positions may be seen on the job search.